Medical Transportation Services: Transporting You to Better Health with MEDEVAC
Do you require emergency medical transportation services? AEROAFFAIRES responds to your request for MEDEVAC flights worldwide.
In the event of an accident or illness in a foreign country, you may find that the care offered or the quality of treatment is not optimal. It is then preferable to travel urgently to another country or to your country of origin to receive the best possible care. Thanks to our large network of private jets and helicopters, we can arrange for an urgent and safe medical flight, adapted to each situation.
Of the 4.4 billion international travellers in 2018, 300,000 flights were carried out to respond to a medical emergency. Within business aviation, medical transportation services (MEDEVAC) account for 30% of flights made by private jets (VIP transport, air freight). In the majority of cases, when an ambulance aircraft is requested by a medical team, it is because the patient's state of health does not allow him to fly with an airliner (Not Fit To Fly). Indeed, air evacuation by private jet is a last-resort solution. It avoids the risk of diverting a commercial aircraft for a landing at an airport far from the destination desired by the passenger in need of care.
Did you know that the use of air ambulances for medical evacuation dates back to the early 1900s? In fact, the first recorded use of an air ambulance for medical purposes was in 1917, during World War I, when a French plane was used to transport wounded soldiers from the battlefield to medical facilities behind the lines. Since then, air ambulances have become an important part of the healthcare industry, providing emergency medical transportation for patients in need around the world.
Here is everything you need to know about medical transportation services and why MEDEVAC charters offer many advantages.
MEDEVAC and beyond: A look at our complete Range of Medical Transportation Services
A medical flight involves the transport of passengers for health reasons. A medical aeroplane can transport a patient as quickly as possible while providing the best possible care. These aircraft are often used to respond quickly to an emergency problem in a sometimes critical medical situation.
Our medical flights can meet a range of needs:
Medical repatriation
Medical evacuation (MEDEVAC)
Medical transport
Medical tourism
Paediatric or incubator transport
Repatriation of a body
Organ transport
A Comprehensive Guide to Medical Planes
A medical plane or air ambulance allows the patient to travel quickly and safely over medium and long distances. Conventional private jets are reconfigured and retrofitted in order to perform medical operations on board.
Our fleet of aircraft allows us to adapt to all patient diagnoses. Whether a private jet or a turboprop, all our aircraft are medically configured to accommodate even the most critical cases. These aircraft are specially prepared to offer intensive medical care and specialised onboard personnel.
Medical equipment can be added onboard the aircraft if necessary. The flight paramedics can also be supplemented to ensure safe evacuation in the event of a life-threatening situation. We adapt to each patient's situation.
Why Choose Medical Transportation Services? Understanding the Benefits.
The air ambulance plane offers many advantages for patients:
A fast and comfortable flight
A flight in a medical aircraft is carried out in a private jet such as a Falcon 8X or a Falcon 900, particularly in the case of evacuations from the West Indies to France. These modern aircraft equipped with the latest technology allow for a fast, silent and calm flight.
Flexibility offered by private medical transportation services
Medical aviation adapts to the needs of the patients and according to the vital urgency. Take-off times are flexible and the aircraft can be chartered in less than 2 hours. You then fly directly to your final destination non-stop.
Extensive accessibility to airports and airfields
Many airliners are not able to land at all airports. Thanks to our medical transportation services, patients and medical teams can travel to more than 3,000 destinations. For example, the Pilatus PC-12 turboprop is a popular aircraft used in remote areas for medical evacuations (MEDEVAC). This allows you to take off and land at remote airfields with short runways, as close as possible to your medical facility.
An ultra-secure flight in a medical aircraft
In the case of a life-threatening prognosis, different solutions can be implemented to ensure the smooth running of the journey. First of all, the cabin pressure can be adjusted to have the same level of pressure as on the ground. In addition, with a medical flight, you are accompanied by a team of doctors and nurses dedicated to stabilising the patient's state of health. Finally, in the case of complications during the flight, the plane can make an emergency at the nearest airport.
What are the differences between an airliner and chartered medical transportation services?
The medical flight by airliner is the most economical solution but does not offer any of the services offered by the medical aircraft.
Your flight in an airliner will be in 2nd class on a stretcher or in business class in a couchette seat.
The medical care available is more limited. You have the possibility of being accompanied by a medical team but no intervention and no intensive care aircraft can be provided onboard.
You are dependent on the flight schedule and airports offered by conventional airlines. And for long distances, stopovers are usually made, which can be very stressful for the patient.
The cabin pressure on a commercial flight cannot be optimised. Depending on the type of trauma, too great a gap with the pressure on the ground can cause pain and sometimes complications.
Depending on your state of health and your insurance company, a medical flight in an airliner may be a good alternative. In certain cases, a medical flight with a dedicated aircraft will be the only solution, particularly in the case of seriously injured people who are not allowed to fly on a commercial airline.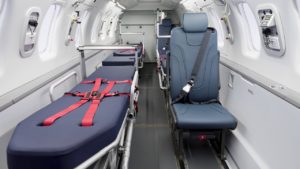 Discover Our Medical Transportation Services: From Ground to Air.
We cover all medical needs and find solutions quickly even for the most demanding cases:
Medical repatriation entails the transport of people with health problems to their country or town of origin. Repatriation is carried out to offer better quality care or better follow-up in the patient's home country.
If you're interested in knowing more about repatriation flights, check out our informative guide on the topic.
Medical evacuation (MEDEVAC)
Generally used in the military field, the term "medical evacuation" is also used in the civilian field to refer to the evacuation of an injured or ill person to provide appropriate care. The main challenge of medevac flights is the urgency of the situation. Evacuation is related to war, pandemic, or the inability to provide the necessary care. A medical aircraft is then chartered to remove the patient from this dangerous area and reach the nearest appropriate medical facility.
Medical transport by plane
Medical transport is the transfer of an injured or sick person between a point A and B of your choice. The aim is to move a patient to be transported to another establishment that can provide more appropriate care. From London to Bordeaux, from Milan to Zurich, we can respond to all your requests regardless of the country you are in and the country in which you wish to be hospitalised.
Medical tourism in air ambulance
If you wish to leave your home country to perform a medical operation abroad, medical tourism is always an option. Many patients choose to be hospitalised in a foreign country for a variety of reasons: lower costs, quality of care offered, medical services available and legislation. Thus, many French people choose countries such as Switzerland, Austria or Israel for cosmetic surgery, dental surgery or fertility treatment. When you travel by medical airplane, you will be able to enjoy a flight in optimal comfort.
Paediatric or incubator transport by medical aircraft
A young child or even a newborn child who has been involved in an accident while on holiday will not always be able to benefit from appropriate care in all establishments. Carrying out an EVASAN or RAPASAN can be decisive for your child's health. Babies in particular, have a fragile organism, it is very delicate to transport them. We then place at your disposal a medical team specialised in children's medicine. In the case of a premature delivery in an unsuitable hospital, you can ask for a medicalized transport in which an incubator will be installed to maintain your child in good health for the time of the transfer. Our equipment is at the cutting edge of technology and will ensure that you travel with complete peace of mind.
Repatriation of a body by air
The repatriation of a body or a funeral urn involves a lot of logistics and authorisations. In this distressing situation, our experts are at your disposal 24/7 and take care of all the necessary formalities for the transport of the body by a medical private jet.
Learn more about the process of a repatriation flight here.
Organ transport by ambulance plane
Organ transport is very delicate and responds to important issues of speed, hygiene and preservation. Our team provides you with turboprops and helicopters capable of landing as close as possible to the medical establishment.
Organisation of Medical Transportation Services
We cater to a wide range of customers:
Uninsured individuals
Insurance companies (International SOS, Europ Assistance, Mondial Assistance…)
Companies and industries
Hospitals, Clinics and Emergency Services (APHP Paris, MEDAIR, TURPAN…)
Embassies and Governments
Insurance and health mutuals (AXA, CHUBB, GENERALI, SWISSLIFE…)
Non-Governmental Organisations (UN, UNICEF, Médecins du Monde, Médecins Sans Frontières…)
Conditions for Medical Evacuation Services
The medical teams we contract for a medical flight assess the patient's condition and decide whether the flight is feasible, necessary or mandatory.
When it comes to medevac or repatriation flights, the following conditions apply:
Our doctors are responsible for the patient's condition. They are authorised to transport injured and sick people by plane and have specialised knowledge and expertise.
The staff of the hospital where the patient is admitted will be of all responsibilities. That is why our doctor is the only one who makes the decisions on medical flights. In the event of complications, our doctor will consult the family and the medical service of the hospital in order to make a decision.
The responsibility of our medical staff means that the attending physician of the receiving hospital cannot prevent an EVASAN or RAPASAN.
Essential Details Required for Chartering Medical Transportation Services
Our doctors need to know the complete history of the patient's condition. It is essential that you communicate to us from the first exchange all the relevant details so that we can respond as quickly as possible to your request for a medical flight or to charter an air ambulance:
The contact details of the doctor's attending physician
The contact details of the doctor and the hospital where the patient is going.
The patient's medical file.
In certain very specific cases, other information may be requested and certain forms may be required. We are available 24/7 to answer your questions.
The Benefits of Our Emergency Medical Transportation Services
24-hour service: Our air experts are available 24/7 to answer your charter requests and answer your questions. We also provide medical care until the patient arrives home or at the hospital.
Bed-to-bed transfers: In addition to your medical flight, we prepare your transfer from the airport to the hospital by ambulance for a quick "bed to bed" transfer.
Special pressurisation: A change in atmospheric pressure can cause fatal complications for certain medical conditions and injuries. Our aircraft are equipped with special technology to modify the pressure in flight and ensure a safe transfer.
Administrative support and complete translation of important documents: Our network of partners gives us access to a sworn interpreter who will accompany you throughout your flight abroad. In addition, we assist and advise you on entering a country and setting up a specific medical service.
Tailor-Made Medical Transportation Services: Competitive Pricing and Quality Care.
We offer quality medical flights at the best price. We answer all your requests and we make sure that your journey runs as smoothly as possible. Our large fleet of aircraft allows us to adapt while responding to all of your needs.
As a result, flight prices vary according to several factors:
The type of plane;
The medical devices and treatments required on board;
The distance to be covered;
Additional services.
Example price
Medical flight between Marrakech and Paris
From €15,000
Aircraft type: Falcon 100
Type of service: MEDEVAC
Flight time: 3 hours
Our flight experts are at your disposal 24/7 to provide you with the medical transportation services you require. Contact us at any time on +33 (0) 1 44 09 91 82.