Phenom 300: introduction
The Phenom 300 is a business jet from Brazilian aircraft manufacturer Embraer. This light private jet embodies the perfect balance between elegance and operational efficiency. Its impressive range enables it to cover long distances, offering remarkable flexibility for both business and leisure travel. Whether for short flights or transcontinental journeys, the Phenom 300 remains a preferred choice for discerning travelers, symbolizing excellence in the field of corporate jets. Dive into the world of the Embraer Phenom 300 with AEROAFFAIRES.

Phenom 300: a little history
Launched in 2009, the Phenom 300 was the logical follow-up to the success of the Phenom 100 model, offering increased capacity and improved performance. This light corporate jet quickly conquered the market thanks to its versatility, spacious cabin and ability to perform transcontinental jet flights with efficiency. Featuring state-of-the-art avionics and reliable engines, the Phenom 300 has established itself as the preferred choice for demanding private aircraft owners and operators seeking exceptional performance, comfort and a first-class flying experience. Over the years, it has become a fixture in the light business jet category, symbolizing Embraer's ongoing commitment to excellence in business aviation.
Phenom 300: key dates
2008: development of the Phenom 300.
April 29, 2008: first flight of the Phenom 300.
2009: the Federal Aviation Administration (FAA) certifies the aircraft.
February 2010: the European Aviation Safety Agency (EASA) certifies the aircraft.
May 2010: presentation of the Phenom 300 aircraft at the Geneva Air Show.
2013: Embraer launches an improved version of the aircraft, called the Phenom 300E, featuring a redesigned interior and more powerful engines.
2018: 500 sold.
2020: update of the Phenom 300E.
Phenom 300: key figures
600: number of aircraft sold by December 2021.
50%: market share of the Phenom 300 in the light private jet travel market.
9 and 10 million: price of a Phenom 300 private jet.
2,500 to $3,000: hourly operational cost associated with the aircraft leasing.

The interior of the Phenom 300
The Phenom 300 cabin
The Phenom 300 cabin is spacious and comfortable. BMW designed it. It can accommodate up to nine people. Its reclining leather seats offer optimum comfort during flights. With a length of 5.23 meters and a height of 1.5 meters, it provides passengers with appreciable on-board space for journeys of 2 or even 3 hours. The cabin is equipped with an in-flight entertainment system, featuring :
individual screens
a Wi-Fi connection to stay connected even in flight.
In terms of design, the cabin's many panoramic windows and adjustable mood lighting make it bright and airy.It also boasts practical storage space for hand luggage and personal items. The Phenom 300 is a popular business jet thanks to its comfortable cabin and reliable in-flight performance.
The Phenom 300 cockpit
The Phenom 300 features a state-of-the-art cockpit. It features a Garmin G3000 display system, with three 14″ high-resolution screens. These offer a panoramic view of the flight and excellent clarity of information.The cockpit is also equipped with a fully digital flight management system. It includes :
state-of-the-art navigation instruments that enable pilots to plan and execute flights efficiently.
communication and aircraft status monitoring systems.
precise information on weather, airports and flight routes.
The Phenom 300 also features electronic flight controls, providing fast, precise response to aircraft movements, while enhancing safety and reliability.
This aircraft is ideal for business flights within Europe such as Paris or Geneva to Munich, or for London to Madrid.
Private jet equivalent: Piaggio Avanti II , Citation CJ3 , Learjet 60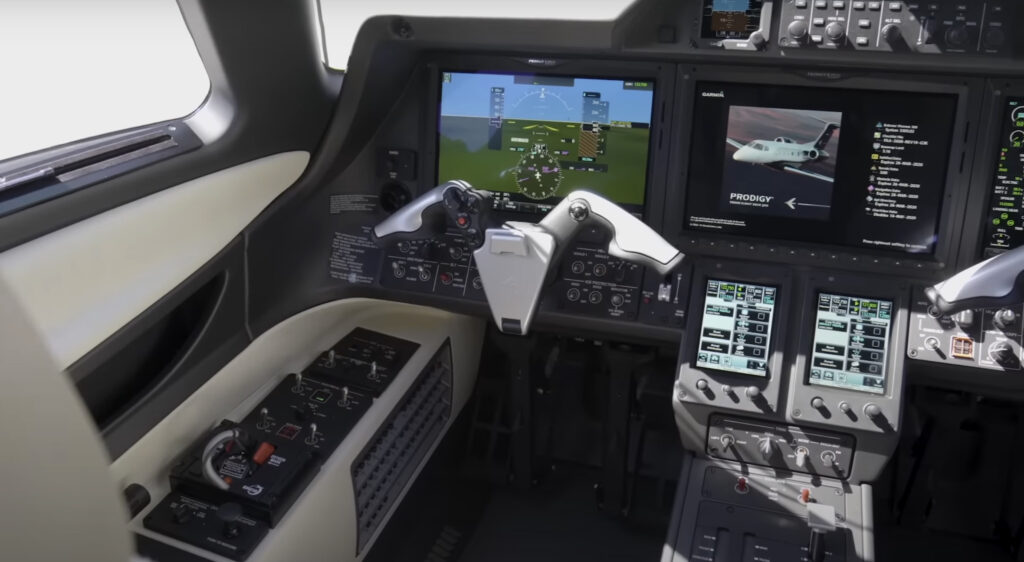 The advantages of the Phenom 300
The Phenom 300 is a high-performance business jet with many advantages, including:
High performance: the Phenom 300 can reach a maximum cruising speed of Mach 0.78, enabling it to fly faster than most other light business jets. It also has a flight range of 2,010 nautical miles, or 3,500km. This enables it to cover long distances without the need for stopovers.
Comfort: the Phenom 300's spacious interior offers a comfortable cabin for passengers, with ergonomic leather seats, a soundproof cabin and regulated air conditioning. The cabin can accommodate up to 10 passengers, and features an in-flight baggage compartment.
Cost-efficiency: this light business jet has a relative cost. It offers high performance with relatively low operating costs. It is also easy to maintain and repair, reducing maintenance costs.
Advanced technology: the Phenom 300 features a highly-equipped cockpit with Garmin G3000 navigation system and electronic flight controls. This enhances flight safety and precision.
Versatility: the aircraft is capable of landing on both commercial and private runways. It is appreciated for its ability to take on a variety of missions: private air freight, medical transport, charter flight, government missions.
Elegance: this private plane is very well structured and equipped for on-board comfort, much appreciated by travelers.
The phenom 300 is ideal for business flights in Europe, such as Paris or Geneva – Munich or Paris – Moscow.
Book your flight in a Phenom 300 with AEROAFFAIRES
When your charter an executive jet for your business trip, you save time and avoid all unnecessary stress. With a private charter jet services, you are spared of all the waiting involved in commercial flight, optimizing your time and creating a more enjoyable flight experience. You can also enjoy complete privacy and comfort, allowing you to focus and relax before your conference, meeting or corporate event.
We are also aware that for those at the top of their game, work never stops. Managers and employees who travel rarely stop working during their journeys. However, on a commercial flight, it can be hard to concentrate: noise, lack of privacy and unsuitable space can make it difficult to be productive. A private jet such as the Phenom 300, on the other hand, is perfectly optimized for working on the go. Everything is done so you can continue to work and communicate remotely.
Looking to charter a Phenom 300 for your next trip? Get in touch with us to request a free, no-commitment quote or contact our air experts 24/7 via email at or via email at charter@aeroaffaires.com or at +33 (0) 1 44 09 91 82.