Private jet rate: how much does it cost to hire a private jet ?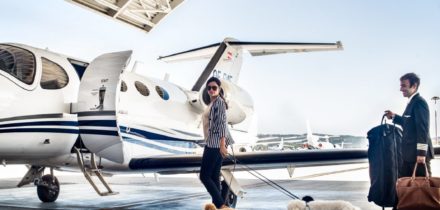 AEROAFFAIRES offers you the customised rental of your private jet at the best rate, at no extra cost.
8500
available private jets
Hire a private jet for business and pleasure
Hire a private jet for business
Adopt a different mode of transport for your business trips and gain flexibility, in optimal comfort in a minimum of time. The key to profitability for business meetings: business aviation. No more wasted time in commercial airline terminals, with private jet hire you can arrive 15 minutes before your plane takes off! We offer you several rates and aircraft at the best price according to your needs.
Hire a private jet for leisure
Do you want to return to your family holiday destination in peace and quiet? Are you going with a group of friends on a holiday to take your mind off things? You want to be flexible, in a small group and travel in complete safety: treat yourself to a trip in a private jet! AEROAFFAIRES will take you wherever you want at the best price.
How much does it cost to rent a business jet: what decides the price ?

Passengers
The number of travellers
The number of pieces of luggage

On-board services
the comfort
the catering service
special requests (WiFi, berths etc).

The Schedule
departure and return dates: you want to take off for a weekend? During the week? During the holidays?
length of stay: do you want to make the round trip during the day or stay for a few days?
timetables: private aircraft flights take place outside the schedules generally used by commercial airliners.
The private jet rental fare will be more economical if you choose to make a return trip within the day. Why is this? Airline operators ground the aircraft at the destination if the duration of the appointment is short. For a longer stay, the aircraft leaves empty at its base, which affects the final price.

The crew
number of pilots and hostesses on board
travel expenses: depending on the destination and the length of the stay, you will be responsible for the costs related to the crew (hotel nights, return flights, empty or not, etc.).

Logistics
airport fees: these are multiple and include the landing tax, parking, hangar, the fee due to the airport, passenger transfers, services offered within the aerodrome…etc.
the costs of care and maintenance of the device
the fuel
Charter a private jet necessarily generate costs related to airports and their maintenance.

La destination
the distance between the departure airport and the destination: flight time
destination-related taxes such as Italian taxes, VAT etc.
Depending on the elements mentioned above, the price of the rental will vary. Our experts will define the type of private aircraft that suits the client's request. Indeed, business aircraft have their own characteristics, more or less adequate to the desired requirements. It is also this essential element, the choice of jet, which determines the price of a rental.

The type of private jet
The price of the jet rental also depends on the items listed here:
size: adapted to the number of passengers (passengers and crew) ;
hold: volume of luggage to be transported;
range: depending on the desired destination, we will choose among the different models of private aircraft. The category of the private rented jet and its cruising speed will influence the cost. Indeed, a very light jet is more suitable for short journeys within a range of 2,000 km than a heavy jet, which is more suitable for a long-haul flight ;
comfort: the level of comfort and services required according to your needs (catering, cabin layout etc) guides us to a type of jet from our available fleet.
Age of the aircraft.

Parking
Other technical elements change the price of a flight, such as obtaining a night hangar. Some airports are very busy in summer but are nevertheless small, as is the case with small business airports such as Figari, Saint Tropez, Ibiza or Mykonos. These airports have very tightly controlled operating processes which we, as air brokers, take into account in order to prevent any misunderstandings about the rates for our clients. Indeed, if the jet cannot park for one night due to lack of space, the captain will take the aircraft to a nearby and less congested airport. This will result in additional flight costs, which will increase the rental price.
An essential element: the AOC (Air Operator Certificate)
Business aviation brokers will search for you the most suitable aircraft for the trip you wish to make. AEROAFFAIRES only offers private flights by TPP (Public Passenger Transport). These business flights only involve private jets or helicopter transport operated by airlines with an AOC (Air Operator's Certificate). It is a necessary and compulsory licence to fly in complete safety. Previously, this certificate required two engines for two pilots. In 2017, however, the European Aviation Safety Agency (EASA) will officially allow commercial flights on board single-engined aircraft with guaranteed safety, such as the Pilatus PC-12 or the TBM 850.
In short: what is included in the price of a private jet trip?
In concrete terms, what does the price of a business trip consist of? Schematically, a private flight ticket can be divided into several parts:
the cost of renting the aircarft
the remuneration of Flight Crew (PNT): crew members and pilots
costs related to airport charges and services
services on board (meals, bed linen reservation, etc.).
These elements make up the overall price of your ticket. The cost of hiring the aircraft naturally takes up a large part of the fare, as mentioned above.
When we charter a private jet flight, it is not entirely appropriate to speak of "ticket price". By definition, flying in a private jet implies a global privatisation of the aircraft and therefore of all the passenger seats. Thus, the cost of renting a jet is linked to its size: the more seats it has, the higher the rental price. Several ranges of aircraft exist. This is why booking a flight aboard a 4-seater Citation Mustang will be one of the most economical options on the market. Conversely, renting an aircraft with a more spacious and luxurious cabin will be more expensive.
Let's take a Paris-Nice charter flight as a reference to compare prices:
For a flight in a light private jet with 3-7 seats, count 5,050 €.
For an intermediate private jet flight with 6-14 seats, count €10,050.
For a long-haul private jet flight with 6-20 seats, count 13 750 €.
How much does a private jet trip cost?
With a fleet of 8,500 accredited aircraft, our private aircraft rental site offers different types of aircraft depending on the destinations requested.
Exemples de coûts pour de petits trajets
Examples of awards Paris-Le Bourget - Ibiza
We offer you a price incentive for a Paris-Le Bourget - Ibiza with 3 categories of jets: air taxi, private business jet and top-of-the-range private jet
Price ranges according to private jet models
Private jet hire: why trust AEROAFFAIRES?
A tailor-made, flexible and continuous rental service
Throughout the year, our teams are at your service 24 hours a day, 7 days a week.
We anticipate your booking needs and guide you during flight planning. Finally, we accompany you throughout your trip. In short, we are fully dedicated to providing you with the best travel experience. Whatever your destination! Moreover, for each flight, you have a unique and privileged contact person. He or she will provide you with the best advice and follow you throughout the booking process. With AEROAFFAIRES, chartering a private jet is as simple as booking a taxi.
Safety at the heart of our priorities
At AEROAFFAIRES we are committed to providing the highest level of safety on the flights we charter because we know how important safety is to our customers.
We are very rigorous in every aspect of your flight. We therefore only choose private jet airlines that have a current Air Operator Certificate (AOC). We also take a close look at aircraft maintenance and impose our additional criteria on companies to charter your flights. We also pay particular attention to insurance and crew airworthiness certificates.
You can rest assured that you are travelling in complete safety.
A large fleet available all over the world
AEROAFFAIRES is a private jet rental service available worldwide. We have access to a large fleet of over 7,500 aircraft types, ranging from Citation Jets to Boeing 747s. We therefore offer you a varied choice of business jets of all sizes and models. We will guide you towards the ideal aircraft that meets your requirements and the constraints of the flight.
Wherever your departure and destination may be, we meet all your needs from the four corners of the world.
Expertise, our signature
30 years of expertise
AEROAFFAIRES, air broker specialising in business aviation, was born in 1991. We therefore have more than 30 years of experience in the field and the loyalty of our clients is our greatest reward.
A human expertise
Our team of business travel specialists is qualified and passionate. We pay great attention to your needs in order to meet them in the best possible way. We believe that human expertise is essential to provide the best tailor-made experience. But we do not rest on our laurels: we are constantly seeking to strengthen our skills and regularly identify areas for improvement in order to satisfy you more and more.
Technological expertise
AEROAFFAIRES has developed a powerful technological tool capable of locating, in real time, more than 7,000 private jets anywhere in the world. Indeed, whether turboprops, turbojets or helicopters, we are able to respond, in less than 20 minutes, to all your flight requests. Even the most unusual ones! Thus, François-Xavier Clerc, CEO and historical founder of AEROAFFAIRES, is proud to offer you a competent team dedicated to the full satisfaction of your requests.
The ecological commitment
In 2019, AEROAFFAIRES has set itself the objective of reducing its aircraft ecological footprint.
The company then became the first business aviation company to offer its customers carbon offsetting for their flights.
Indeed, the Sky CO2 project, operated by the social company PUR Project, allows you to offset the emissions of your flights by supporting a major project to preserve the primary forest in Peru. It is also part of a regional ecosystem rehabilitation programme. In addition, it plans to capture 194,000 tonnes of CO2 by preserving 7,400 hectares of forest per year. This project thus allows for the environmental neutrality of your business flights. In addition, AEROAFFAIRES selects private jet airlines that are committed to the environment. Indeed, we choose them for their eco-piloting practices and for the use of electric ground vehicles.
Our partners
AEROAFFAIRES can inform you about our partnership program with all types of sectors, including travel agencies and concierge services.
Why choose AEROAFFAIRES
to hire a private jet ?
The strength of our network
AEROAFFAIRES is a network of more than 850 air operators with whom we work in complete confidence. Carefully selected, our partners are all certified in public passenger transport and holders of the Air Transport Certificate. AEROAFFAIRES also has a fleet of more than 20,000 aircraft, including 8,500 private jets, serving some 8,000 airports around the world.
A french company  




Why Aeroaffaires ?
Our focus: your satisfaction
We are proud of the trust that our customers have placed in us for 30 years now: it is our greatest achievement!
Read the testimonials
Follow us!
Subscribe to our newsletter: you will receive our private aviation news, our private jet and helicopter travel ideas and our best offers. Find us also on Instagram and Facebook.
Contact us
8500
available private jets
Would you like to rent a private jet?
Like businessmen, CEOs and other billionaire bosses, you too can benefit from flexible air transport.
Fill out our online quote to get an estimate for your private flight in 2 hours or contact us on +33 (0) 1 44 09 91 82.
Our team of experts, specialised in private aviation, will give you all the advice you need to optimise your flight. AEROAFFAIRES will put you in touch with a privileged contact who will follow you throughout the booking process, right up to the boarding and take-off of the aircraft.
For more information, see our articles on the steps involved in renting a private jet and how to travel in a private jet?