Do you need to transport freight or goods by air?
AEROAFFAIRES, air broker for more than 30 years, offers you a wide range of cargo aircraft ready to be leased all over the world.
We dedicate to you an expert in freight transport who will advise you and find the best solutions to transport all your goods to their destination, with the greatest care and at the best price.
Why choose tailor-made air freight?
Tailor-made air freight avoids the constraints of international cargo airlines. AEROAFFAIRES allows you to immediately deliver freight at the time and date you want.
Customized cargo transportation allows you to route cargo to airports as close as possible to its final destination. Whereas cargo airlines only serve a handful of airports in each country. In France, more than 90% of air freight is handled at Paris Charles-De-Gaulle airport, while regional airports are developing strong skills as logistics hubs. This is notably the case for Lyon Saint-Exupéry, Châteauroux-Centre and Paris-Vatry, which can handle freight 24 hours a day, 7 days a week.
The time saving provided by a private cargo aircraft is therefore invaluable compared to other modes of transport, such as by road or by an air freight operator.
Moreover, while global air cargo traffic represents only 3% of the volume of goods transiting the world, it nevertheless accounts for 45% of their value. Cargo planes allow for short and very safe transport of goods, which explains why 61.2 million tonnes of high-value cargo were carried by air in 2019.
A tailor-made solution for every need
AEROAFFAIRES is at your disposal 24/7 to offer you emergency cargo chartering solutions.
Whether it is for documents to be hand-delivered, machine parts for tight production lines, automotive parts, essential medical supplies, urgent parcels or luggage to be retrieved, we are ready to respond to all your requests in the immediate future.
AEROAFFAIRES has a large fleet of cargo aircraft including nose loading and dedicated ramp aircraft. These large carriers are capable of transporting very heavy and voluminous cargo such as wind turbine propellers, aircraft parts or production machinery.
Hazardous and Classified Products
If you need to transport sensitive products, AEROAFFAIRES can find solutions adapted to your needs.
Our specialist teams have a very precise knowledge of international regulations. We will find you the ideal aircraft approved for the transport of hazardous products and materials and will do everything possible to ensure a very high level of safety during the transport of your products.
Do you need to transport high-value goods? AEROAFFAIRES offers you aircraft dedicated to the transport of high value cargo such as precious metals, jewellery, art objects, fashion collection, music equipment or sports cars.
We also take care of any transport of sensitive documents or secret transport.
Our team is fully dedicated to guaranteeing you the highest level of security for the transportation of your valuable goods.
AEROAFFAIRES is also competent for medical transportation, medical evacuations, aerial work, or specialized transportation in the oil, gas and mining industries. Find on our site all our specialized solutions.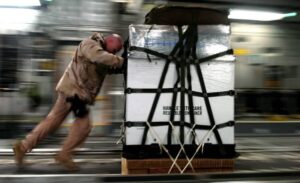 Air freight: Why choose AEROAFFAIRES?
AEROAFFAIRES has a technological system allowing to locate instantaneously all cargo aircraft in the world.
Our team is trained in air logistics procedures and is aware of international regulations for the routing of freight.
Available 24/7, our experts will accompany you for all your urgent requests and find solutions at the best rate.
Send us your request on our online quotation form at any time.
You can also contact us by phone at +33 (0)1 44 09 91 82 or by email at info@aeroaffaires.com.
Our air freight fleet
AEROAFFAIRES has access to a wide range of cargo aircraft worldwide. Here are a few of them.
The Vulcanair Aviator TP 600 is a turboprop capable of taking off and landing on very short runways. It is one of the two aircraft authorized to land at the Courchevel altiport. Its cabin can be converted to accommodate freight, it is 5.24 m long, 1.24 m high and 1 m wide.
The Pilatus PC 12 is a single-engine propeller aircraft whose cabin can be converted to carry air freight. It has a large cargo door 1.35 m high and 1.32 m wide, an exceptional feature for this type of aircraft. Its cabin is 1.46 m high and 5.15 m long.
The Beech King Air 200 cargo version is a very small-capacity cargo aircraft. It has a cargo door 1.38 m high and 1.32 m wide, which allows it to embark goods. Its cargo hold is 1m24 wide, 1m38 high and 2m80 long; it can hold up to 1.2 tons of cargo.
The Beech King Air 1900 cargo version is a small-capacity cargo aircraft. Its cargo door of 1m45 high by 1m32 wide allows it to carry goods. Its cargo hold measures 1m80 high, 1m37 wide and 7m70 long; it can accommodate up to 2.1 tons of cargo.
The Dornier 328 is a regional transport turboprop, some models of which have been converted into a cargo version. Its payload bay is 10.35 m long, with a height of 1.90 m and a width of 2.20 m. With its high speed and excellent performance for landing on short runways, the Dornier 328 is ideal for regional freighters.
The ATR 42 is a turboprop for short and medium-haul flights. In its cargo version, it has a 1.56m high and 1.30m wide door. Its large cargo bay, nearly 14 metres long, 1.85 m high and 2.17 m wide, enables it to transport freight pallets of up to 5.58 tonnes.
The Antonov 124 is the second largest aircraft in the world. It has two large ramps, one of which is at the front thanks to a nose that can be raised. Its very large cargo hold is 36.48 m long, 4.40 m high and 6.40 m wide. The aircraft can carry up to 12 tons of cargo. The AN-124 can carry small passenger aircraft, helicopters, vehicles, large industrial parts or even large quantities of cargo.
The Ecureuil AS350 is a single-turbine utility helicopter developed by Eurocopter. Its cabin allows it to transport 3m3 of cargo up to 1 ton in weight.
The Dauphin AS365 is a twin turbine utility helicopter designed by Airbus Helicopters. It has a range of 1000 km and can carry up to 1.2 tons of cargo.
How much does it cost for air freight?
The price for air freight transport depends on many factors. The weight and size of the cargo, the type of aircraft required, the airports of departure and destination, or the type of goods transported, all have a major influence on the price. For this reason, price estimates can only be made on a case-by-case basis.