Are you interested in how to rent or buy a private jet? Our team of business aviation experts is here to help you make an informed decision. 
The 2008 financial crisis deeply impacted the private aviation market. The number of personnel or private jets sold increased considerably, representing more than 20% of the international fleet. As the crisis mainly affected travel budgets, companies began shifting to more economical solutions such as chartering private jets.
As of 2020, 20,000 private jets are in circulation worldwide with half of them owned by airlines and the other half by private owners. Moreover, only 12% of private jets are currently on sale, achieving almost a perfect balance between supply and demand. The current economic situation offers interesting purchasing opportunities. However, many aspects need to be taken into account when deciding to buy an aircraft. And if buying doesn't make financial sense to the customer, the option to charter a private jet remains a viable one.
So how can you make the right choice in relation to your lifestyle, finances, and location? How do you decide between buying or renting a private jet?
Buying or renting a private jet: what is the difference?
Why buy a private plane?
Buying a private jet for sale allows you to have full ownership and thus complete freedom in using your aircraft. Private flights are carried out with fewer limitations, unlike renting a private jet which must meet the demanding criteria of public transport.
From turboprops to business jets, there are as many types of aircraft as there are destinations. First, it is important to determine your needs:
Where are you planning on going and what are the distances?
How long will you be there?
How many passengers do you usually have on board your aircraft?
Are there any restrictions on where you can land?
Are you traveling with bulky luggage?
Of the many purchase options, you are sure to find at least one that will meet your needs in terms of speed, passenger capacity or distance traveled. It is, therefore, essential to clearly define your needs from the start in order to buy a private jet at the best possible price.
Why rent a private plane?
Renting a private jet is much less expensive than buying one as only a few thousand euros are needed for a charter flight. Renting, therefore, means you can avoid a large investment that may not be profitable and also offers a great deal of flexibility. For each flight, you will be able to choose the aircraft best suited to your travel time and to the number of passengers.
Visit our private jet page to learn more about hiring a private jet.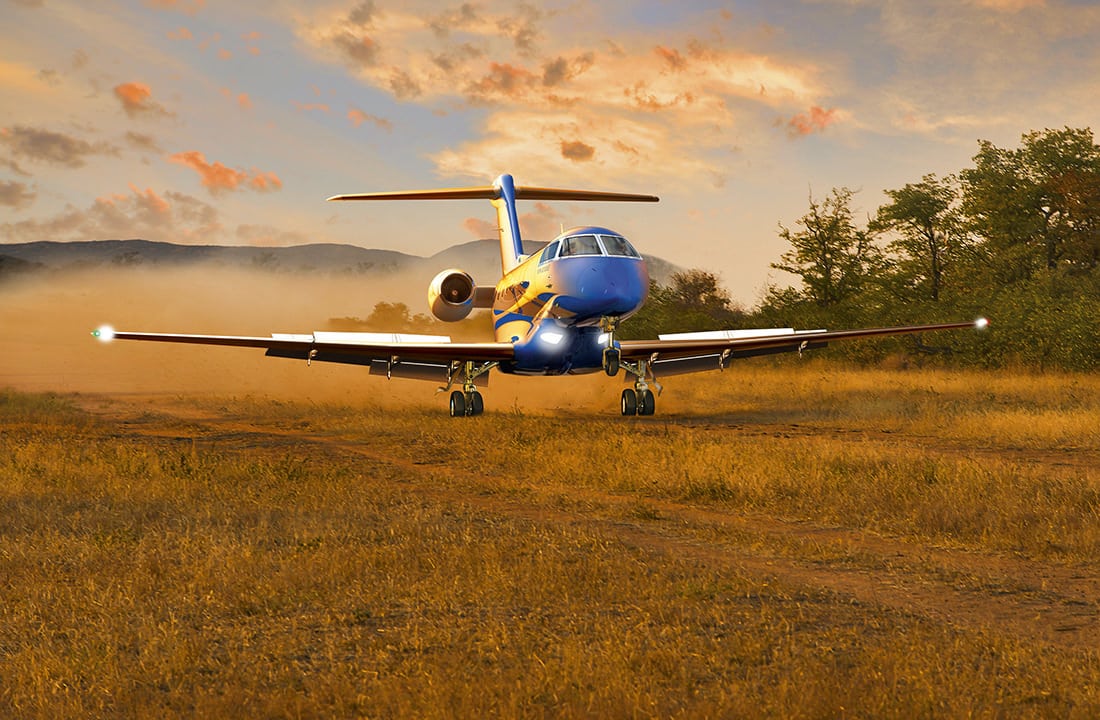 Photo credit: Pilatus Aircraft
To buy or to charter a private jet – making the decision
There are many aspects to consider when making this decision. Here, we will focus on three key factors marking the difference between buying and renting.
The Distinction between Public Transport and Private Flights
It is essential to make a clear distinction between public transport and private flight. Rent a private jet and you will enjoy public transport with all the pros and cons. Buy your private jet and fly with fewer limitations but with less insurance.
With renting, you are subject to public transport regulations. Even if renting a private jet offers a tailor-made flight, many elements need to be taken into account and can restrict your flying freedom. Any private jet operator providing a global air transport service must obtain its Air Operator Certificate (AOC).
Rental requirements allow for greater passenger safety and safer aircraft than privately-owned aircraft. However, you will not benefit from the freedom and independence of owning your own private jet.
Operational Constraints: public transport involves the implementation of a more important security margin with regard to an aircraft's technical performance during landing and take-off. Therefore, a private jet whose capacities are certified by air regulation to land on a 1000-meter-long runway will not be allowed to land on a 1600-meter-long runway under a public transport regime.
Crew credentials: Pilots hold the ATPL (Airlines Transport Pilot Licence) giving them all the knowledge and capacities required for the public transport of passengers. This ensures that the aircraft be equipped with a qualified pilot able to fly in complete safety.
Aircraft maintenance: The maintenance and control of aircraft equipped with the AOC and belonging to airline companies are only conducted by qualified controllers (partiel145) and are done more regularly than for aircraft belonging to a private owner.
These 3 constraints should be taken into account in a positive way. These tight requirements linked with renting allow for a high level of safety and for safer measures than aircraft belonging to private owners. However, clients benefit from less flexibility and autonomy than if they own the private plane.
Renting means flexibility
No limitation on your independence
Depending on your route, whether within Europe or across the Atlantic, choose the plane that best suits your needs. Indeed, a Phenom 300 will be enough to fly non-stop from Paris to Marrakech but charter a Global Express to fly directly to New York.
Unlimited number of passengers
Private aircraft rental gives you access to a large fleet of aircraft (7,500 private jets available for rental as well as commercial aircraft). You can choose freely between:
Turboprop aircraft such as the Pilatus PC-12 to reach a maximum number of airports
Light private jets such as the Cessna Citation Mustang.
Midsize jets such as the Challenger 350.
Long-haul private jets such as the Gulfstream G550.
If you own the aircraft, you are limited in the number of seats available aboard your private jet.
Airport access for all types of aircraft
Every airport is unique with runway size and location (e.g. landing at a mountain airport) important considerations. Renting a private jet means an expert will assist you when chartering your flight and book the appropriate turboprop or private jet to get you as close as possible to your destination.
Access a plane wherever you are
With renting, you will always find a solution to get to your business meeting or go on holiday. There are more than 1,500 airlines worldwide offering on-demand rental services.
When buying an aircraft, you may not always be able to have your aircraft at your disposal.
Let's say you live in London and must travel to France urgently. Following a flight crew issue, you decide to travel on the Eurostar. However, on the same day, you have a meeting in Maastricht and must go back to London in the evening. By renting an air taxi, the aircraft will be ready and waiting for you in Paris in no time to fly you to Maastricht.
Generally speaking, renting an aircraft gives you more freedom. However, there are peak periods such as the summer months when demand is higher and consequently prices can go up.
How much does it cost to buy a private jet?
Before buying a private jet – new or refurbished – you must ask yourself some key questions. What size do you wish for? Indeed, an aircraft's holding capacity is an essential element. You must also think about the way you plan on using your aircraft. Are you planning on regular flights? Long distances? Short flights?
As such, a small plane will need to stop more regularly in order to refuel. If you are looking to gain time during long-distance flights, you will need to prioritize another model. On the other hand, if your flight time is relatively short, you make take this into account when purchasing your private jet.
In addition, it is also possible to acquire a refurbished private jet in order to reduce purchase costs. It will be necessary to know the number of hours flown by the model. Finally, do not forget that a private jet requires maintenance and extra fees such as insurance, inspections, fuel costs, and pilot and crew salaries…
Your needs and how often you will use the jet must be considered.
If you are:
an entrepreneur
accompanied by no more than 3 people
only traveling in Western Europe (Austria, Switzerland, Spain, Italy, Great Britain, etc.)
carrying little luggage
regularly traveling for more than 2 nights.
We recommend the Phenom 100 private jet.
Fast, with a modern and comfortable cabin, it is one of the bestsellers on the market. A 5-seater twin-engine jet with a range of 2,000 kilometers, it is perfect for fast business trips over short distances. At around 5 million euros new, it is a relatively affordable private jet. However, this of course depends on the frequency of use. At least 400 hours of flight time a year is needed for buying an aircraft to be profitable.
Moreover, if your trips last more than 2 nights, it makes more sense to buy a private plane than rent one. For airlines, a plane on the ground costs twice as much as in-flight due to parking space, accommodating crew, and the aircraft being unavailable for other customers. On journeys of more than 48 hours, airline operators generally choose to return the aircraft to its base meaning the customer must then pay for a double rotation. Being the owner saves you all these inconveniences as your aircraft stays in a hangar at your location.
There are many costs – such as aircraft upkeep, crew, fuel, maintenance, landing and take-off taxes, and parking on top of the price – to consider and aircraft lose value in the same way as a car does. New air safety regulations, technological developments, and the number of flying hours heavily influence the price and after 5,000 flight hours, the price of the aircraft decreases sharply due to wear and tear.
Summary of costs:
Buying a small private jet like a Phenom 100
price of approximately 5 million euros
annual depreciation of 800,000 euros per year
operating costs of approximately 150,000 euros per year including crew salaries, maintenance, parking costs, civil liability, costs for interior upkeep, and insurance
Unforeseen incidents requiring intervention: approximately 50,000 euros per year.
Total annual costs: 1 million euros. These costs increase depending on the size of the private jet.
Renting a private jet: the price of a one-hour flight in a Phenom 100: 2,500 euros.
Offsetting costs
To offset the annual costs, an aircraft needs to fly more than 400 hours per year. Below 400 hours per year and the costs are too high to justify buying a private jet.

Other ways to streamline buying costs
Rent out your jet
You can become a rental customer yourself meaning you can optimize the cost of owning your aircraft. All you have to do is entrust your aircraft to an airline company and place the aircraft under an Air Transport Certificate (ATC). The private jet rental market is very dynamic, so leasing your aircraft eases the costs of operating and maintaining the aircraft.
Buy a private jet in shared ownership
As an alternative to buying, shared ownership allows the costs of use to be shared between several owners. You pay for one or more shares of an aircraft and then benefit from flight hours based on the shares you have in the aircraft. This is an excellent way for companies to travel in a private jet with a reduced basic investment.
Renting a cheaper private jet
Empty legs
Empty-leg flights are an ideal way to travel by private jet at a reduced price. Often an aircraft returns to its base empty or travels empty from the base to collect a customer leaving one leg of the flight up for grabs. As the flight is already paid for by the customer, the sale of the jet fare is unbeatable.
Renting a private jet is (almost) always the most economical solution.
Therefore, while owning one's own aircraft is satisfying, it is not the most economical solution. The high depreciation and staff and maintenance costs are significant barriers to purchase. Moreover, ownership seriously limits possibilities for customization.
Chartering an aircraft, therefore, seems to be the most economical solution for business travelers and wealthy individuals as it offers flexibility and a completely tailor-made solution.
This is why many travelers prefer to rent a private jet rather than own one. Contact us today to find out more about how to charter or buy a private jet.