Dassault: aircraft manufacturer
Dassault Aviation is a French aircraft manufacturer. The company was founded in 1929, by Marcel Dassault. Within the aviation industry, it specializes in air transport and manufactures military aircraft as well as private jets for business aviation. Let's take a look at the history and achievements of this French company, from its first aircraft to the latest Falcon 10X.
The history of Dassault Aviation
Dassault Aviation is a branch of the Dassault group (which also includes Dassault-Systèmes and Immobilière Dassault). Its founder, Marcel Dassault, was born Marcel Ferdinand Bloch. For the record, he changed his family name from "Bloch" to "Dassault" in 1949. This name was taken from the code "chardasso" used by his brother, a general during the Resistance. Moreover, the company Dassault Aviation only took this name in 1990 (it was previously called AMD-BA).

How Dassault was formed from 1918
1918: at the end of the First World War, Marcel Dassault (still named Bloch at that time) created the SEA: Société d'études aéronautiques. It then made deliveries

of 300 two-seaters to the French Air Force.

1930

: a change of personnel is implemented and together they create a new range of aircraft. A three-engine postal plane, then a heavy bomber but still intended for transport, which was a four-engine plane, and finally a single-seat fighter. All these planes were called MB, followed by a number according to the model.

1938

: Marcel Dassault set up a new factory in Saint-Cloud, near Paris. This was the main design office of the

company

. In this factory, the company produced propellers and engines.
Dassault Aviation continued after the Second World War
1945

: That year marked a new set-up and expansion of Marcel Dassault's factories. A factory in Boulogne was renamed "Boulogne Avions Marcel Bloch" and a factory in Talence (Nouvelle-Aquitaine) was named in the same way. Finally, its main plant in Saint-Cloud adopted the same name, a sign of unity for the aviation company.

1947

: New aircraft designs were created, including the Mystère-Etendard range. Certain models were exported to Israel and India, making them the first French exports in the aviation sector.
It was also during this period that the Mystère II, created by Dassault, became the first plane to break the sound barrier. The United States (following an agreement with NATO) placed an order for more than 220 aircraft.
Between 1949 and 1952

: New factories opened in Mérignac (Nouvelle-Aquitaine), and in Villaroche (Ile de France).

1955

: Marcel Dassault decided to centralize all of his companies in Saint-Cloud, with the manager being Benno Claude Vallières.

1956

: The Mirage range of aircraft gradually established themselves and increased their exports. These aircraft were real developments in aviation, as the Mirage III reached the supersonic speed of Mach 2.
Dassault Aviation enters the business aviation market
1960

: This was the beginning of the deliveries of civil aircraft. Based on the technologies used on military aircraft, the Mystère-Falcon arrived on the market. It was Dassault's first twin-engine business jet. It quickly conquered the American market as American airlines such as "Pan Am" were quick to order aircraft.

1971

: After the acquisition of Bréguet Aviation, Dassault extended its activity to several military aircraft development programs, such as aircraft for the maritime patrol, the Alpha Jet (the jets of the Patrouille de France) and also fighter aircraft such as the Mirage 2000, which benefited from truly advanced technologies.

1974

: The Dassault Falcon Jet factory opened in Little Rock, Arkansas. This factory was totally dedicated to the Falcon range of business jets.
The company changes hands
April 1986

: Marcel Dassault died, leaving his son Serge Dassault as his heir, who then took over the company.

1987-1996

: For about ten years, faced with the worldwide decline of the aviation sector, Dassault unfortunately had to restructure and reduce its workforce. In those years, almost 60% of employees had to leave the company.

1993 and 1995

: the first flights of the Falcon 2000 and the Falcon 900EX respectively.

1999

: This is an important date because Dassault Aviation, which at the time specialized in military aviation, saw its sales increase to 68% in the civil aviation sector.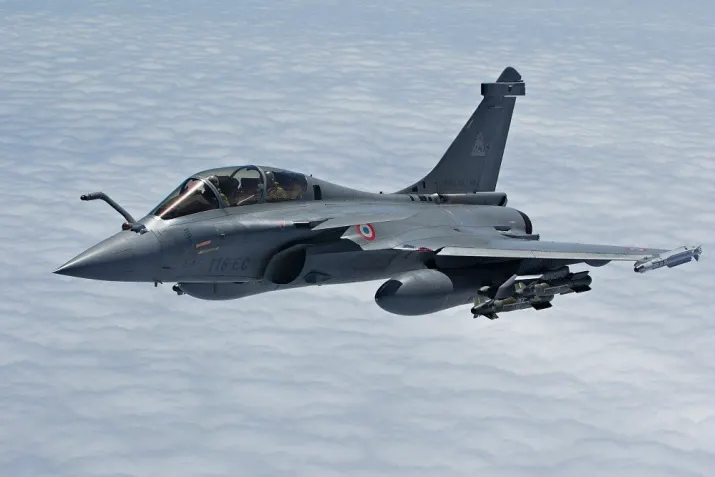 The arrival and use of computers in the production of Dassault aircraft
2000

: Serges Dassault stepped down as CEO and was succeeded by Charles Edelstenne.

2000-2015

: The technological evolution with the arrival of the data processing allowed the manufacturer to make their models directly in a virtual way. This allowed the teams to work simultaneously, saving considerable time and increasing productivity. It was at this time (in 2005) that the three-engine Falcon 7X was manufactured and made operational, without any modifications.

2013

: Eric Trappier became the new (and current) CEO of Dassault Aviation.

2016

: The Dassault Falcon 8X made its first flight in the business aviation market.

At the same time, the Rafale fighter jet was exported and sold internationally. 36 were delivered to India that year.
2021

: The Falcon 6X flew for the first time (after the cancellation of the Falcon 5X project).

2021 was also marked by impressive sales of 3.1 billion euros, notably from numerous Rafale orders.
2025

: As announced by the company, in 2025 we hope to see the arrival of the Falcon 10X on the market.
Dassault Aviation's public appearance
Dassault's French aircraft have a good reputation, and they have already made many public appearances. For the July 14 parades, the Dassault Mirage 2000, the Dassault Falcon 50, the Dassault Super-Etendard and finally the Dassault Rafale have already appeared over the years. They can be seen passing every year between the Champs Elysées rond-point and the Place de la Concorde. (For a few years, this parade took place from the Place des Invalides in Paris to the Place de la Concorde, in 1913 and1930 for example).
As you may have noticed, Dassault's aviation group operates in several sectors. It operates in both civil and military aviation, as well as in aerospace.
Dassault Aviation's aerospace activity
The French company manages both the creation of space vehicles and also pyrotechnic missions. The 3 space vehicles that have been created have different purposes. First of all, they aim to study the possibility of transportation in order to launch a satellite into low earth orbit, by means of an airborne launch. Other aspects like aerodynamics and thermodynamics are studied on shuttles already in space.
In terms of pyrotechnics, Dassault Aviation is a true leader in aircraft equipment manufacturing. It manufactures numerous spare parts as well as systems and equipment for aircraft. Moreover, once the test phases are over, these results are used on satellites and on launchers such as Vega or Ariane, and even on launchers outside Europe.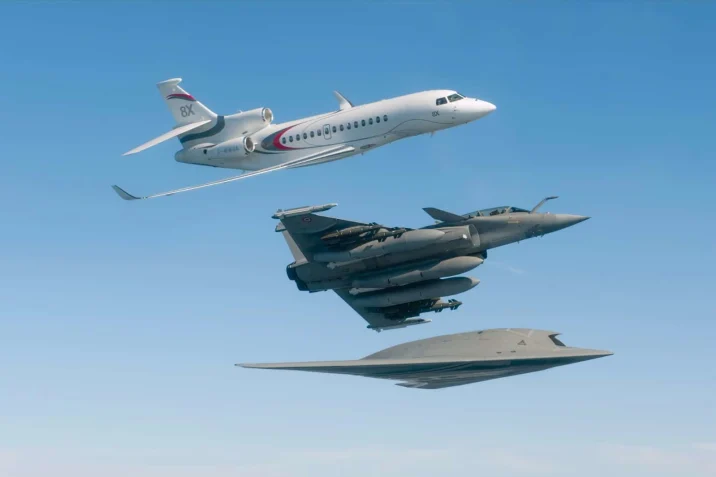 Dassault Aviation's military aviation activities
The Rafale, a twin-engine aircraft
Committed to national defense, the aircraft manufacturer has been building its flagship fighter jet for many years: the Dassault Rafale. This gem of an aircraft made its first operational flight in 1986. This exceptional military aircraft is versatile and can perform several tasks simultaneously, all in one flight. For example, it is capable of performing defense missions, aerial surveillance and surface attack procedures. They have no margin for error, as is the case when they take off from an aircraft carrier with a very small runway.
This aircraft can be described as the police of the sky in the event of conflict, using its strong survivability and stealth at all times. It also has self-defence equipment and an enhanced range of weapons, which are essential in high-risk areas.
Finally, the performance of this military aircraft can also be measured by the supersonic speed achieved by the Rafale. With a maximum speed of 2223 km/h, or Mach 1.8.
Dassault and its military support project
This is a project that the aircraft manufacturer performs in the defence sector. It helps with several aspects, both logistical and technical. Their initiatives are monitored on approximately 1,000 military aircraft operating within the French Air Force and abroad. Dassault is committed to maintaining their aircraft during their lifespan, which is approximately 40 years. The company supplies various types of aircraft such as the Rafale, the Alpha Jets (aircraft of the Patrouille de France), and the various models of the Mirage range.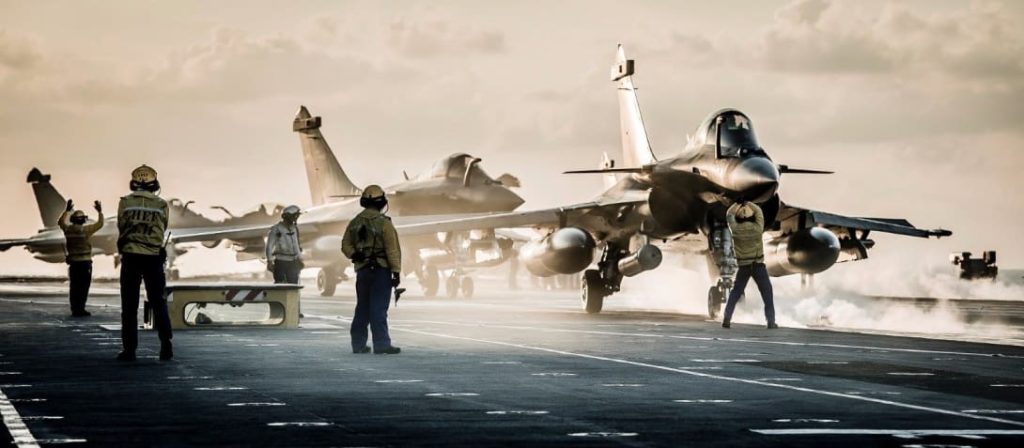 The Neuron program
The French company has been managing the Neuron (nEUROn) program since 2006. It is a European program aimed at producing a military aircraft that would not require a pilot or crew. Its initial objectives are mainly based on innovation and technological challenges. For now, the aircraft manufacturer aims to validate the technology implemented to control and operate a military aircraft without a pilot on board. Several targets have already been reached during the test flights. Among other things, the aircraft is capable of performing threat assessments both on the ground and in the air, as well as tracking, localization, etc… This project is evolving over time and is trying to increase its field of technological expertise, so that it is at the cutting edge of innovation.
The multi-mission Falcons
They are called multi-mission Falcons because they can be used for both military and civilian missions. These aircraft have a long range. In this range you will find the Falcon-Marine, the Falcon 2000MRA and the Falcon 900MPA. These aircraft have large fuselages. The possibilities for different designs as well as the adaptability to any kind of task are more optimal. Each aircraft adapts and performs different missions such as surveillance, military cargo, maritime interventions, towing or medical evacuations.
Dassault Aviation's civil aviation activity
The Falcon range
When you hear the name Falcon, it is referring to a range of civil aircraft, particularly those designed for business aviation. For the past fifty years, this production of business aircraft has met many criteria and offers a wide range of travel options. This range of business jets is one of the leaders in the large-cabin jet category.
The Falcon range is a guarantee of quality and safety, and its reputation is well known. These figures show that:
2500

: the number of Falcon aircraft in operation today.

80

: the number of countries that Falcon business

aviation

operates in.

16 million

: these are the total flight hours for the 2,500 Falcon jets (for the record, this is almost 8 months of non-stop flight per jet!)
To maintain all these aircraft, there is nowhere better than the Falcon Dassault Service, one of the most important maintenance sites located in Paris Le Bourget. There is nothing like visiting the Paris Air Show to see it with your own eyes.
What the different Falcons have in common
The Falcon range has a considerable advantage in that it benefits from the acquisitions that Dassault has made on its previous military aircraft. This means significant advances in technological innovation. These developments are particularly significant for cockpit systems, but also for the aerodynamics of business jets and for improving flight quality.
Also, in an effort to reduce CO2 emissions, all Falcon business jets claim to consume on average 30 to 50% less fuel than their competitors. Dassault Falcons are therefore among the least polluting aircraft (with the lowest CO2 emissions) in the business aviation market.
In addition to the performance aspect, the Falcon range also excels in aesthetics, functionality and design. Indeed, the cabins of these private planes offer outstanding comfort. Dassault Aviation is constantly adapting and renewing its interior designs to meet the most demanding needs. This is the case with the Falcon 8X, whose cabin has been completely redesigned five years after it was first put into operation.
Dassault Aviation's fleet of Falcon business jets
Please see the bottom of this article for more information and technical details on the various aircraft in the Falcon range. Let's take a look at Dassault's fleet of business jets.
Falcon 900LX: Following in the footsteps of the Falcon 900, it was certified in 2010. With a greater range than its predecessors, this long-haul business jet can fly from Moscow to New York, or Beijing to Paris. This tri-jet carries 6 passengers in an unbeatable cabin comfort.
Falcon 2000 (S and XLS models): Having obtained their certification in 2013, these aircraft are among the leaders in the "Super Midsize jet" category. Capable of carrying between 8 and 12 passengers, these planes can make non-stop trips from Paris to Marrakech among many other destinations. They have a range of around 6,000 to 7,000 km.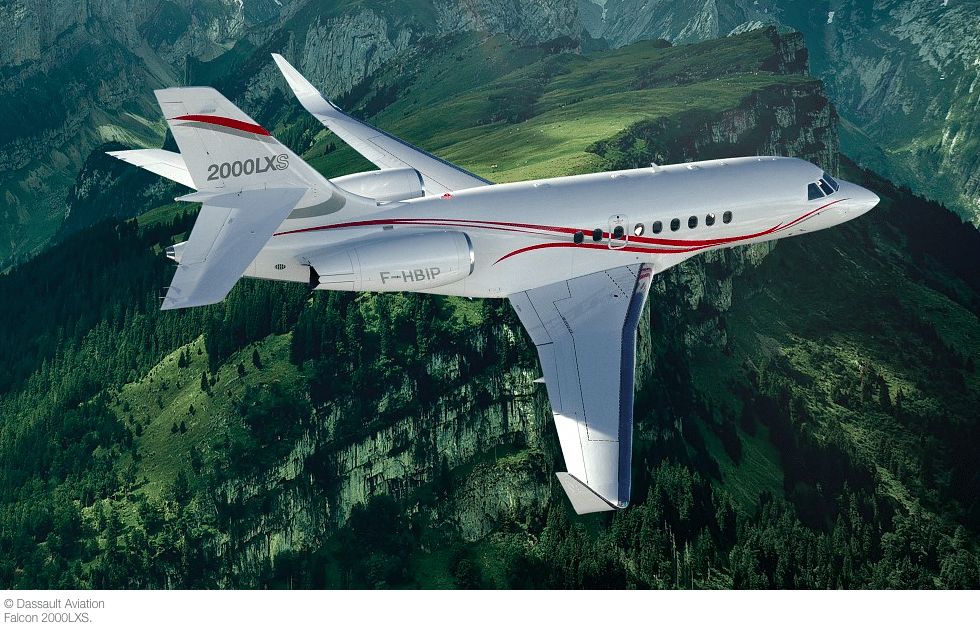 Falcon 7X: Introduced in 2005, there are already more than 270 Falcon 7X aircraft in operation today. With a range of over 11,000 km, this business jet can carry up to 14 passengers over long distances. A high-end private jet, combining speed and comfort, everything has been carefully considered to ensure that you have a comfortable journey.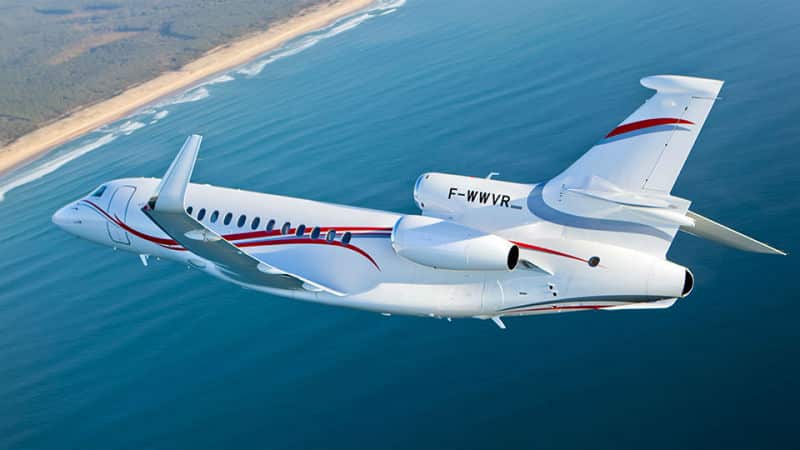 Falcon 6X: The latest aircraft in the Falcon family hit the market in 2021 with its first flight.

At the cutting edge of technology, it has become an unrivalled benchmark in business aviation. It offers advanced features particularly on the flight controls. It also offers you a long-haul trip in total comfort with a capacity of 16 people on board.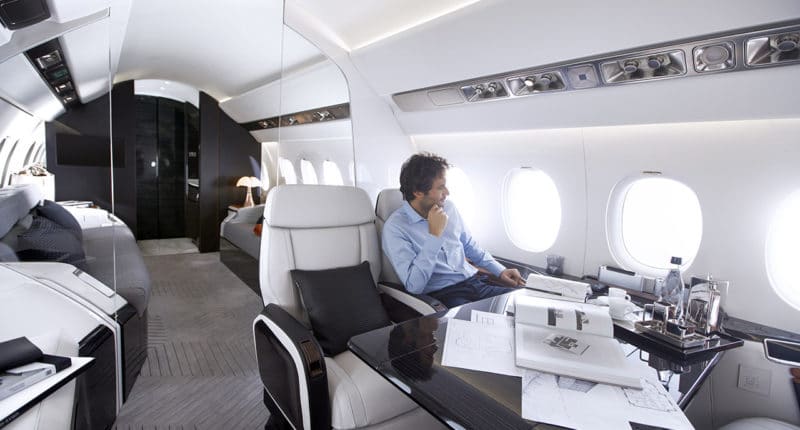 Falcon 10X: This aircraft has been announced for an arrival in 2025. The Falcon 10X promises a host of unprecedented capabilities. The most spacious cabin in business aviation, or a range of nearly 14,000 km, this is what this private aircraft will offer in the next few years.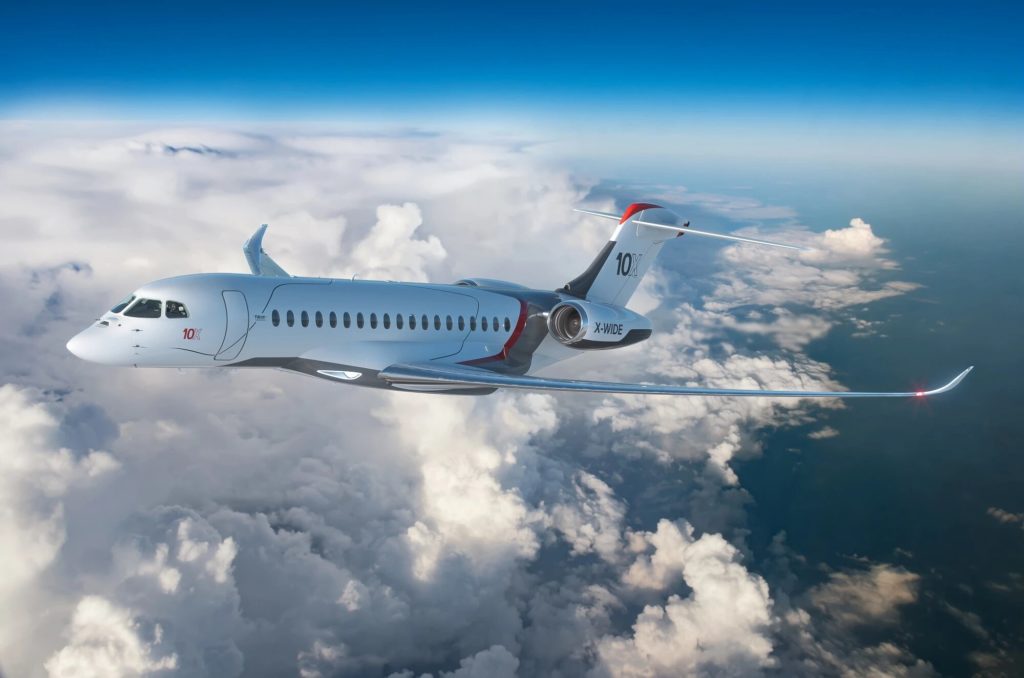 Dassault Falcon's main challenge in business aviation
With nearly 17,000 private jets in use around the world today, it's important to be stand out. And this is what Dassault is doing by advocating the most important values in business aviation.
Flexibility: Travel wherever and whenever you want! Business aviation means adapting to all types of situations and constraints.
Saving time: according to studies, on average it is 2h30 saved on a journey by private jet (in comparison with commercial). This time saving can be as much as 5 hours. In a world where time is money, there is no doubt that business aviation is the solution. Dassault makes it a priority to ensure that these aircraft are operational in the shortest possible time.
An optimal working environment: why offer cabins that are carefully designed, peaceful and well connected? Because they are sometimes true workplaces. Having a meeting in a private jet? It is absolutely possible. Time optimization is related to the comfort of the passengers in the cabin. That's why Dassault Aviation is upgrading its private jet interiors (like the recently redesigned Falcon 8X).
Productivity: as stated above, in business aviation, time is precious. With all the technology and comfort that private jets offer, there is no doubt that attention to detail and performance are key.
Here at AEROAFFAIRES, we do our best to select the right business jets for you. If you wish to book your private flight on board a Dassault Aviation private aircraft, contact us at +33 (0) 1 44 09 91 82, or complete our online quote. Our air experts will respond to your request as soon as possible.
What are Dassault Aviation's most popular private jets?

Dassault Aviation's most popular private jets are :

Falcon 2000
Falcon 900
Falcon 7X

What is Dassault Aviation's latest business jet?

The Falcon 10X is the latest business jet from Dassault Aviation. It was presented on May 6, 2021, at EBACE. It will enter service in 2025.

What are the advantages of a Dassault Falcon private jet?

Dassault Falcon private jets, such as the Falcon 2000 or the Falcon 7X, are highly appreciated for :

their great comfort: large, comfortable and luxurious cabins
their great autonomy
their versatility
their low kerosene consumption