One of Dassault Aviation's flagship private jets, the Falcon 8X is getting a cabin makeover. On this three-engine jet put into service in 2016, the aircraft manufacturer has had time to gather opinions and constructive feedback from passengers, and has therefore focused its evolutions accordingly. Between technological improvements and design, this business jet aims to offer its users the best comfort and the most pleasant cabin experience possible.
Notable improvements in the cabin of this business jet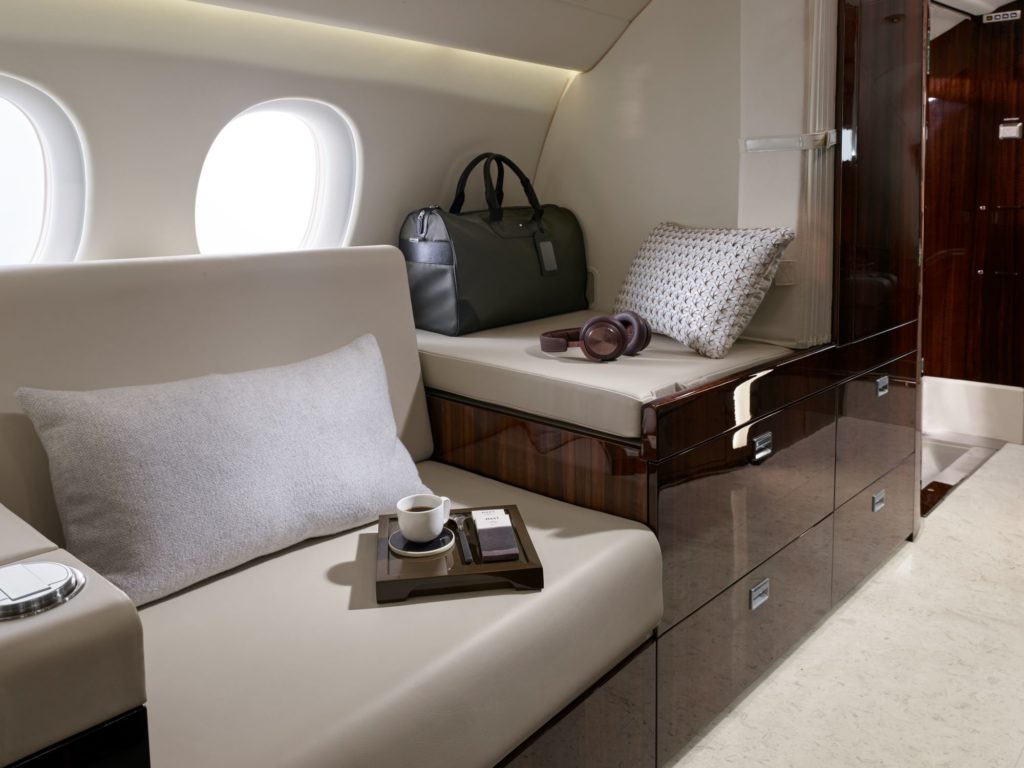 We already knew that the Falcon 8X cabin is one of the quietest in its class. Indeed, all the soundproofing and insulation in place has been improved. In particular, noise pollution has been reduced by using insulating materials. Similarly, a technology allowing to modulate and lower certain frequencies that may be inconvenient has been integrated. Calm and tranquility guaranteed, the noise level does not reach more than 50 dB, which represents the noise of a calm rain or a conversation with a low voice. Without a doubt, the productivity and tranquility of passengers will not be impacted.
We have taken a proven platform and, with the help of extensive customer feedback, enhanced it with a range of new features to improve cabin comfort.
Explains Eric Trappier, CEO of Dassault Aviation. He also praised the work of his teams in improving the styling and technology of the Falcon 8X interior.
The Falcon 8X and its redesigned interior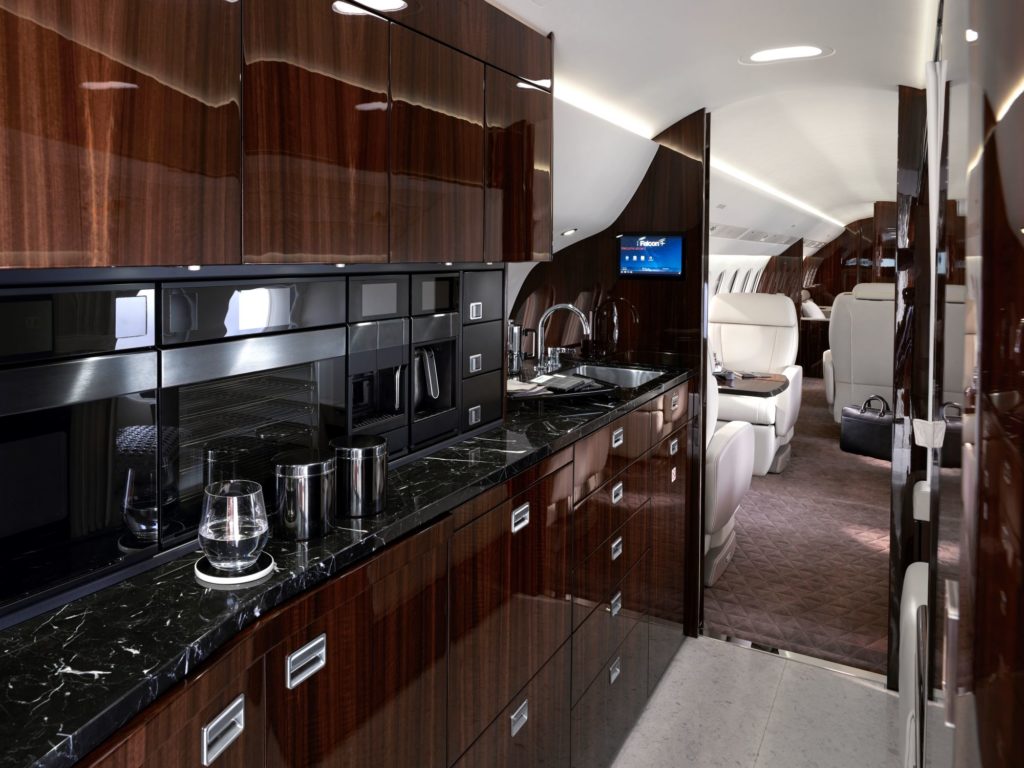 Dassault Aviation makes it a point of honour to ensure that its private jets combine expertise, innovation and elegance. That's why, with its constant improvements, the Falcon 8X features new designs. Indeed, for real attention to detail, you will observe a new variable LED lighting system. The latter can emit different types of light so as not to tire the passengers' vision. This lighting system can also adapt to the sun and time zone changes, especially on long-haul routes, and therefore limits the general fatigue of travelers.
A redesigned aircraft also means a redesigned interior. Storage spaces for your personal belongings (such as your phone or other connected devices) have been integrated near the seats, as well as a loading space and storage for your tablet.
Similarly, the entrance area, including the kitchen area, has been redesigned, enlarged, better equipped and offers more functionality. And in the bathroom, you now have the option of requesting access to a shower during your flight. Everything has been designed for the comfort and quality of flight of passengers. Finally, the rest area has been designed for even greater comfort and calm.
The Falcon 8X and its connected cabin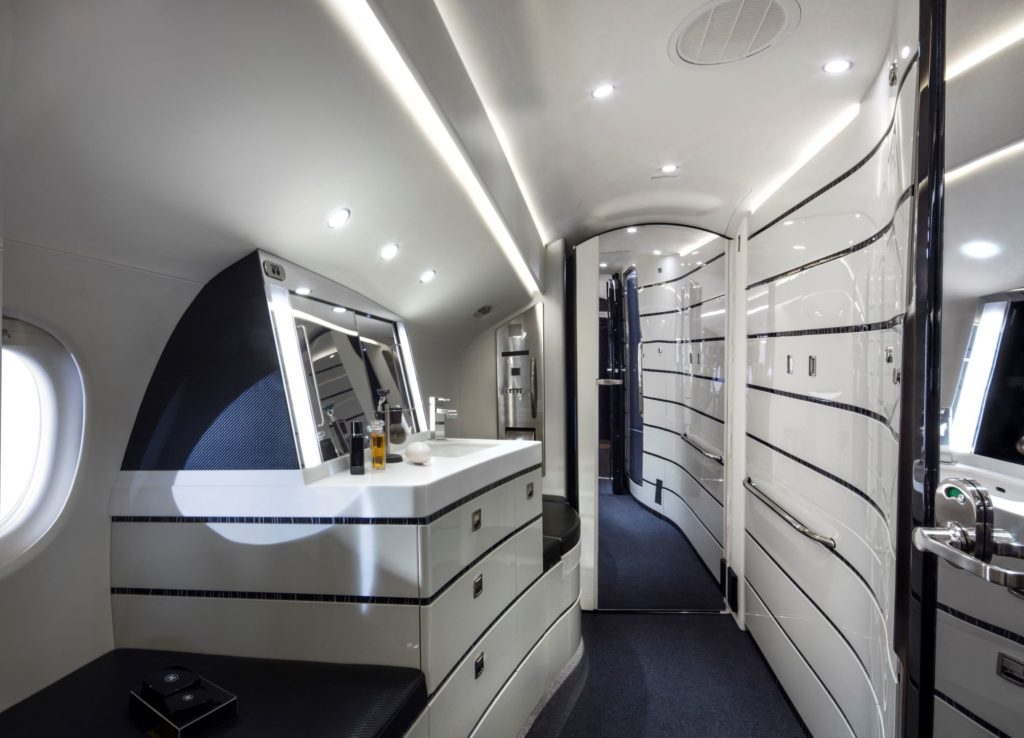 With the advanced technologies that Dassault Aviation integrates into its private jets, we are not surprised to learn that the entire cabin of the Falcon 8X is equipped with a Bluetooth connection. Passengers can then connect all their devices and take advantage of this wireless technology to listen to their own music playlists for example. If you don't want to use Bluetooth, touch screens are available in the cabin.
Another system has appeared, it is the ICS system, for "innovative cabin system". It consists of being able to adjust the different functions of the cabin as well as the entertainment tools. For example, you have the freedom to modulate the interior lighting, as well as the exterior lighting by adjusting the window shutters, you can also adjust the sound of the music, the temperature in the cabin, etc…
Finally, "Falcon Connect" is a communication tool that promotes passenger connectivity. It ensures that passengers' productivity and performance are maintained. In particular, it manages access to videoconferences, a connection to a browser, messaging, etc., and all this at any time during your flight.
Discover also the other Dassault Aviation business jets like the Falcon 6X, Falcon 7X and Falcon 10X.
Example of fares by route with the Falcon 8X :
Moscow to Sao Paulo: from €230,000
From New York to Beijing: from €210,000
Contact AEROAFFAIRES for any private jet request by completing our online quote or by calling us at +33 (0)1 44 09 91 82.