Falcon 10X: introduction
The latest addition to the Falcon range from prestigious aircraft manufacturer Dassault, the Falcon 10X, is hailed as the pinnacle of luxury and space in private aviation. Expected to go to market and be delivered in 2025, this private jet offers an exceptional range of 13,900 km, promising sumptuous and formidably efficient business travel. The ultra-spacious, state-of-the-art cabin transforms the flying experience. Explore the features of this new Dassault jewel with AEROAFFAIRES.
Falcon 10X: aircraft interior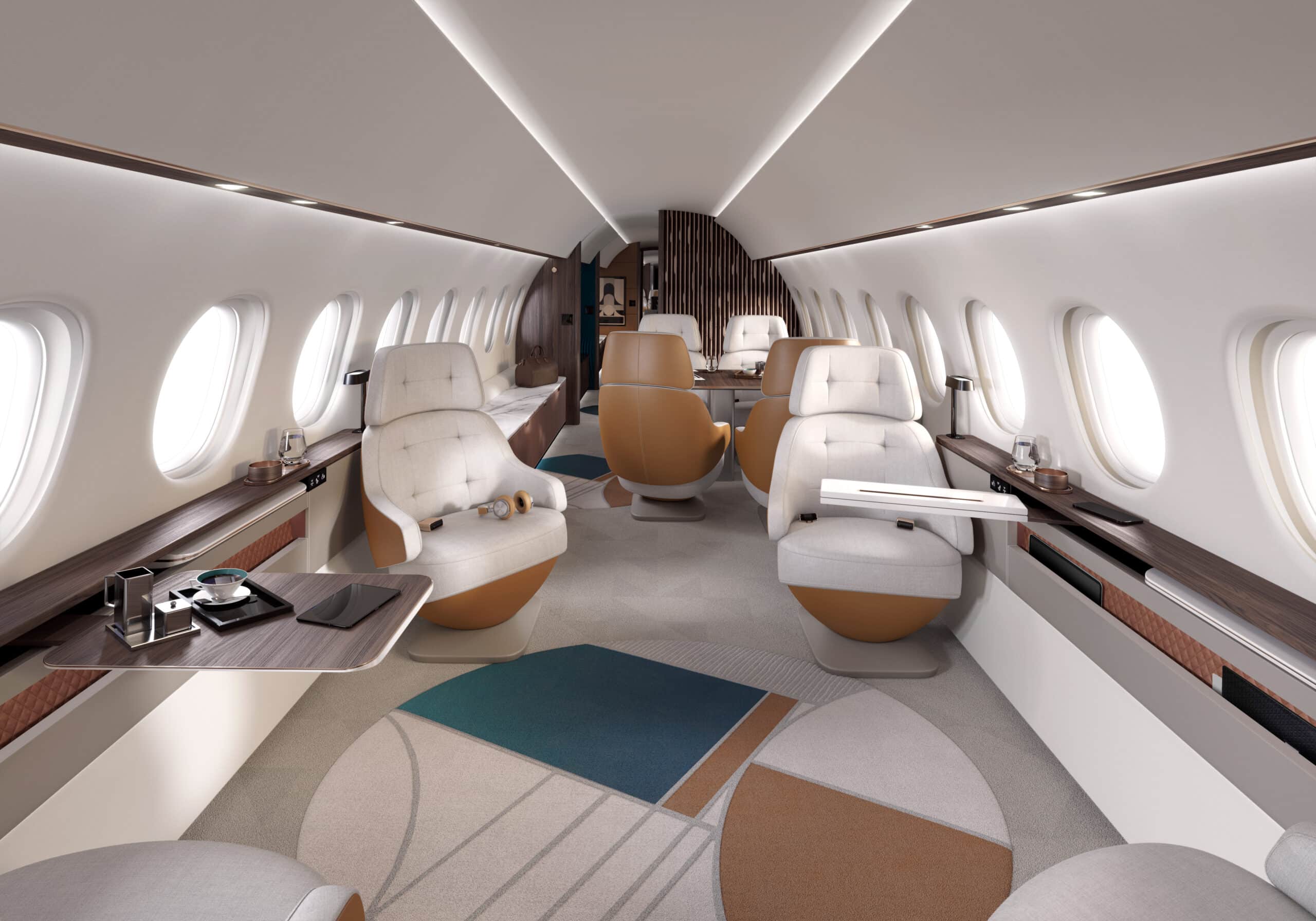 The XXL cabin of the Falcon 10x includes 4 separate lounges, as well as a large en-suite bathroom, a home cinema and a dining room. Featuring a modern design and bathed in natural light thanks to its 38 windows, the Falcon 10X offers exceptional comfort and an upscale experience that will appeal to the most demanding passengers.
The Falcon 10X stands out for its exceptional performance as a business jet. Powered by two powerful Rolls-Royce Pearl 10 engines, generating over 18,000 pounds of thrust, it offers a remarkable combination of power and efficiency. The wing, made of lightweight, robust composite materials, and the well thought-out wing design ensure exceptional manoeuvrability even at low speeds.
The cutting edge of innovation lies in the avionics of this superb business jet. Its cockpit incorporates cutting-edge technologies designed to enhance flight safety and optimize the flying experience. Human-machine interfaces have been redesigned, and automated systems enable a single pilot to take charge of the flight. In terms of crew, the Falcon 10X is configured to include two pilots and one flight crew member.
The advantages of the Falcon 10X
Performance: With its remarkable range, the Falcon 10X offers uninterrupted flight for up to 15 hours. What's more, its impressive speed can reach up to 975 km/h, making it a fast, high-performance jet.
Luxurious and comfortable: the Falcon 10X cabin is distinguished by its elegance and generous space. The seats offer exceptional comfort, while the luxurious design adds a touch of sophistication. The aircraft can accommodate up to 8 passengers on board, offering an uncompromising private travel experience.
Innovative: The major innovation of this aircraft lies in its ability to offer multiple interior layout configurations. The layout of the Falcon 10X is particularly well suited to the needs of business travel, offering exceptional flexibility to meet the specific requirements of passengers.
Example of a Falcon 10X route price