Until which point in time are pregnant women allowed to fly? How do you organise a plane trip with your children according to their ages? What services are available for children on board a jet and what are the advantages of travelling with your family? These are all questions that are legitimate to ask yourself before opting for business aviation with its blond heads.
What are the advantages of the private jet with the family?
Having your family travel by jet will allow you to offer your loved ones several advantages such as being flexible, saving time when boarding and disembarking, avoiding virus contamination due to cramped spaces or crowds of travellers, taking advantage of a tailor-made service in terms of diet, comfort etc. Nevertheless, here are some things to know according to the condition and age of each person.
Can pregnant women travel on private jets?
Expectant mothers are, of course, accepted on the flights, but there are a few conditions to be avoided, in particular concerning the term of the pregnancy.
Up to how many weeks of pregnancy can you travel?
From 28 weeks of pregnancy onwards, it is recommended that pregnant women consult their doctor for authorisation. After 36 weeks of pregnancy, few airlines will agree to fly expectant mothers. However, with a doctor's authorisation, some operators will be able to accommodate them. Please contact our AEROAFFAIRES services to avoid any disappointment before booking a flight.
What are the advantages for pregnant women to travel by private jet?
The comfort of made-to-measure
The jet option is almost ideal for mothers-to-be. Indeed, in terms of comfort, long queues will be nothing but a bad memory, as will the crowds of impatient passengers and the stress it can generate. It is also possible to organise ground transfers with a private chauffeur service whose vehicle will be best suited to the comfort of each person. On the plane, tailor-made is the key to a successful trip: pregnant women can enjoy a more intimate space, particularly comfortable seats and sometimes a full recline for long flights.
The adaptable catering service
The on-board catering service is also totally adaptable to the desires and appetite of the mother-to-be as well as to any possible contraindications for a particular diet.
Is it possible to travel with your baby on a jet?
Infants can travel on a jet with their mother. However, it is recommended that mothers who have had a caesarean section obtain medical clearance if the operation took place less than 6 weeks ago.
What are the conditions for travelling with my baby?
To travel with your child under the age of 2, you will need a valid passport for the rest of the family as well.
Do I need to reserve a seat for my baby?
If your baby is less than 2 years old, he or she does not need to have a seat and can be kept on your lap like on regular flights. Nevertheless, it is quite possible to reserve a seat for him or her on which you can install his or her car seat so that he or she is as comfortable as possible. Please note that prams and pushchairs can be fitted directly in the cabin.
Can I bring my baby's food on board?
Depending on what you wish, you can either bring your infant's food on board, the cabin crew will heat the food according to your instructions; or leave it to the operator's catering service. It is advisable to inform them of your requests beforehand to avoid any disappointment if there are any contraindications or food allergies to which you need to be attentive.
Can medication be brought on board?
It is perfectly possible to travel with your baby's or the rest of the family's medication. Remember to check beforehand the legislation on the transport of liquids by plane.
Can my baby travel alone?
No, infants and children under 2 years of age must be accompanied by an adult when travelling by plane. If the parents are not the accompanying person, they must provide a document authorising a third person to travel with their child.
Is it possible to travel with young children in a jet?
From infants to young children aged 2 and over, everyone can travel in a private jet, regardless of age! Nevertheless, one condition remains the same for the whole family: to be in the possession of a passport.
Will my child be comfortable?
Travelling on a jet with your child is an almost ideal solution for parents as the flexibility of business aviation offers many advantages. Your child will be comfortably seated, enjoy the ideal temperature for resting, a catering service that adapts to your wishes and a wide range of entertainment available.
For children over the age of 2, it is compulsory to reserve a seat. As with infants, it is recommended that you bring a car seat or booster seat so that your child is properly installed. It is possible, on board certain aircraft, to recline the seats to the maximum or even to take advantage of beds, for optimum comfort and peace and quiet for the whole family.
The on-board catering service will prepare your children's meals according to your wishes and dietary requirements. In case of allergies or intolerances, please do not hesitate to inform us so that we can inform the cabin crew.
Business aviation offers many solutions to guarantee your children a pleasant flight. Movies, music, toys and books adapted to everyone's desires are available to entertain your family. Not forgetting the possibility for those who wish to discover the world of pilots by visiting the cockpit.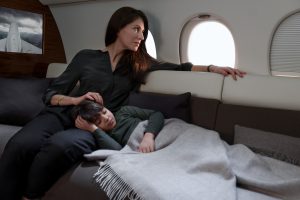 Private jet with teenagers?
Adolescents are not forgotten and obviously benefit from the same tailor-made services as for each member of the family mentioned above. The entertainment services are extended with a selection of magazines or journals adapted to their ages and wishes.
Can my children travel alone?
The rule for letting a child travel alone is linked to the airline that welcomes them on board. However, there are some general rules: children under four years of age cannot travel alone, they must be accompanied by a person aged fifteen years or over. As with babies and children under two, parents must give written permission for a third person to accompany their child. In most cases, from the age of twelve, children can travel alone with their parents' permission.
Book a flight for my family
Contact us directly online or by phone at +33 (0) 1 44 09 91 82 to get your quote or ask us your questions.