General description
Do you want to discover Paris? Whether it is for a business trip or a weekend with your family, don't hesitate and travel by private jet or helicopter with AEROAFFAIRES, your specialist since 1991.
If London is the city most frequented by private jets in 2017, Paris Le Bourget airport is the largest business airport in Europe, recording 50,684 private aircraft movements that year.
Paris is the political, economic and cultural capital that is highly prized by tourists and businessmen alike, and is the city with the highest number of private jets in France. Business aviation has created around 5,000 jobs there, and more than 180 private planes and helicopters will be based in Paris in 2017 (EBAA figure).
AEROAFFAIRES provides you with everything you need to know if you are travelling to Paris in a private jet.
You can choose between several airports and AEROAFFAIRES recommends that you choose Le Bourget as a priority if you have the opportunity.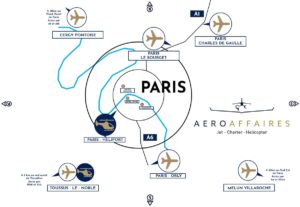 Europe's leading business aviation airport in terms of traffic, it is close to the city centre (11 km north-east of Paris) and is dedicated to private aviation. It has the largest number of terminals in Europe, each with high-quality VIP services.
It is open 24 hours a day for arrivals but from 6am to 10pm for departures. In addition, with more than 55,000 private aircraft movements per year, it is the base for many private jet operators, making hiring easier and cheaper.
It also has an important history, witnessing the arrival of Charles Lindbergh at the end of his famous Atlantic crossing, and the entry into Paris of Hitler and the Russian dancer Rudolf Nureyev.
Finally, it houses the Air and Space Museum and one of the main offices of the General Directorate of Civil Aviation, and every two years it organises the world's largest air show.
As Le Bourget is not open in the summer, alternative airports exist.
Paris – Roissy Charles de Gaulle Airport
Located approximately 30 minutes by car from Paris city centre, Charles de Gaulle Airport is generally used by business aviation for connections with regular flights.
Access is therefore limited for private jets and airport and parking fees are high. If you are able to do so, please go to Le Bourget, which is about 15 minutes' drive away.
Orly airport is located south of Paris and is mainly intended for commercial aviation and not for business aviation. It is equipped to accommodate private jets but is only chosen for connecting with a commercial aircraft.
Avoid this airport if you can as landing and take-off slots are not given priority to private jets, resulting in a significant risk of delay and high taxes.
Toussus-le-Noble airport is located 20 kilometres from Paris. It is one of the smallest and oldest airports in France and is only accessible by turboprop aircraft, such as the Aviator or the P 68. However, its low traffic offers you more peace and discretion.
Dedicated to business aviation, many French government aircraft fly through it throughout the year and it also hosts pilot schools.
Pontoise airport is located 40 kilometres north of Paris. It is mainly used for leisure but is a good alternative if chartering private jets is not possible at previous airports. It can accommodate all types of private jets.
Air base 107 Villacoublay, located in the Yvelines, is also accessible under certain circumstances, but is usually reserved for military flights or VVIPs with specific authorisations.
Would you like a chauffeured vehicle to wait for you on arrival and drive you wherever you want? AEROAFFAIRES will take care of reserving the car that suits you best (Mercedes S Class, VIANO or Limousine for example).
Most airports are also accessible by helicopter from the heliport located in Issy-les-Moulineaux, south of the Porte de Sèvres.
Paris Heliport (Issy-les-Moulineaux)
The heliport is open from Monday to Friday from 5am to sunset + 30 minutes, and on weekends and public holidays from 6am to sunset + 30 minutes.
AEROAFFAIRES offers you a helicopter hire service from Paris with a point-to-point transfer from the airport to the city centre; an opportunity to discover the city from the sky and optimise your time.
For example, you will need
15 minutes from Paris heliport to Paris – Le Bourget airport: one way price from 3300€ for 5 passengers.
20 minutes from Paris heliport to Paris – Roissy Charles de Gaulle airport: one-way price from 3900€ for 5 passengers.
30 minutes from Paris – Orly airport to Paris – Charles de Gaulle airport: one way price from 5000€ for 5 passengers.
The unit hired is a twin-turbine Squirrel AS 355.
Our experts are at your disposal 24 hours a day, 7 days a week to find the jet that suits you best. Taxi plane, helicopter, private long-haul jet or commercial plane for VIPs, AEROAFFAIRES charters your aircraft in 2 hours, at a competitive rate.
Trusting AEROAFFAIRES also means protecting the environment. With its SkyCO2 programme, 100% of the CO2 emissions produced by each business flight are offset by supporting the preservation of forests in South America.
Book your private jet by contacting us 7 days a week, 24 hours a day on +33 (0) 1 44 09 91 82.