In this article, AEROAFFAIRES presents the 6 private jet models from Dassault Aviation's Falcon family. These jets have high engineering standards and are at the cutting edge of technology. They are highly sought-after, iconic models in the private aviation sector. Dassault is constantly striving to improve its aircraft to meet these standards in the aviation market.
The Falcon range
Dassault Falcon Jet is a subsidiary of the French aerospace group Dassault Aviation. The manufacturer operates military and business jets and has sold more than 10,000 aircraft in almost 90 countries. Dassault's first Falcon flew on May 4th, 1963.
The Falcon range now comprises six models. Its latest, the Falcon 10X, is currently under construction and is due to enter service in 2025.
The reputation of the manufacturer and of this range of aircraft is possible thanks to numerous competitive advantages :
the technological advancement
the comfort
the level of versatility
the lower fuel consumption in comparison to similar aircrafts produced by other manufacturers
In fact, Falcon business jets claim to consume on average 30% to 50% less fuel than its antagonists. This family of business jets is one of the leaders in the large-cabin airplane market, and its reputation is well established.
The aircraft manufacturer Dassault makes almost three quarters of its turnover from Falcon sales.
They are also used by the French army for maritime surveillance purposes.
The 6 Falcon private jets
You can find information on each aircraft on our blog. But, here is a short presentation of the Falcon fleet. We present 6 models of Falcon private jets from the manufacturer Dassault Systeme.
The Falcon 10X: Falcon's latest private jet model
It's Dassault's latest little gem. This new model of private jet, the Falcon 10X will be the largest and most powerful corporate jet ever designed by the manufacturer Dassault. The aim of this new aircraft is to challenge its competitors, Bombardier and Gulfstream.
Production was announced on May 6, 2022, with deliveries and entry into service scheduled for late 2025. The Falcon 10X promises luxurious business travel in an ultra-spacious, state-of-the-art cabin.
The 10X brings together all the excellence of Dassault's equipment. This long-haul aircraft is specifically designed to combine speed and safety. This is particularly true of its carbon fiber alloy, which is very resistant. It can fly transcontinental flights, such as New York to Shanghai, without difficulty, as well as to other destinations that would be impossible without a stopover with civil aviation.
The Falcon 10X promises excellence, especially with its FalconEye system, which allows it to fly in very low visibility. We also note its great interior luxury, which is promised to be extremely bright and spacious. This luminosity is possible thanks to the size of its windows, which are larger than those of the previous Falcon models, which we will see below.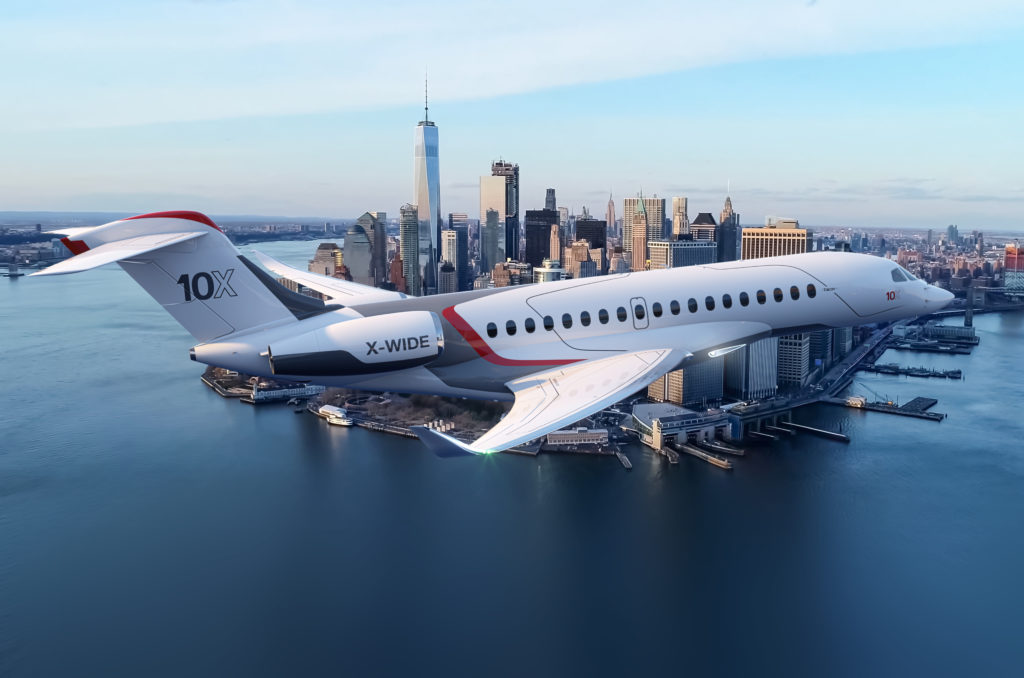 This high-end aircraft was launched in 2016. Derived from the more powerful Falcon 7X, the autonomy of the Falcon 8X allows it to connect most of the world's major capitals.
This aircraft has a long range, enabling it to operate like a commercial airliner. Offering the widest range of configurations on the business aircraft market, it can be customized to meet your needs.
Dassault promises with this model an improvement on the previous 7X, notably with the quietest cabin on the market and its comfort. This long-haul aircraft can connect major cities as we mentioned. For example, it can fly transcontinental flights, such as Beijing to New York.
The Falcon 8X also uses technology borrowed directly from the famous Rafale. A guarantee of efficiency and safety. Like its big brother, the Falcon 10X, it has the optional FalconEye, which enables it to navigate even in poor visibility.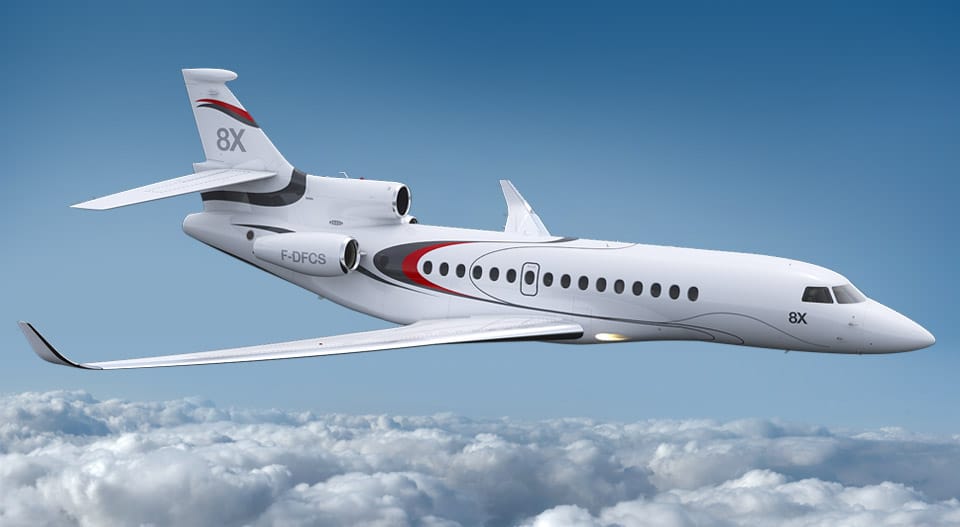 The Falcon 7X: one of Falcon's most coveted private jets
This aircraft was put into service in 2005. It is an emblem of the French airline industry in the world of private aviation. It is one of the most coveted aircraft for business travel by company directors and CEOs. Indeed, it has more than 500,000 flight hours to its credit and has operated in more than 40 countries.
It has a large capacity, as it can carry up to 14 passengers over long distances, about 11,000 km.
This Dassault tri-cruiser is one of the manufacturer's most successful private jets.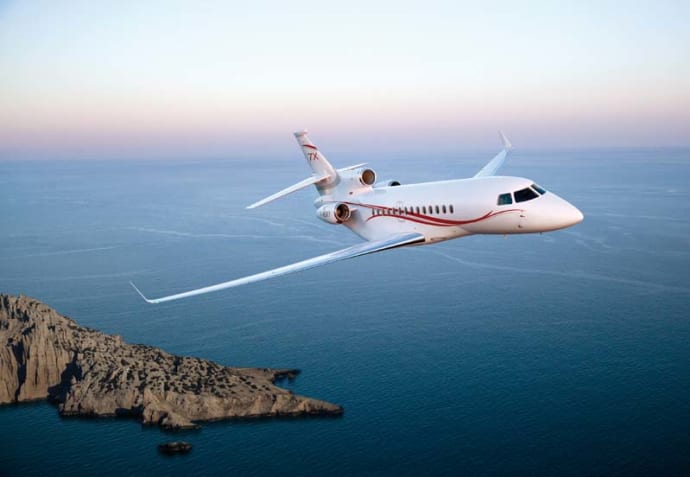 The Falcon 6X is one of the most recent members of the Falcon family. It arrived on the air transport market in 2021. It is also considered a long-haul private jet.
Its cabin is the tallest and widest of any aircraft designed for business flights. Combining technological capabilities and luxury design, the Falcon 6X meets all passenger requirements.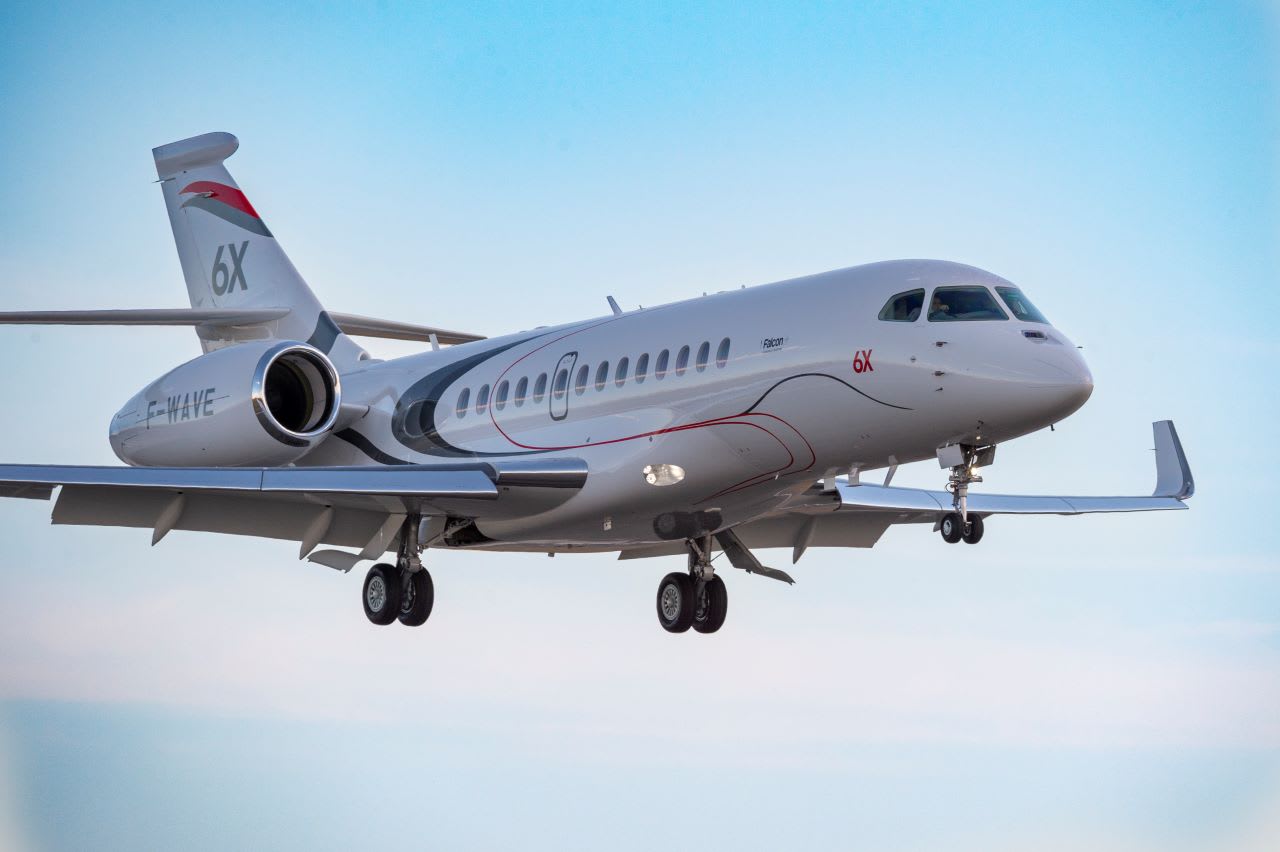 The Falcon 900LX: a private jet for the transport of heads of state
This aircraft was certified in 2010. It has a long range and can carry up to 14 passengers. With a range of 8,200 km, a spacious cabin and 3 jet engines, it is also one of the most popular private jets, just like the other Falcons.
It offers outstanding flight safety and great flexibility for the flight plan thanks to its flight altitude. It has a range of up to 5,000 miles.
The Falcon 900 can be used for civil and business aviation as well as for official missions such as transporting heads of state. It can be transformed into a presidential aircraft. It can also be transformed into a military aircraft. Like most Falcons, this airplane seats 12 to 14 passengers.
Onboard facilities include
toilets
a galley
a large baggage compartment accessible to passengers from their cabin.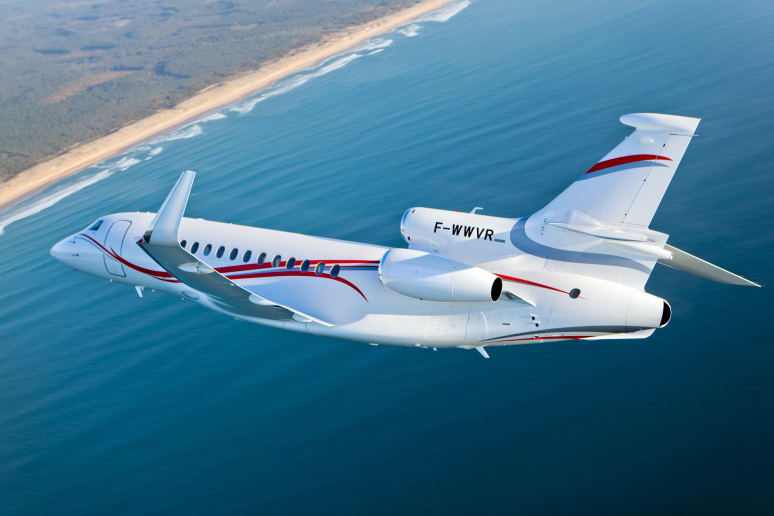 The Falcon 2000LXS: a leading private jet in its category
This category of aircraft is one of the leaders in the "Super Midsize Jet" category. It is capable of accommodating between 8 and 12 passengers on board.
It is an excellent option for passengers familiar with business aviation. The advantages of this aircraft are :
the comfort of the travelers thanks to its spacious and high-end cabin
its large baggage compartment which allows to carry 14 medium-sized suitcases.
It has several relaxation areas with a kitchen in the front, folding seats, toilets. Various customizations can be combined to create a relaxing travel environment.
The Falcon 2000 can take you on long distance trips with a range of 7400 km.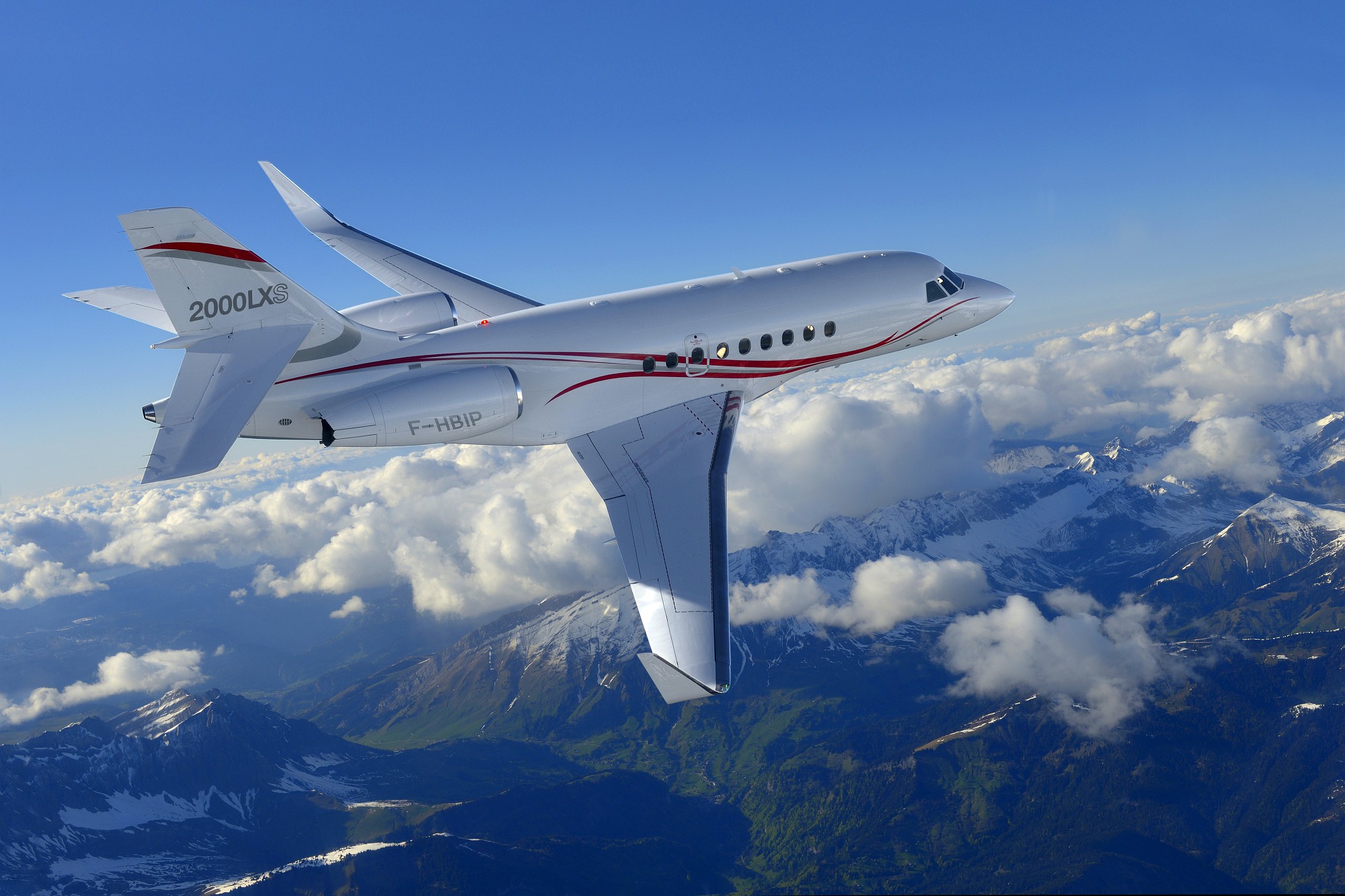 Contact AEROAFFAIRES to charter a Falcon jet aircraft
To estimate the price of your trip, please contact us to draw up a quote that will meet your exact requirements, depending on your needs, your destination and the type of aircraft you have chosen. At AEROAFFAIRES, we are available 24 hours a day, 7 days a week to respond to your request as quickly as possible. Contact us by email: charter@aeroaffaires.com , by telephone on +33 1 44 09 91 82 or make your quotation online to obtain a first estimate.