When you are an able-bodied person, you don't think about the accessibility of the places you visit. The same goes for transportation. Taking a train, a cab or a plane. All these things seem simple and without difficulties but what about people with reduced mobility, in particular in our case, on board a private jet, is accessibility simple or complex?

Accessibility for PRM on board an aircraft
We do things without really asking ourselves any questions, but for someone with a disability it is different. Taking a transport is an organization and a challenge that can be stressful.
Reservation when you have a disability
Nowadays, it is easy to access tickets via applications and websites. For the reservation of a private jet it is the same thing in addition to having access to a premium service that reduces the stress and difficulties.
Depending on the disability, the organization is different. A deaf person will have less difficulty boarding a plane than a quadriplegic.
For a disabled person who still has some autonomy, such as a deaf or mute person, the reservation is made like a valid person. If he wishes, he can benefit from an assistance to help him to take his flight.
For people with major disabilities that do not give them enough autonomy to travel alone or without assistance, it is different. The company must be aware of the situation and have the necessary information about the passenger's condition.
The type of disability
For people whose disability requires them to use a wheelchair, there is a classification for airlines:
WCHR: passenger with reduced disability, able to walk short distances and climb stairs. They are moved around the airport in a wheelchair.
WCHS: passengers with a medium disability who are able to walk short distances. They are transported by wheelchair until they enter the aircraft.
WCHC: Passenger with an important handicap, unable to walk. They are transported by wheelchair to their seat on the plane.
Source: handicap-info
The transport of a person with reduced mobility implies before boarding that the medical service of each airline agrees after the submission of an international form, the INCAD.
During the reservation process, the situation of the passenger with reduced mobility must be indicated. Fortunately, in the majority of cases, people with reduced mobility are provided with assistance.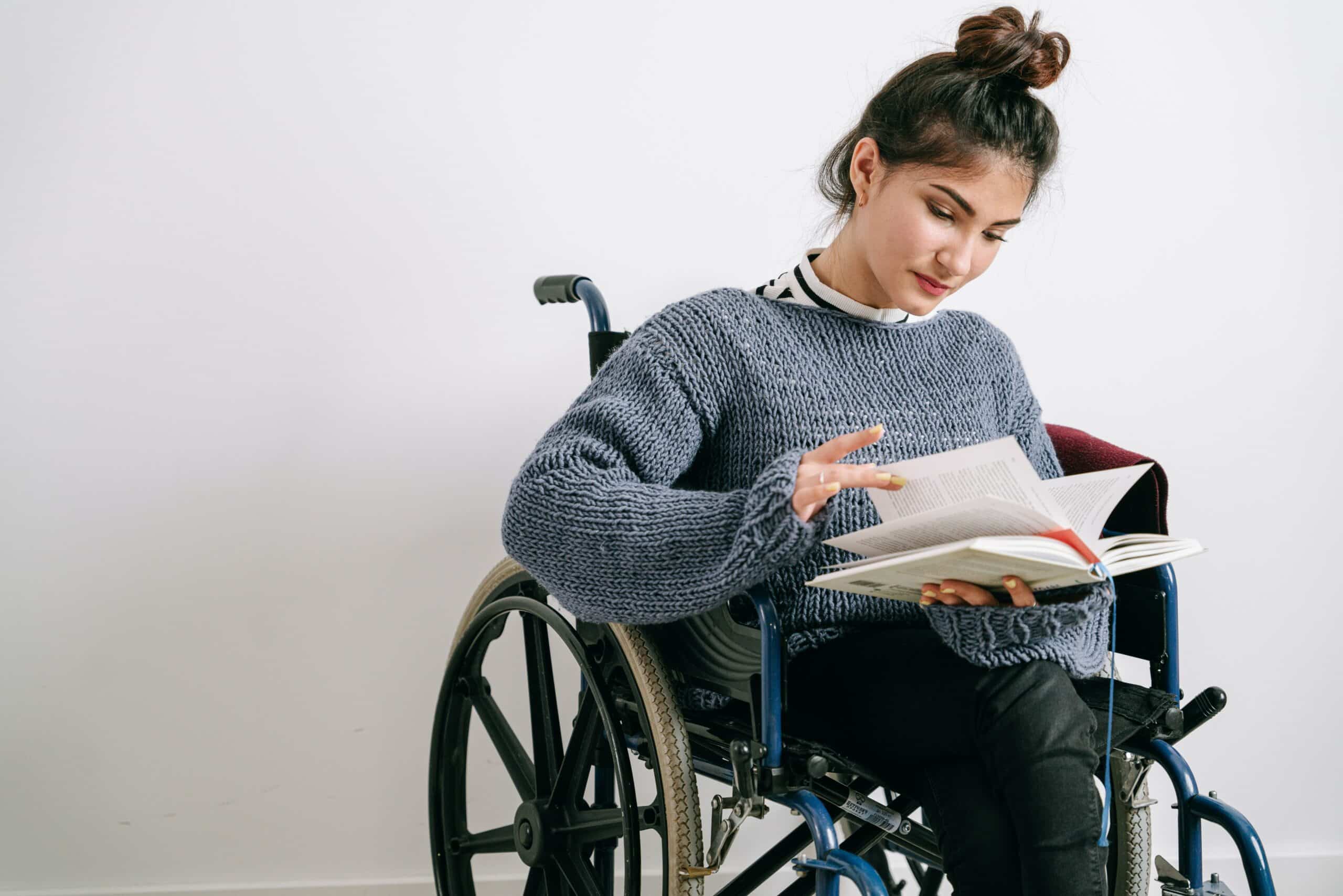 Traveling on a private jet when you are a person with reduced mobility
The advantages of a private jet for a PRM
The advantage of a private jet when you have a disability is the comfort and ease of access. The personalization of the business aviation service is ideal in this situation.
Therefore, when one solicits private aviation, it is first of all to be sure of :
Arrive on time and with fewer delays.
Spend very little time between arrival at the airport and boarding.
Benefit from an optimal service that meets your expectations.
Less stress and fatigue.
Boarding in a private jet
The goal when transporting a person with a disability is to keep the distance between the private jet and the arrival point short. Sometimes additional personnel are required to assist the passenger in boarding. Often in small airfields it is the firefighters who help to transport the passenger. So, when the passenger gets out of the wheelchair to sit down, there is someone to help him or her and not to make this moment difficult.
When the disability allows the passenger to stand for a limited time, there is a ramp available to assist, in addition to the staff. The use of a platform is possible to get the passenger on board. A training of the caregivers in the FBO, delivers the necessary skills for this type of events.
Electric wheelchair transportation
However, for some small machines, the transport of a wheelchair is not possible. It is best to opt for larger models that are easy to transport wheelchairs in. For example the Dassault Falcon 900X, the Cessna Citation Latitude, the Cessna Citation Cj3, the Legacy 500 and the Challenger 300.
In addition, depending on the wheelchair there are certain factors to consider. For example, when transporting an electric wheelchair, it is impossible to transport the battery. Contrary to an airliner flight, there is no cargo hold to separate the battery from the rest of the plane. It is a dangerous component, too powerful for transport. It is therefore impossible to transport the electric wheelchair.
Similarly, when you are in a wheelchair, unless the plane has specific functions, you must get out of it to be on a seat and be secured in accordance with basic safety standards. Of course, the company will store your wheelchair in a safe place. Finally, if you are in this situation, do not hesitate to contact the company you are traveling with to find out more. Also, if you travel with a broker like AEROAFFAIRES, they will have the information you are looking for.
At AEROAFFAIRES, we are at your disposal and can answer all your questions about private jet flights. For any charter request, contact us at + 33 (0) 1 44 09 91 82, by e-mail: charter@aeroaffaires.com or fill in our online quote. We will answer you as soon as possible.