Since 2017, in the world of private aviation we hear about Alice the responsible private jet. An electric private jet that will revolutionise the environmental impact of regional flights by making them responsible. Did you know that flights of less than 3000km represent the majority of private jet journeys? Alice's ambition is to achieve performances close to those of the mythical Citation 1, manufactured by the American manufacturer Cessna Aircraft!

How far has the Alice project progressed? How do the engineers in charge of its production intend to take up this aeronautical challenge, which is unprecedented in the history of business jets?
The story of Alice, the responsible private jet
In a world where the ecological debate is returning more and more, in all areas. In business aviation, few projects manage to stand out by producing responsible aircraft. Among them we find Alice. It is an aeronautical project, which is taking shape over time, around the next 100% electric private jet. Carried out by the Israeli startup EViation, Alice has the objective of a first commercialisation of flights by 2021.
Omer Bar-Yohay, president of EViation, works closely with partners in more than 21 countries. This colossal project, in order to be operational, must bring together the best innovations in the world. Especially if it wants to carry out intra-European regional flights. These flights require, among other things, the certifications necessary for their commercialisation. EViation is also collaborating with the FAA (Federation Aviation Administration), an American institution.
Moreover, beyond the technological ambition of the project, EViation wishes to considerably lower the price of a regional flight in a private jet. What secrets does Alice hold in order to make this state-of-the-art project a reality?
Operation and construction of Alice
Alice's energy supply is provided by two 980 KWh batteries, known as "lithium-aluminium-fusion" batteries. These two batteries alone power three motors. The turboprop, the main one, is located at the rear of the aircraft. On the two wings we find two other engines. The jet's engines are made by the manufacturer MagniX, three Magni250. These engines will turn propellers made by Siemens, they will rotate at 1,900 rpm. MagniX, electric motorist describes its engines as "Light and powerful".
Lightness combined with power is an imperative challenge for the Israeli startup. Indeed, the aircraft's batteries considerably increase its weight. It was therefore with a view to optimising the aircraft's weight that the creative process began. The batteries, being the essential element of the aircraft but also the heaviest. In order to lighten the private jet, its structure was designed using a unique composite. This material was designed to meet the safety standards required by aviation. Moreover, it lightens the weight of the aircraft compared to a conventional fuselage.
Finally, the cockpit of this futuristic private jet is equipped with one of the latest operating systems programmed by Honeywell. The same company that creates the cockpit operating systems for Dassault Aviation. The software proposed by Honeywell is appreciated by pilots for its efficiency and ergonomics. In addition, the cockpit is also equipped with an autonomous piloting system. This is an intelligent piloting programme which is supervised by the two pilots on board Alice.
Alice's technical innovations, the electric private jet
The technical skills of this 100% electric private jet are similar to those of a Citation 1 designed by Cessna Aircraft. The Israeli private jet, has a range of 1000 km, all at a cruising speed of 440 Km/h. It can therefore fly non-stop from Paris to Nice or Geneva to London. It will also be able to carry 9 passengers. With these performances, what is important to remember is an autonomy of two hours. The time needed to recharge the batteries corresponds to half of its use. If you travel 440 km, a little more than a Paris – Geneva, the device will require 30min of recharging. Moreover, in terms of hourly rate, EViation evokes 200€ per hour. This is an extremely competitive price. Finally, the electric turboprops guarantee a calm and silent flight, to the great pleasure of the passengers.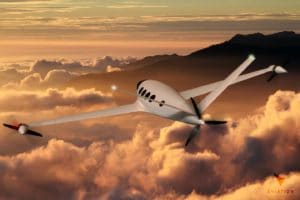 By way of comparison, here are the same technical details this time on a Citation 1. This CESSNA private jet travels the sky for 1200 Km, at 640 Km/hour and for 5 passengers. On the other hand its price per hour is 7 to 10 times higher than an Alice private jet.
But how can this price difference be so high? First of all, the purchase cost is much lower at EVIation: the catalogue price currently being discussed is around 1.4 million dollars. For a jet of this size with such performance, you have to calculate a minimum of 2.5 million dollars.
A promising future for Alice in business aviation
EViation is also working in parallel on a cargo drone project called Orca. This aircraft without pilots or passengers would take off on 30-metre runways. In addition, it would weigh 250 kg and carry up to 50 kg of goods. It would cover a total distance of 850 km. This project is just waiting to see the light of day.
With such competitive rates, a Paris Geneva in Alice would cost only 22€ per passenger. This price is only possible if the hourly rate of 200€/hour is feasible. Thanks to such promising flights, in terms of financing and ecological responsibility. Is the door of use for this flying Tesla open? At least that is what EViation suggests, who have not denied rumours about companies such as Uber.