The outbreak of the coronavirus covid-19 has a considerable impact on global air traffic. Commercial airlines are at a standstill and are facing an unprecedented crisis. Business aviation is equally impacted but has adapted itself to continue its operations.
The private jet: the best solution to protect yourself
Confined space airliners and crowded airport terminals should be avoided during the outbreak. The private jet has become the ideal solution for safe travel.
Business jet airlines and private terminals have all adopted new hygiene measures to ensure that they can continue to transport passengers safely. Staff have also been trained to learn how to recognize symptoms and how to respond.
In addition, as all airlines have ceased to operate their commercial routes, business aviation seems to be becoming the last possible option for travelling by air.
Business aviation companies have adapted their activity
The covid-19 coronavirus outbreak reveals the important role that private jets can play in times of crisis. The business aviation community has all mobilized to participate in the fight against the pandemic.
Private jets that have a wide enough door can be used as air ambulances to transport patients. The Piaggio P180 Avanti, for example, has been carrying out many medical evacuation flights in France and Europe since the beginning of the crisis.
Private jets are also a solution for people who would be stranded abroad because of border closures and the reduced supply of scheduled flights. AEROAFFAIRES has in particular enabled the repatriation of nationals stranded in Mauritius and Saint-Barthélemy.
Finally, tailor-made aviation enables medical equipment to be delivered quickly and as close as possible to its destination. While international cargo airlines mainly operate scheduled flights to large cargo hubs, business aviation allows goods to be flown to smaller regional airports.
Some private jets with cargo carriers have been able to be fitted out to carry medical equipment. For example, AEROAFFAIRES has flown ambulances from India.
Cancellations partly offset by new bookings
A sharp increase in bookings took place in late February and early March. This increase was mainly due to emergency repatriation requests at a time when countries around the world were closing their borders.
Demand for medical flights is also increasing. The chartering of medical aircraft is helping to desaturate some hospitals. The demand for cargo planes is also very high. Countries around the world are bringing in medical equipment. The need for air freight transport has never been greater.
Nevertheless, the sector is also suffering a lot of cancellations. Many companies have cancelled their business trips. Wealthy tourists have cancelled their holidays. And sports teams that had to travel to meet people have also had to cancel.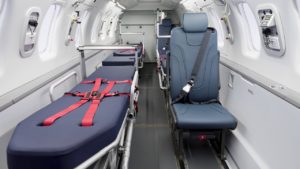 Pilatus PC-24 Medical Interior. ©Pilatus
Changing rules that make flight planning difficult
States, air transport regulatory authorities and airports are regularly changing their rules. It is more difficult than usual for air brokers to obtain flight clearances.
In addition, the rules are different from country to country. For example, some European countries prohibit passengers from France from arriving on their territory, such as Bulgaria and Switzerland.
Generally, to be able to travel on a private jet, you must be able to prove that you have your main residence at the destination, that you are not contaminated by covid-19, or that you have a specific authorization such as being a doctor.
Airports closed but still available
Many airports have decided to close their doors and ban commercial traffic as a security measure. However, the majority of them remain available for flights related to the medical transport of patients or the transport of cargo.
Paris-Orly airport, for example, is now closed to passengers but continues to receive private jets for patient transfers. Paris-Vatry airport has become a central hub for freight transport since the beginning of the crisis. In particular, on Sunday 19 April, it welcomed the world's largest cargo aircraft, the Antonov An-225. This aircraft, chartered by a private company, was used to transport more than 150 tonnes of medical equipment, including 8 million masks.
Business aviation will bounce back from the epidemic
Business aviation is impacted by this pandemic like all sectors of activity. However, it has managed to adapt and is now playing a major role in the effort to stop the covid-19 coronavirus.
The flexibility of the custom flight sector will enable it to bounce back after the crisis. Private jets will contribute to the recovery of global economic activity. Businesses and senior executives will need to travel more than before the crisis. And the private jet will be more than ever a solution for safe travel.