Isabelle Clerc takes over the French family business AEROAFFAIRES.
As an air broker, she is recognized as an expert in the world of business aviation for chartering private jets and helicopters, for emergency, group, medical and cargo flights.
The new CEO of AEROAFFAIRES has an ambitious roadmap.
On the one hand, it is a question of capitalizing on what her father François-Xavier Clerc established :
30 years of expertise
more than 100,000 passengers transported
20,000 chartered flights
one watchword: customer satisfaction.
On the other hand, Isabelle will develop AEROAFFAIRES by :
completing the service offer
actively participating in the environmental transformation of air transport.
AEROAFFAIRES: a family business with solid foundations.
François-Xavier Clerc founded AEROAFFAIRES in 1991. A trained pilot, he had already worked for Dassault Falcon Service.
Thanks to his warm personality, his passion for aviation and his vision of the business aviation market, he quickly established strong fundamentals :
A quality of service that meets the requirements of its customers.
A requirement and consistency in the choice of aircraft offered, depending on the mission.
An availability guaranteeing flexibility in booking and modifying a flight.
François-Xavier Clerc, former CEO of AEROAFFAIRES, has skilfully passed on his know-how. The world of aviation is marked by family transmissions, like the emblematic Dassault and Queffelec families. It is now time for François-Xavier Clerc, the head of AEROAFFAIRES, to let the new generation take over.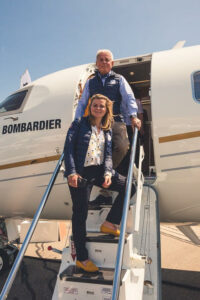 Isabelle Clerc : a solid background supporting the ambitions of the new director
After a complementary academic career (Business Law at Nanterre, ESC Rouen and Master of Technology & Management at Ecole Centrale), Isabelle Clerc started her career at Dassault Système, then moved to Thalès and Vallourec in the United States.
During her time at International SOS, a world leader in health and safety services, she developed strong skills in :
managing key accounts
implementing complex sales strategies and relevant commercial offers
building sustainable partnerships
crisis/exceptional event management in the areas of security and health.
In 2018, Isabelle joined the family adventure. Her main missions will be commercial development and the registration of the activity in the digital era.
Then, following the COVID crisis and after some challenging times, the company was able to adapt and reinvent itself. This period, rich in challenges, was a turning point for Isabelle: she is ready to take over the reins of AEROAFFAIRES in 2022.
A challenge: to transform AEROAFFAIRES to actively participate in the transformation of private aviation
After a historic, post-covid year for business aviation, activity is tending to stabilise. It is now time to develop this sector so that it responds to :
the strong challenges of environmental transition
the needs of customers
pressure from public opinion and public authorities.
AEROAFFAIRES is fully committed to these new challenges. Our 30 years of experience enable us to respond to them in the best possible way.
On the one hand, this air broker continues to give meaning to the services it offers. This is a crucial role for both business and private customers. Private aviation customers often use this type of aviation not by choice, but by necessity.
Indeed, only private aviation is able to meet a need that cannot be met by conventional commercial aviation. Often urgent, these needs can be :
to connect territories that are increasingly poorly served
bring in an expert as quickly as possible to solve a problem on an industrial site
organise a medical repatriation
transport a group of people
transporting oversized goods in record time.
In addition, AEROAFFAIRES is continuing to expand its range of services, including through new locations and the diversification of its services.
AEROAFFAIRES and its environmental commitment
AEROAFFAIRES: a pioneer in carbon offsetting
Finally, AEROAFFAIRES wants to strengthen its commitment to reducing the environmental impact of private aviation.
The company was a forerunner in offering one of the first carbon offset programmes. More recently, AEROAFFAIRES has formed a strong partnership with the French company EcoTree. The aim is to devote part of its profits to a project to pollinate and restore biodiversity in France (Châtelain forest – Pays de la Loire).
Customers and partners participate in this commitment by contributing to this cause when they make a reservation.
Isabelle Clerc and AEROAFFAIRES' commitment to the environment :
Isabelle wants to go even further. In particular, she is committed to supporting the development of alternative energy sources : today with biofuels, soon with electricity and tomorrow with hydrogen.
Private aviation is a formidable testing ground for the entire aviation sector. It allows us to develop technologies and test solutions that will be implemented on a large scale in civil aviation in the future.
AEROAFFAIRES is demonstrating its commitment by getting involved in research projects.  The company is already forging strong links with manufacturers and operators.  This air brokerage company is doing everything possible to be the first to offer its customers the "new generation" fleet.
"I am very proud to continue the family history. I am taking over the reins of the company in a period that is destabilising, but also very exciting for our business. I hope, at my level, to contribute effectively to the changes underway in the aviation industry. Isabelle Clerc.
About AEROAFFAIRES
Created in 1991, AEROAFFAIRES is a recognized expert in the on-demand rental of private jets and helicopters worldwide.  It offers flights and mobilitý services – business aviation, repatriations, medical flights, cargo transport…- that adjust to the needs of its customers – corporate executives, individuals, service companies – in order to put the sky to their measure.
AEROAFFAIRES: 30 years of know-how and experience, 274/7 availability, 7,500 aircraft available, more than 100,000 passengers transported and 20,000 flights chartered.
Contact presse : Angélina Causse
P : 06 70 19 08 51 – Email : causseangelina@gmail.com