General description
After a flight chartered by AEROAFFAIRES, you will arrive at Kastrup airport or from Roskilde, near Copenhagen.
AEROAFFAIRES offers a point-to-point helicopter transfer service to connect the airport of arrival to the city center: an opportunity to discover the city from the sky and optimize your time. Choosing AEROAFFAIRES is the insurance to find the right device for your needs, which will save you time and money.
Where to stay in Copenhagen
The Copenhagen Admiral Hotel.
Situated on the water, close to the harbor and right next to the Royal Palace of Amalienborg and in front of the Copenhagen Opera House, the Copenhagen Admiral Hotel is an old sea building dating back to 1780.
Copenhagen Admiral Hotel is less than a 5-minute walk from Kongens Nytorv Metro Station and the Nyhavn Canal, where the waterbuses from Copenhagen Harbor stop. The Strøget shopping street can be reached within a 10-minute walk. This is the favorite district for travelers visiting Copenhagen,
The architecture with its dominant wooden beams and pillars, massive walls, arches and alcoves highlight the marine, masculine and exclusive style of the building.
The harbor, the water and the sky, give this building a light in perpetual mutation.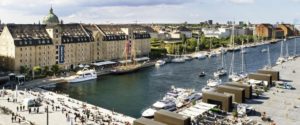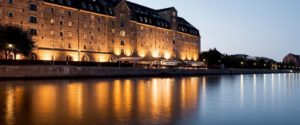 Bedrooms
The Copenhagen Admiral has 368 rooms in all categories and 52 suites.
All are uniquely decorated with Bicentennial Pomeranian pine beams, bricks and arcades.
Working and integrating the many aspects of the building was of paramount importance for the design and layout of the rooms in this hotel. Most rooms have wood-beamed ceilings.
The colors chosen for the rooms combine outdoor and indoor and were chosen to give them a modern and marine side. C'set Skagerak who designed the furniture especially for the Copenhagen Admiral Hotel.
The bedspreads create a warm and luxurious atmosphere, while the sofa and armchairs create spaces in the space, extending the functionality of the room.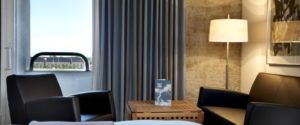 Salt bar and restaurant
Since the opening of SALT, the chef, Rasmus Møller Nielsen, has been a magnificent force to create the common link between tradition and innovation. The special attention given to food as modern Danish is born from its great commitment.
The Salt Gourmet Restaurant serves creative à la carte dishes prepared with traditional and contemporary Danish cooking techniques.
In summer, it is possible to dine on the terrace enjoying a view of the port and the 3 old schooners of the hotel.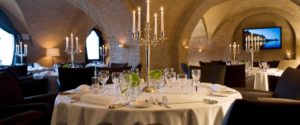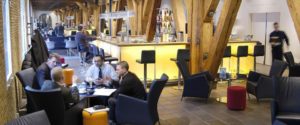 Contact & Booking
Tel:  +45 33 74 14 14 (Reception)   +45 33 74 14 24 (Booking)
Mail: booking@admiralhotel.dk
Address: Toldbodgade 24 – 28 DK-1253 Copenhagen
Website:  Copenhagen Admiral 
Do you want a precise quote for your trip to Copenhagen?
Contact us on +33 (0) 1 44 09 91 82, or directly on our site request quote.