What is an FBO?
The acronym FBO stands for "Fixed Base Operator". In business aviation, FBOs are terminals for business jets and their passengers.
FBOs have a dual function:
Welcome passengers before or after their

private

flight in a dedicated VIP terminal, separate from commercial airliner terminals,

even in public and international airports

.

Providing airport assistance to private jet operators, including

a multitude of aviation services such as

reception of flight crews, or the refueling, de-icing, maintenance and hangar parking of aircraft.
There are currently more than 17,000 FBOs for private jets worldwide, including 4,000 in the United States. 
The history of FBOs
In the 1920s, after the war, many American pilots bought military aircraft at an affordable price. They used them in air shows across the country, creating "flying circuses". This was one of the most popular forms of entertainment during the roaring twenties. Aviation was in its infancy and there were very few airfields. Pilots flew accompanied by mechanics and landed in the airfields. They had no fixed base.
The passage of the Air Commerce Act in 1926 regulated civil aviation and set standards in terms of pilot licensing and maintenance for aircraft. Pilots and mechanics had to register as a company with a fixed address. They then had to work at aerodromes to operate their aircraft. This is how the term "Fixed-Based Operators" came into being.
FBOs will continue to develop all over the world at airfields and airports. Today, most business aviation FBOs do not operate their own aircraft but offer services to private jet airlines and their passengers.
What services can I expect in an FBO?
Personalized service
When you charter a private jet with AEROAFFAIRES, you can benefit at every moment from priority perks and tailor-made service.
After you have made your private charter booking, we will give you the address of the FBO you will have access to before boarding your flight. AEROAFFAIRES is happy to organize your transfers. If you have any preferences, depending on the available services, you can choose which FBO you wish to use.
As soon as you arrive at the FBO, you will be greeted at the entrance by the reception staff. Your luggage is taken care of and loaded onto the business-jet. You can meet the pilot of your aircraft who will fill you in on all the flight details.
A moment of relaxation in a reserved area
In the private terminal, you have the possibility to sit in a comfortable space. Very often, you have a wonderful view of the airport facilities and private jets.
You have the opportunity to treat yourself to a simple gourmet break or simply relax and unwind.
The majority of FBOs have newspapers and magazines available, provide access to meeting rooms, a WiFi connection and a bathroom.
Some larger FBOs can offer concierge services, and take care of your children and pets during the waiting time.
An efficient service that adapts to your schedule
In most cases, passengers who charter a private jet do not wait around and pass through the FBO very quickly. A private terminal has the advantage that no time is wasted. The time between arrival at the FBO and the take-off of the aircraft is 20 minutes on average.
All private jet terminals have the possibility to carry out the necessary security and immigration checks.
If your private jet is parked right in front of the FBO, you will exit and walk to the aircraft. You may have a short drive to get to the plane. At some airports, your taxi can also take you to the door of the plane.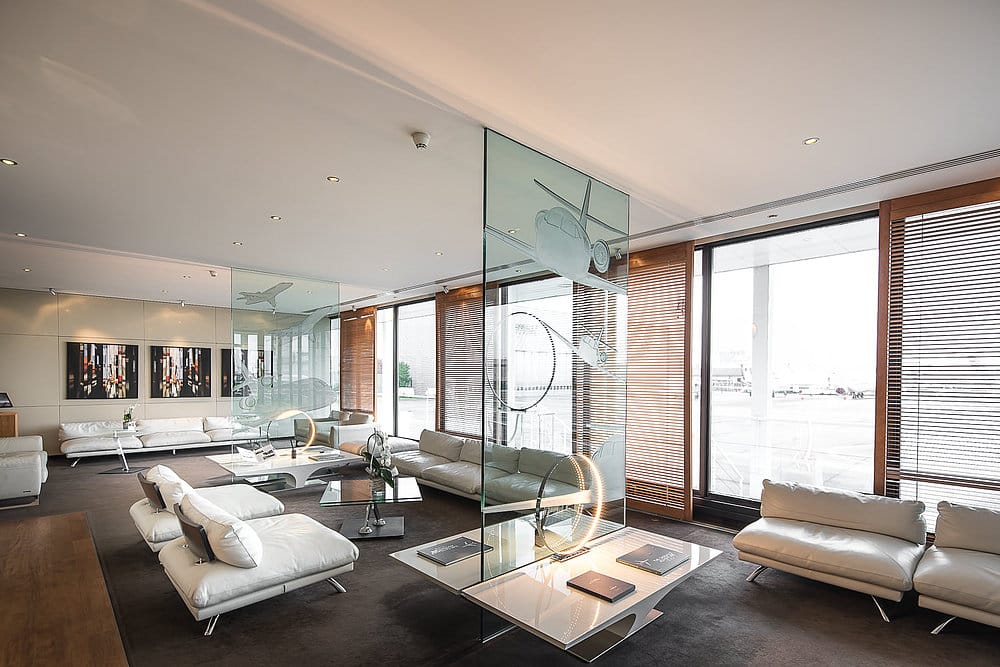 The FBO business
FBO activity is correlated with economic conditions and the price of oil, which accounts for a large share of its revenues.
Like airlines, the FBO market is undergoing consolidation. The number of players has been declining over the past 15 years, falling by two-thirds since the 1980s in the United States. This consolidation is carried out by existing companies that want to expand their networks. These growth opportunities have made FBOs an investment of choice for investors. The majority of acquisitions in recent years have been possible thanks to private equity financing.
Signature Flight Support is currently the largest player in the market with more than 200 bases of operations worldwide. Medium-sized brands such as Sky Valet are succeeding in making a place for themselves by positioning themselves in niche markets or by developing a unique identity.
Paris – Le Bourget airport is the airport with the most competing FBOs, with a total of eight, but many airports around the world have only one private terminal to accommodate private jets and their passengers.
Enjoy the FBO experience with AEROAFFAIRES
With AEROAFFAIRES you can charter a private jet for your travels and choose, when possible, the FBO you wish to use.
Our team of air experts can also advise you on private terminals according to your needs and expectations.
Contact us via our online quote form. You can also reach us by phone at +33 (0)1 44 09 91 82 and by email at charter@aeroaffaires.com. We are available 24 hours a day, 7 days a week.