While the vast majority of commercial aircraft are painted in colors that reflect and represent the company that operates them, private jets are mostly all white or have a white base.
In reality, it is not just white, but Matterhorn White, which is a particular shade of white referring to a peak in the Alps. This color is very popular in the aviation world.
In the early days of commercial aviation, airlines chose chrome or metal colored planes. However, the planes of this color showed very quickly dirt stains. The companies had to clean these planes very regularly in order not to reflect a bad image to the customers. This is why airlines decided to opt for the white color. But what are the reasons for such a choice?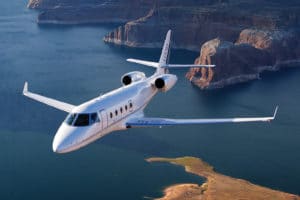 The choice of the paint is directly up to the airline. For technical and financial reasons, the airline generally chooses white, Matterhorn White. The first reason is that white is the color that best reflects the light: the aircraft heats up less. Indeed, the darker the color, the more it absorbs heat and warms the plane. A black aircraft, for example, consumes more energy to cool itself, which increases its fuel consumption and the airline's flight costs.
In addition, white planes are easy to spot at night in the air: this is why military planes have darker colors, such as gray or green.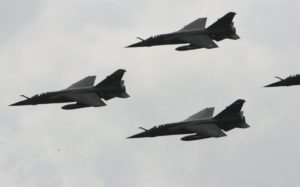 Aircraft are regularly inspected and analyzed for safety reasons. The white color of an aircraft makes it easier to see and detect any anomalies and deterioration such as cracks, dents, damage or oil spills on the aircraft, which facilitates the work of maintenance personnel on the ground. Indeed, a gray or black aircraft could camouflage and make it more difficult to analyze these structural defects, which could be very dangerous in some cases.
White, an advertising medium
Indeed, some airlines, or owners, use the sky as a marketing tool to promote a company or a product. For example, the TUIfly company is famous for displaying on its planes colorful advertising patterns reflecting the Haribo brand.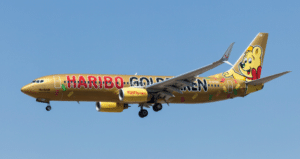 Some companies focus on the details of the aircraft's fuselage to distinguish its aircraft from the competition and increase its notoriety: the aircraft manufacturer Honda uses bright colors such as red and yellow for example, to differentiate its Hondajet aircraft from other light private jets.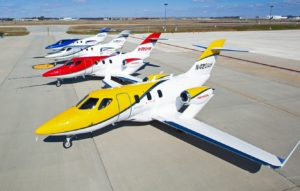 White color increases rental value
White aircraft sell better than colored ones because it allows new owners to customize the aircraft as they wish, without having to pay a fortune to have the aircraft completely repainted, for example. In fact, white is one of the criteria considered by buyers who want to save money on maintenance costs. This is also true for chartered aircraft: a white painted aircraft is more discreet and is therefore more favored for rental than an aircraft entirely painted in bright colors. Moreover, studies have proven that white has a traditional reassuring side for passengers.
White, an economical solution
White paint, unlike colored paint, fades less quickly. Airplanes are exposed to strong winds, snow, temperature changes and rain on a daily basis. These intense atmospheric and meteorological conditions can deteriorate the paint of an aircraft.
That's why a white plane needs to be repainted only every four years unlike colored planes which need to be repainted every two years on average. Moreover, to repaint an aircraft, it takes an average of a hundred liters of paint: the budget to repaint an entire aircraft is considered between $200,000 and $400,000 for an airliner, which represents remarkable savings for owners of white aircraft, especially when you know that white paint is the cheapest paint on the market.
You wish to charter a private jet? Our AEROAFFAIRES aviation experts are at your service 24/7 for your private flight at +33 (0) 1 44 09 91 82. Do not hesitate to visit our online quote to obtain a price estimate for your private flight.