On Thursday 22 April, the American start-up presented its future eight-seat electric regional aircraft: the eFlyer 800. The decision to enter this segment is a response to the growing demand for 100% electric regional aircraft. Indeed, electric technology has many constraints, particularly concerning batteries. This is why the first electric transport aircraft will probably be regional aircraft. Many other players have already planned to develop this type of aircraft for public transport. This is notably the case of Tecnam and its P-Volt, but also of Dante Aeronautical Spain and its Dax19.
Amazing performances for a regional electric aircraft
For this new project, Bye Aerospace has decided to think big. Indeed, the eFlyer 800 should be able to reach a speed of 320 knots (592.6 km/h). This will be at an altitude of 35,000 feet (10,500m) with a range of 500 nautical miles (926km). In addition, it will have an IFR reserve of 45 minutes at a cruising speed of 280 knots.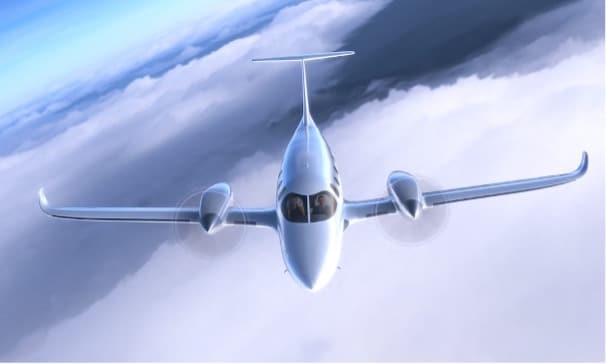 The aircraft has two electric wing motors, each with redundant windings and four segregated battery packs. A parachute for the aircraft has also been added to the safety equipment. In addition, the manufacturer is already considering other features such as an automatic emergency landing system, artificial intelligence-based systems and the possibility of having solar panels and an electric taxi system incorporated into the landing gear. The eFlyer 800 is therefore intended to be not only efficient but also very safe.
A new partnership between Safran and Bye Aerospace
After the success of their collaboration on the eFlyer2 and eFlyer4, the two companies have decided to join forces again to get the eFlyer 800 off the ground. Safran Electrical & Power is a leader in aviation electrical systems. The company is now a key player in the electrified equipment and hybrid propulsion sector. Bye Aerospace and Safran have started a study to find the propulsion system that would be most suitable for the eFlyer800, and it seems that for the moment the preferred solution is two Eugineus engines with Geneusgrid electronic distribution and protection. Indeed, Hervé Le Blanc, General Manager of the Electrical Systems Division at Safran Electrical and Power, said, "Safran's product ranges with ENGINeUS™ motors ranging from 50kW to 500kW/1MW and GENeUSGRID™ systems are perfectly suited to Bye Aerospace's electric aircraft portfolio."
A 100% electric aircraft with low operating costs
The eight-seat configuration of the eFlyer 800 can accommodate up to seven passengers and one to two pilots. Moreover, it is particularly attractive because its operating costs are only one fifth of those of traditional twin turboprops.  Indeed, it is the first aircraft with electric propulsion technology that can achieve performance and safety levels similar to those of twin turboprops but with no CO2 emissions and with such low operating costs. According to George E., CEO of Bye Aerospace, "this kind of remarkable economy and performance is made possible by the electric propulsion system and advanced battery cell technology that allows for significantly higher energy densities".
Projects on track for Bye Aerospace
The start-up said that the eFlyer 800 is already the subject of several purchase intentions. The main interested parties are air taxi, air cargo and charter services. At the same time, Bye Aerospace is in the process of obtaining FAA Part-23 certification for pilot training for the eFlyer 2 and eFlyer 4. These two aircraft are intended for air taxi, cargo but also for more advanced flight training. So it seems that these various projects are coming to fruition.
Our aviation experts are available 24/7 for your private flight at +33 (0) 1 44 09 91 82. Do not hesitate to visit our online quote to obtain a price estimate for your private flight.