Midsize private jets are a popular means of transport. They are practical for easy regional flights. However, one private jet in this category stands out from the competition and has managed to attract a large number of customers. This is the Cessna Citation Latitude. Indeed, it is the best-selling medium-sized private jet in the world, with 180 sold in 2019.
Technical characteristics of the Cessna Citation Latitude
This private jet was introduced in 2015 to complement the Cessna range. It is a larger model than the medium-haul XLS but smaller than the long-haul Sovereign.
The most important technical features of the Cessna Citation Latitude are:
Speed: it is equipped with two Pratt & Whitney Canada PW306D turbojet engines. Thanks to them, it can reach a speed of 797 km/h.
Range: with a range of 5000 km, this private jet flies up to 7 hours non-stop. It can fly between Nice and Dubai or Paris and Mykonos.
Passenger capacity: the Citation Latitude has six seats in a spacious and comfortable cabin. However, it is possible to add a double-sided seat or sofa, bringing the maximum capacity to nine passengers.
This medium-sized private jet is therefore a concentrate of speed and autonomy. It has the longest range and highest cruising speed in its class.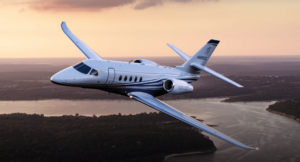 What are the strengths of this private jet?
The Cessna Citation Latitude is a complete and ultra-modern aircraft. It has many advantages, but one of the reasons why it is so much more popular than other models is because of its top-of-the-range cabin.
A spacious and luxurious cabin
The Citation Latitude's cabin is the most spacious and neatest in the mid-size jet category. It is 1.63m high, 1.96m wide and 6.63m long. With these dimensions, it ensures optimal passenger comfort. In addition, the design is neat with a clear, simple but modern interior. But the cabin is not only beautiful, it is also practical. It has plenty of storage space to make it easier for passengers to get around.
State-of-the-art technology
The cabin is also a technological gem. Each seat is equipped with a USB socket as well as controls for adjusting the lighting. In addition, this private jet is equipped with fibre optics, ensuring multimedia connections, lighting and climate control. Everything has been thought out to guarantee the comfort and accessibility of the client. In fact, every adjustment, whether it be for light or temperature, can be made with an application or via a screen located in the cooling area. Indeed, Textron Aviation has installed an electronic system connected to Cessna's Clairity system that allows passengers to control the cabin atmosphere. For example, it is possible to play music directly in the private jet to create a totally unique atmosphere.
As far as health is concerned, the Citation Latitude is equipped with a HEPA filter that removes 99.5% of viruses and bacteria, even the Covid-19.
A high-performance steering mode
Textron's flagship model is controlled using Garmin 5000 software. In addition, thanks to a centralized structure, the Linksys on-board problem diagnosis system monitors the aircraft throughout the flight. This means that if there is a problem, the system immediately provides a solution and communicates via radio waves.  This makes the Citation Latitude an extremely reliable and safe aircraft.
Also, it is equipped with automatic accelerators that can be programmed before the flight and for the climb to altitude. The take-off and landing distances of this private jet are very short. This makes it very versatile as despite its medium size, it can reach some short runways that other competitors cannot.
How much do you have to spend to afford the best-selling midsize private jet?
The selling price of this magnificent private jet is approximately €16 million. However, if you would like to travel in a Citation Latitude, you can charter one from AEROAFFAIRES.
Our aviation experts are available 24/7 for your private flight at +33 (0) 1 44 09 91 82. Do not hesitate to visit our online quote to obtain a price estimate for your private flight.