The airline industry has been in the news since the end of June and the beginning of summer the summer season, but for rather negative reasons. While demand is strong and activity is picking back up after two years of restrictions due to the health crisis, flight cancellations are occurring en masse. What are the causes and consequences of these flight cancellations for business aviation? AEROAFFAIRES explains!
The causes of airport chaos
Like many other European airports, France is facing chaos at its airports. The main cause of the flight cancellations in the run-up to the summer holidays is the lack of staff. However, the resumption of air traffic after the two years of disruption has not been followed by the hiring of more staff, leading to a cascade of flight cancellations and long queues at airport security. During the pandemic, the airline industry was forced to reduce staffing levels in the face of a much lower or no demand in a confined environment. According to Eurocontrol, the European Organisation for the Safety of Air Navigation, 2020 represented a loss of 52.6 billion for air operators, 1.7 billion fewer passengers and 6.1 million fewer flights. 51% of European aircraft fleets were grounded.
Operators and airlines were not prepared for this traffic recovery and had not anticipated the high demand that spring 2022 would bring.
Most air navigation services put the blame on governments for not doing what was necessary to help airports during the Covid crisis, forcing them to lay off staff in a period of traffic restrictions. They have since been unable to re-hire the large number of staff necessary in anticipation of this recovery. Last March, the unions at Roissy-Charles de Gaulle estimated that they had lost 20,000 jobs out of the 94,000 they had before the crisis. In France, the Aéroports de Paris group is offering to hire 4,000 people, while Germany is going to call on foreign workers to reinforce airport employees.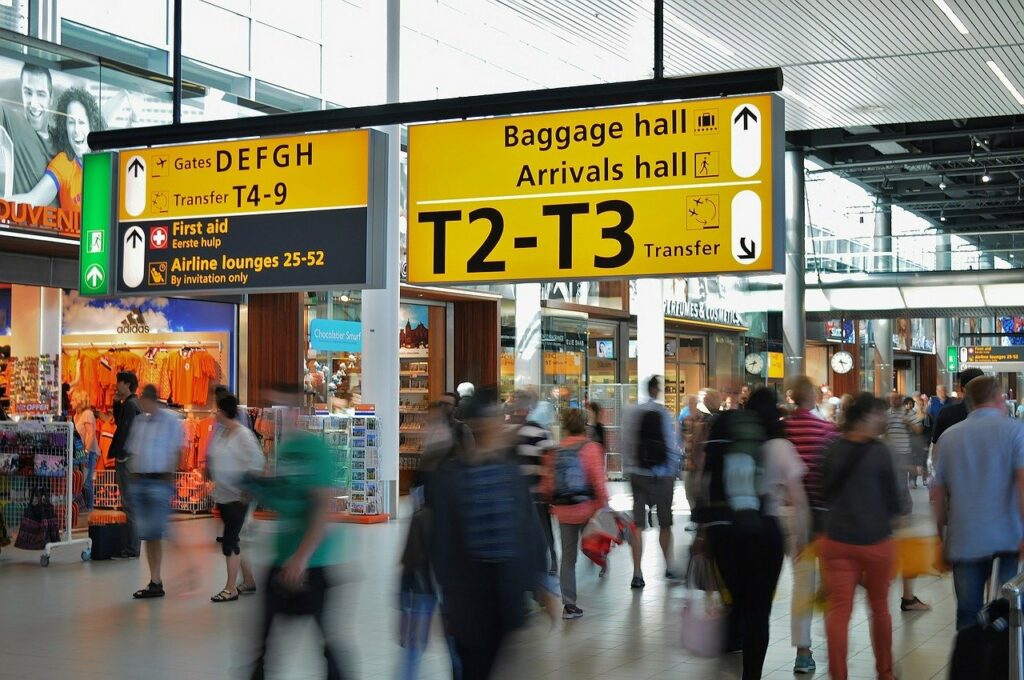 On the travellers' side
This situation is annoying travellers, who are unsure whether they will be able to travel to the extent they would like this summer. Even though airlines are obliged to keep travellers informed, as they are entitled to compensation in the event of cancellation, the fear of not being able to go on holiday is very present. Especially since cancellations are sometimes made 2 to 3 hours before departure. These uncertainties are not likely to improve, with a return to normalcy not expected until 2023. Given the number of vacancies at airports and airlines, it will take time for the situation to stabilise, as it takes time to train airline staff.
Moreover, this already chaotic situation may be aggravated in the coming weeks by calls for strikes by air operators due to the tensions accumulated over the last two years.
According to Eurocontrol, air capacity in Europe is back between 85% and 86% of its former level during Covid and the association expects to reach 95% of its 2019 level in the summer of 2022.
Faced with this staffing shortage and social unrest, some travellers are turning to business aviation, where the customer is able to make their own travel arrangements.
The impact of commercial aviation chaos on business aviation
Private jets are taking up the slack in this situation. Private companies are seeing new profiles multiplying their booking requests. More than a third of the requests come from customers who have never flown in private jets before. If commercial airline customers are left at the airport with no options after their flights are cancelled, they may choose to turn to business aviation because they cannot turn back, which increases the workload for private air brokers to find a solution and offer a flight as quickly as possible.
In business aviation, we are seeing a growing demand from travellers despite the current economic climate and rising fuel prices. Indeed, by choosing this solution, the customer aspires to total flexibility on their tickets. One of the major characteristics of private aviation is also the good quality of service and the management of emergency situations, an extra element of reassurance for the customer. In addition, business aviation does not have to deal with long queues, as passengers can arrive at the airport up to 15 minutes before their departure time.
AEROAFFAIRES offers you the simplicity of booking a private plane in less than 2 hours thanks to its team of experts who are available 24/7 to advise and assist you with your booking. For more anticipation, book your next trip now. Our team is at your disposal by phone: +33 1 44 09 91 82 or by email: charter@aeroaffaires.com. You can also make your quote online to get an estimate of the price of your private flight.