While commercial aviation companies are going through a major crisis due to health restrictions and government regulations, there is an increasing demand for private jet rentals. 86% of all trips abroad and 66% of all business trips in France were banned in 2020. 
In contrast, the business aviation sector has adapted to government policies in order to continue operations such as medical repatriations (RAPASAN), diplomatic flights and business flights, allowing companies to continue their activities.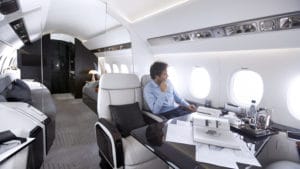 A fall in air traffic: why?
In a report entitled "Business travel and videoconferencing: what future for air transport?", based on a sample of 548 French business travelers, the Chaire Pégase team of researchers, specialized in air transport, reveals several indications on recent trends in air traffic.
Indeed, the study indicates that 72% of business travelers have been flying less for business reasons. There are two main reasons for this result:
the development of videoconferencing tools, getting employees used to telecommuting;
the fear of employers, who are legally responsible for the health and safety of their employees, to subject their teams to the risk of Covid-19 contamination through travel.
The study also found that 70% of business travelers expect to travel less in the future, likely because of the health restrictions still in place. If the restrictions were removed completely, this trend would only affect 42% of these user profiles.
Demand for private jets on the rise for businesses
Due to the closure of commercial airlines, forced to adapt to health measures and government regulations, companies are increasingly focusing on private aviation to manage their business travel and increase profitability. As Vistajet reports in its The Future of Business Travel study, the business world has been negatively impacted by the legal difficulties of traveling during the pandemic. One-third of the companies surveyed for the report say that video conferencing decreases business opportunities and does not generate the same results as physical meetings.
Thus, by combining time savings and flexibility, private jet rental represents several advantages for a company. It is a real productivity tool for companies that also reduce the risk of contamination thanks to private terminals (FBO) and the development of reinforced sanitary protocols in business aviation.
This rise in demand has allowed private airlines to take advantage of the situation and develop new services. This is the case for AEROAFFAIRES, which offers a variety of benefits through its Flying Jet Card loyalty program, including generous rates, additional services and a high level of flexibility to help and support companies in their economic development.
Until now, the videoconference tool is considered as an alternative to business travel, but a complementarity between these two tools tends to develop through a hybrid model where these two modes of communication, virtual and real, coexist.
Behind this legal difficulty to travel for companies, there is a desire to reduce financial costs: Despite the cost of business aviation, it is important to consider the revenue they generate after these trips: these costs should be considered as an investment and not as an expense. According to a study published by Oxford Economics, every dollar spent on business travel generates $12.5 in additional revenue.
Our aviation experts are available 24/7 for your private flight at +33 (0)1 44 09 91 82. Please feel free to use our online quote to obtain a price estimate for your private flight.