What are the electric aircrafts of today and tomorrow? What solutions to protect the environment?
At a time of ecological crisis, the transport industry is constantly evolving in order to find less polluting solutions. After electric cars and boats, it is now the turn of private planes and jets to be powered by more environmentally friendly energies. In 2016, Solar Impulse 2 completed its round-the-world trip after two years of flying on solar energy. Today, electrical energy is at the heart of all debates.
Electricity appeared in aviation as early as 1881, when the Tissandier brothers presented a model airship with a propeller driven by electricity. Electric aircrafts were developed from the end of the First World War but without much success; they were not powerful enough.
A century later, aviation giants and visionaries such as Elon Musk are the ones building the airplanes of tomorrow. Most of them are electric planes, but they also use new technologies and encourage us to think about aviation differently.
Today's electric airplanes
Because an electric motor is smaller than a kerosene-powered engine, the aircrafts that are being developed have designs that are sometimes revolutionary.
The Alpha Electro, from Slovenian manufacturer Pipistrel, has an electric motor that is four times lighter than a conventional engine, while being twice as quiet. It is the only electric aircraft in the world currently produced in series, marketed since 2017. Its lithium polymer batteries are rechargeable in 45 minutes, for a battery life of 50 minutes. The two-seater aircraft is used for pilot training.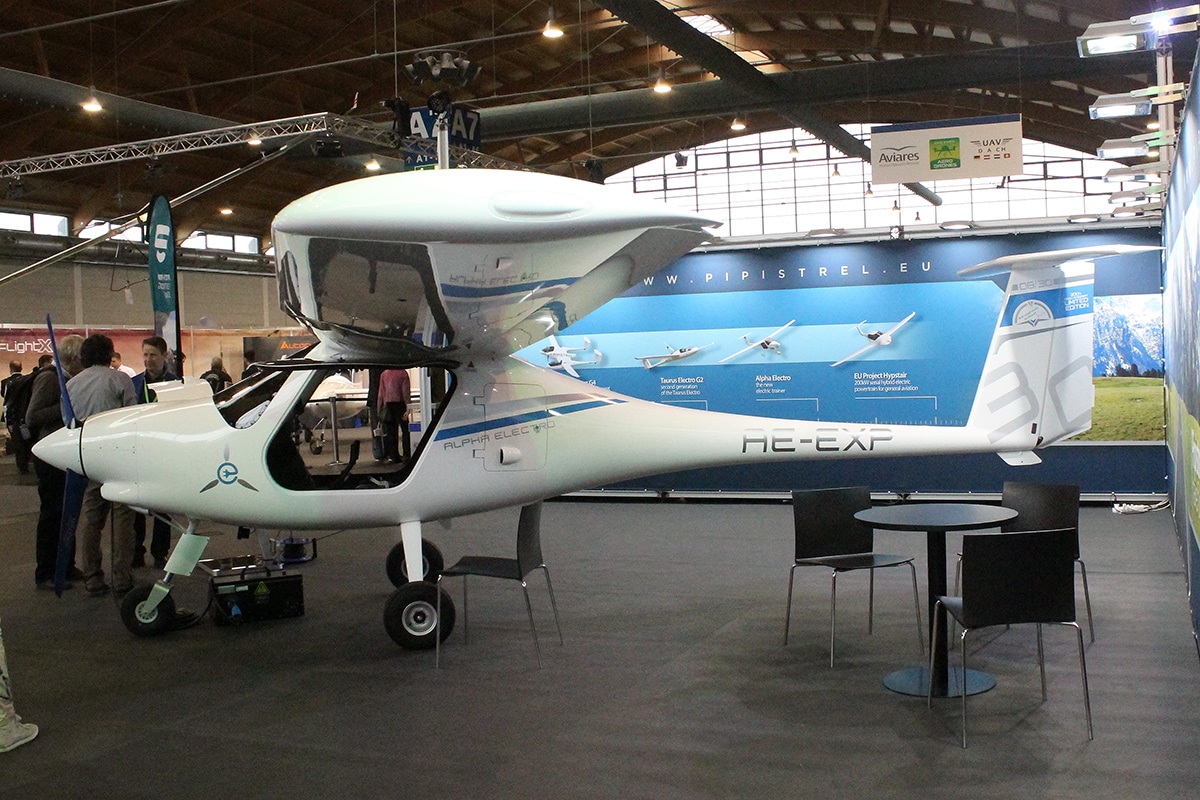 The Bristell Energic electric plane made its first successful flight in 2019. Its electric propulsion system is designed by H55, a spin-off of Solar Impulse. Its autonomy is around one hour, which also makes it suitable for pilot training in aviation schools.
Alice is a 100% electric plane from the Israeli startup Eviation, presented at the Paris Air Show in 2019. It promises to carry nine passengers and two crew members at 450 km/h, for flights in 2022. Alice has a range of 1,000 kilometres, enabling it to cover distances such as Paris-Nice or London-Geneva. It has a Magnix electric motor and a battery that currently accounts for 60% of its total weight. Following an in-flight explosion in January 2020, the prototype is currently being finalized.
City Airbus is a four-seater flying taxi, resulting from a collaboration between Airbus, RATP and the ADP Group. It is a completely electric and low-noise hybrid device, which can take off and land vertically. It is designed for urban travel between city centres and airports and could be ready for the 2024 Olympics. Lilium is also developing an ultra-modern taxi drone. In addition, other companies, such as Uber, are working on prototypes of eVTOL aircrafts (electric vertical take-off and landing).
Airbus, which had started developing the E-fan in 2014, withdrew from the project in 2017 in favour of an E-fan X, which uses hybridisation. This technology aims to pair a thermal engine, which is very efficient, with an electric motor. In collaboration with Rolls-Royce and Siemens, Airbus aims to fly the first hybrid airliner in 2021.
NASA is also working on electric short-haul aircrafts. The first version of the Mod IV, the X-57, was introduced in early 2020. The final version will have fourteen engines, two large propellers at the ends and six small propellers attached to its wings, which will be used only for takeoff and landing. It will be able to fly at a speed of 276 km/h and reach an altitude of 4200 metres.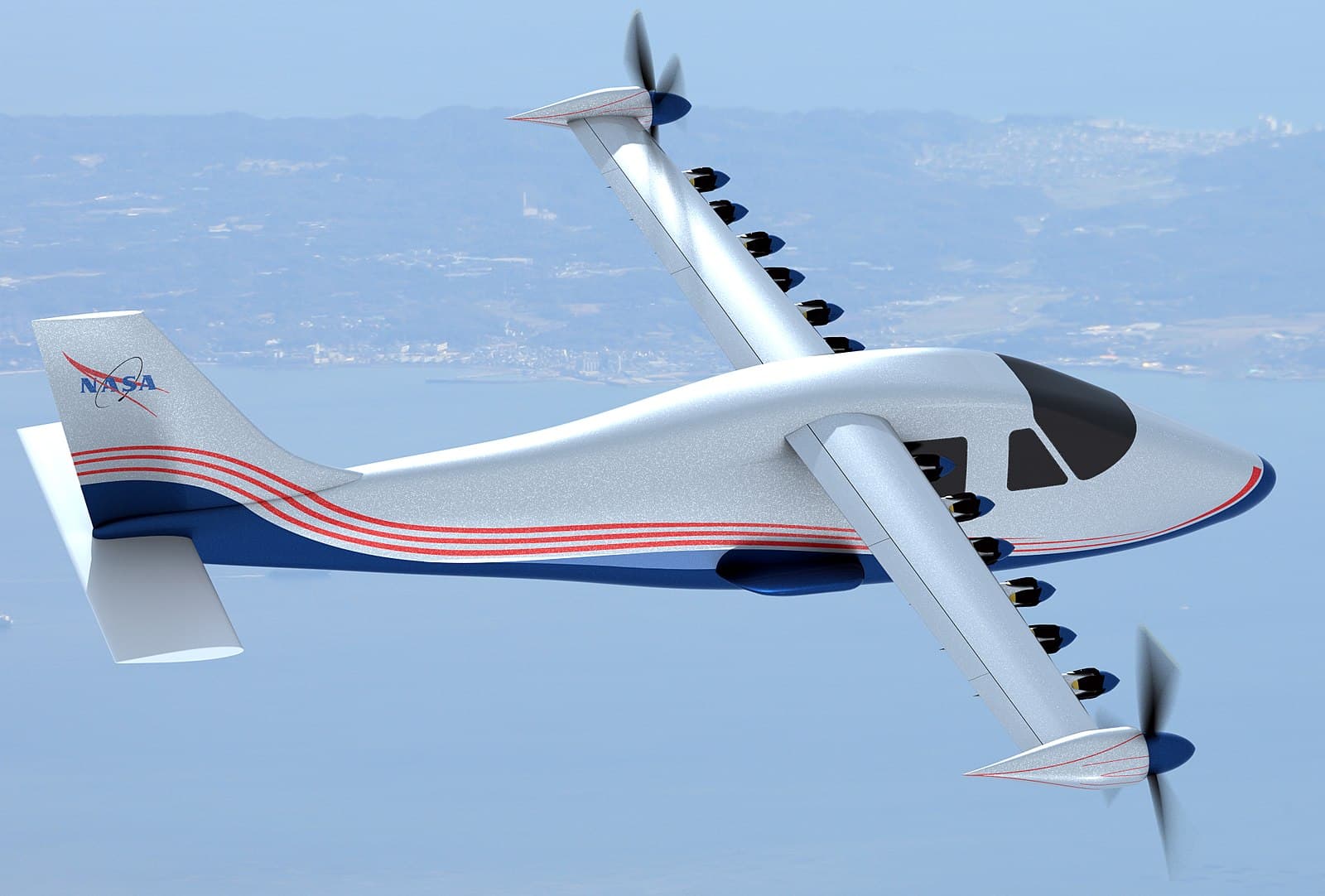 Finally, the RX1E designed by the Chinese Liaoning General Aviation, Zunum Aero's hybrid plane or Cora's eVTOL are also among the many electric aircrafts that are still in development.
The challenge today
Many regional flights have already been conducted using electric engines. However, they usually only concern small aircrafts for short distances. The challenge today is to fly larger and larger aircrafts over long distances.
The engine of an airplane is powered by a colossal amount of energy and electric batteries are not sufficient. Indeed, one kilogram of kerosene carries 48 times more energy than batteries. This factor can be reduced with certain advances, but transporting batteries also makes the plane heavier throughout the journey, requiring more propulsion. This is not the case with kerosene, which is consumed during the flight.
Finally, the electric revolution is not just about the propulsion of an aircraft; it also makes it possible to equip the wheels of a plane with electric motors for instance. This practice, known as Electric Taxiing, enables to reduce kerosene consumption, emissions and costs associated with the aircraft's taxiing phases.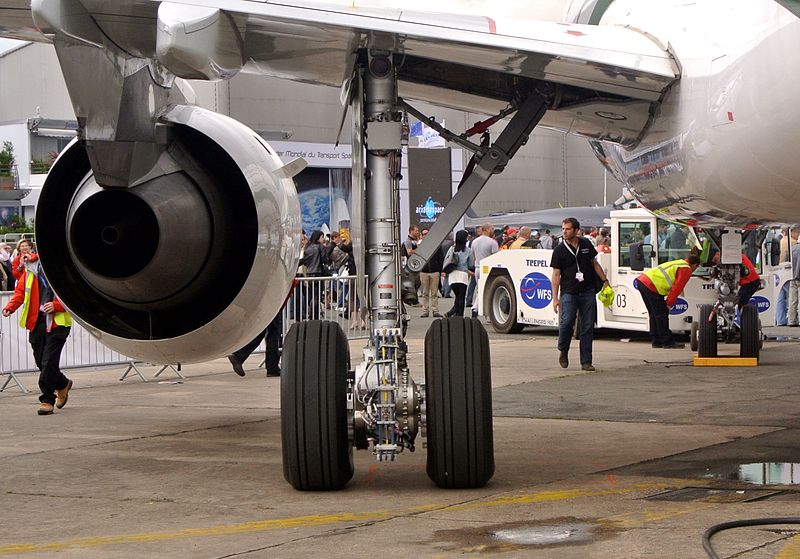 The electric planes of the future
Many prototypes are underway, funded by major aerospace groups as well as smaller startups. One of the solutions for carrying more electric batteries and flying longer is to create airplanes with lighter materials. Therefore in 2050, planes will be very different from the ones we are used to seeing today.
A few examples:
Easyjet is working with the American manufacturer Wright Electric on a 100% electric aircraft for 2030. Tests will take place in 2023; the flights, lasting less than an hour, should cover distances such as London-Amsterdam, Paris-Geneva or Lyon-Bordeaux. The Wright 1 aims to carry 186 passengers.
Transcend Air Vy 400, a hybrid aircraft between an airplane and a helicopter that is capable of reaching a cruising speed of 650 km/h, will offer its first commercial flights as early as 2024 in the United States.
According to Elon Musk, the supersonic plane represents the future of aviation. The Boom Supersonic aircraft is expected to take off in 2020, and NASA's X-59 in 2021. However, its impact on the environment is such that it is unlikely to become widespread for the time being.
Biomimicry
Another innovation process is biomimicry; it is an engineering that aims to draw inspiration from nature to improve today's aircrafts. For example, Airbus designed the Bird of Prey regional jet using eagle and hawk wings because these animals are capable of flying fast and for a long period of time. It also features deformable feathers made of composite materials. It will probably never see the light of day but it has contributed to the emergence of new ideas and to think about aviation differently.
Airbus introduced a new futuristic aircraft in 2020, the Maverick. Its triangular structure could save up to 20% of fuel compared to today's single-aisle aircrafts.
In addition, NASA is working on a new type of wing, built from thousands of interlocking parts so that it can change shape in flight.
The return of the airship
The airship could well make its comeback. This century and a half old invention is indeed in line with the challenges of our century. When modernized, it would have many advantages: it is environmentally friendly (consuming ten times less than an airplane), it can access isolated areas without infrastructure and it can carry loads of several hundred tons. The British company Varialift is pursuing the objective of launching a fleet of airships for heavy freight transport. Three models are currently under construction at a site near Châteaudun, France. Powered by helium, they will consume only 15% of the fuel needed for an aircraft.
The French company Flying Whales also plans to market a giant whale-shaped airship from 2023, designed to consume and pollute fifty times less fuel than an airplane. The airships will initially be used to transport wood from inaccessible areas.
Will aviation be more environmentally friendly?
International competition is accelerating the development of prototypes. However, it takes years to certify a new type of plane and some regulations are an obstacle.
Most countries are developing the electrification of their devices, which helps to reduce their emissions. Norway even wants all its domestic flights to be 100% electric by 2040.
However, and as Safran points out in a press kit in 2019, aviation will never be 100% electric, especially when it comes to long distances. If many regional flights are made possible today, it would take a real technological revolution for batteries to provide the power that airliners need. Safran also explains that airliners' flights of over 1000 kilometres are unfortunately the ones that account for more than 80% of CO2 emissions. We should also find a way to recycle batteries. However, there are other solutions to complement electric power.
What ecological solutions? 
Solar energy could replace batteries to power the electric motor. The single-seater Solar Impulse 2 indeed travelled 42,000 kilometres powered by 22,000 photovoltaic cells. Its successor, SolarStratos, is a Swiss two-seater currently under development.
A "greener" aircraft will require a combination of factors: more fuel-efficient thermal engines, alternative fuels that combine biofuels and synthetic fuels, etc. Biofuels are already being used on some short-haul flights but it increases deforestation at the same time.
In France, predictive maintenance allows to save fuel. Air France uses its Prognos software to monitor the maintenance of its aircrafts. At the same time, the Toulouse-based clean-tech OpenAirlines offers companies innovative fuel management solutions. Its SkyBreathe software saves them up to 5% of kerosene per flight.
Another interesting approach is to extend the wings of the airplanes, which reduces the force of their drag and therefore consumes less fuel. The Boeing 777X is built with longer wings and folding ends so that this does not pose a problem.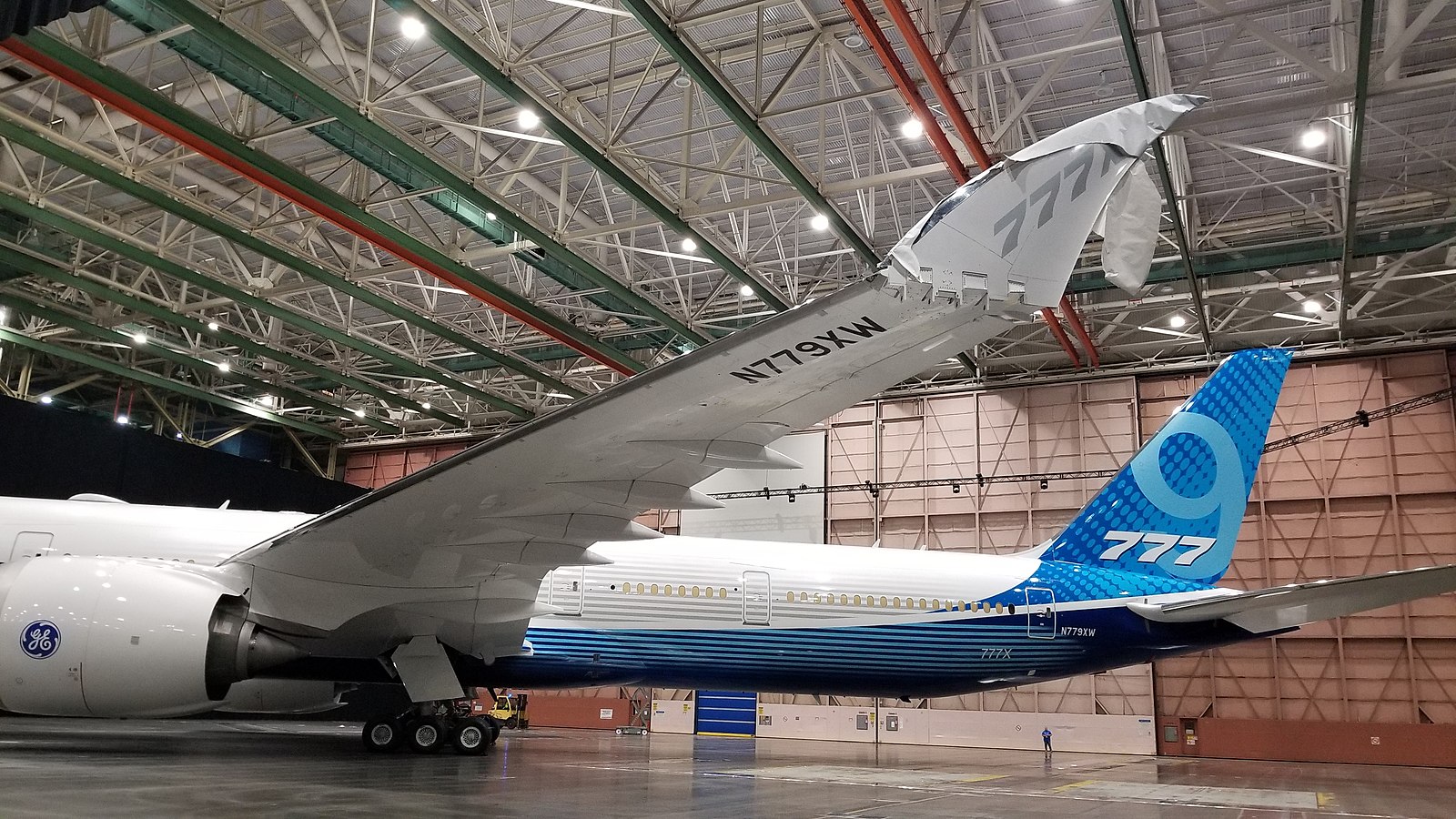 The dismantling and recycling of an aircraft is also a subject of research. Consequently, the Suez group has developed the XCrusher technology in order to enhance the carbon fibres present in the planes.
The hydrogen airplane is an ambitious project but it will not be realized for many years. No industrialist has really looked into it because a hydrogen aircraft would require tanks four times larger than for a kerosene aircraft, and a very large amount of electrical energy. The whole architecture of the plane would have to be rethought so that it could carry passengers.
Finally, the CORSIA programme aims to keep carbon emissions constant from 2020 onwards, by obliging signatory operators to purchase carbon credits. Adopted in 2016, it operates on a voluntary basis until 2026. However, its effectiveness has been criticised.
In conclusion, the aviation of the future is multifaceted and combines several technologies. While electric private planes and jets are undergoing major changes, environmentally friendly aircrafts are more difficult to design.
AEROAFFAIRES hopes to be able to offer you the rental of the next electric aircraft very soon. In the meantime, our SkyCo2 initiative allows you to offset 100% of the CO2 emissions generated by your private jet by supporting a reforestation project.
Our aviation experts are available at +33 (0) 1 44 09 91 82 24H/24 and 7/7 to find the private flight that best meets your expectations.