Description of ACJ 220
On October 6 2020, Airbus announced the construction of a new business aircraft. Within their Canadian subsidiary, Airbus Corporate Jet, Airbus is developing the ACJ 220. This business jet is intended to create a whole new segment within the Private Jet market. The Xtra Large Biz Jet range. The ACJ TWO TWENTY, is an aircraft designed for businessmen travelling around the globe. It is therefore a long range aircraft, with the only difference being that it is much larger than the other private jets already on the market. The ACJ TWO TWENTY, is a business jet version of the A220 airliner and is powered by two Pratt & Whitney PW1500G engines.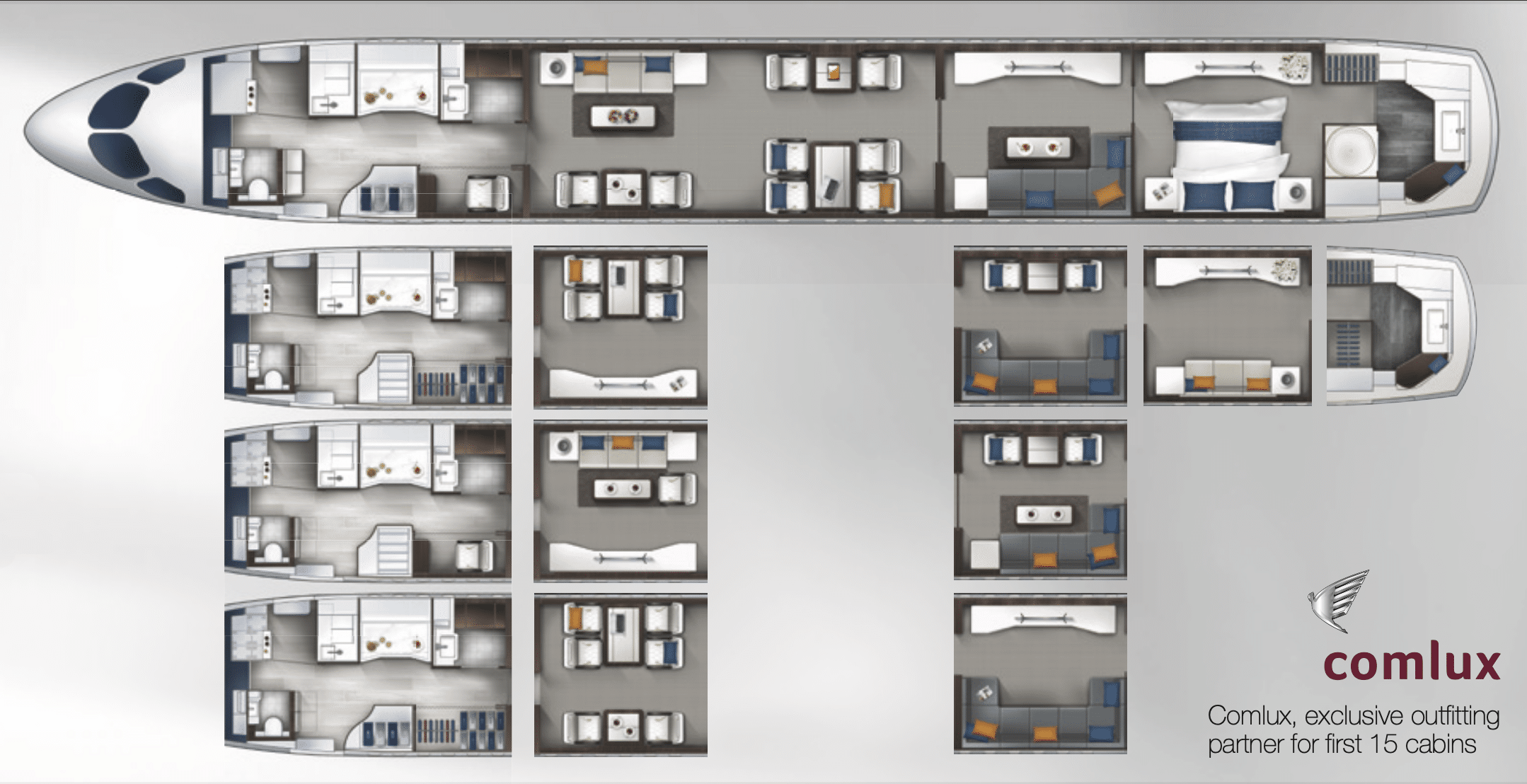 Size and comfort
Up to 6 VIP areas can be fitted on board this aircraft. This is a first for a long-haul business jet. Its cabin covers a total area of 73m2. By way of comparison, Bombardier's Global 7500, a direct competitor on long-haul business jets, has 41m2. Initially, the first 15 cabins of the new aircraft will be designed by Comlux, also a partner in the project. This is a Swiss airline company. Comlux has a cabin design department in Indianapolis. This is a godsend for the aircraft manufacturer, which builds its new aircraft in Canada.
The 6 VIP areas will all be 12m2 each. It will be possible to personalise them in order to obtain a tailor-made business jet that meets your needs in every respect. The aircraft can accommodate on board no less than 18 passengers, who can eat, work or sleep on board the aircraft. The manufacturer announces a "business jet two to three times larger than its direct competitors".
Technical performance and technology on board the aircraft
The ACJ TWOTWENTY, has a radius of action of 10,500 km. These performances allow it to link Dubai and Tokyo or London and Los Angeles. By way of comparison, Gulfstream's G700 has a range of 13,000 km. Thus, although it is not the aircraft with the longest range, the ACJ 220 remains the largest aircraft in its category. Despite its size, Airbus guarantees that their new business jet will be able to land at the same airports as its competitors. That is to say, runways of 1900 metres. Thus the ACJ 220 will be able to land at airports such as St Moritz, Teterboro, London city or Seletar. Airbus also tells us that the cockpit of the latest ACJ has twice as much avionics as that offered by the competition.
On board the aircraft, the cabin has high speed wifi. This will enable anyone travelling on board this aircraft to work with optimum efficiency. It will also be equipped with LED lighting and electro-chromatic windows. These windows can become opaque and thus filter the light from the outside. This is an asset for the comfort of long-haul flights that are subject to time differences. In order to make the flight more comfortable, the aircraft is equipped with a humidity control system. But it will also be equipped with a High Efficiency air filter to ensure optimal air quality.
Optimised consumption
The ACJ TWO TWENTY was built with the perspective of being a more economical aircraft than the competition. Indeed, it would be 1/3 less expensive than other long haul private jets. In addition, fuel consumption was also optimised. The ACJ 220 would consume 25% less paraffin than an aircraft of this size would have to spend. Finally, the aircraft will have a 50% reduced noise footprint compared to previous ACJ models.
Price and release date
Airbus has announced that the first deliveries of aircraft will arrive by 2023. The business jet will be available at a price of 70 million euros. The G700 and the Global 7500 are available for €75 million and €73 million respectively. So in addition to being larger, the ACJ TWO TWENTY would also be cheaper than its competitors.