Beechcraft: aircraft manufacturer
Beechcraft is an aircraft manufacturer of business jets and light aircraft. This aircraft manufacturer is also known for its excellent aircraft in the military field.
Today, this American manufacturer is renowned for its Beechcraft King Air aircraft, as well as the Beechcraft 1900.
AEROAFFAIRES takes a look back at the history of this aircraft manufacturer, one of the pioneers of business aviation to this day.
Beechcraft today:
A few figures:
Today, Beechcraft is part of the aeronautical industry giant Textron Aviation.
The company has 15,000 employees worldwide. We do not have information on the number of employees within the Beechcraft entity.
And, Textron Aviation's turnover, in Europe, is 22.6 million euros in 2021.
A committed manufacturer:
Committed, via the actions implemented by the Textron Aviation company, Beechcraft is trying to respond to the new challenges of the sector, related to the environment.
To this end, Beechcraft is committed to reducing its carbon emissions by 50% by 2050.
The company also communicates on :
its use of "green" fuel
its goal of reducing its energy consumption by 10% by 2025
its "Eco-friendly" aircraft interiors
The origins of Beechcraft
1924: The history of this manufacturer begins with Clyde Cessna and Walter Beech. They were two partners with the common goal of building airplanes. However, there were already disagreements on the type of aircraft to be built. When one (Cessna) wanted to make monoplane aircraft, the other (Walter Beech) wanted to create biplanes.
1927: The two partners split up and went their separate ways. The Cessna Aircraft Corporation was created by Clyde Cessna.
1932: Walter Beech and Olive Ann Beech, his wife and business partner, founded their own company: Beech Aircraft Corporation, commonly known as Beechcraft.

The launch of the company
It was in 1932 that the company began its operations. Based in Wichita, Kansas, the young company provided aircraft for the Air Force as well as jets for business aviation.
One of the first goals the Beech couple set for themselves was to build a jet with advanced flight technology, seating five, and being as luxurious as the interior of a sedan.
It was the same year that the company launched a new aircraft project. It was the private jet Model 17 Staggerwing. It took off in November 1932 and became the fastest biplane jet on the market on its first flight. Its top speed reached 323 km/h. These jets were then sold in their hundreds both to civilians and for US military operations.
Their first achievement was a great success.
The company was then very focused on customer satisfaction and the technologies it offered them. Walter Beech and his wife's goal was to create the best aircraft in the world. This is still the approach and philosophy that Beechcraft follows to this day.
After an impressive 781 units were created, production of the Model 17 ended in 1948. It then left more room for the development of the Model 18 (Twin Beech), created in 1937.
Beechcraft aircraft became more diverse
Model 18
As you can see, Beechcraft's specialty is not airliners but small aircraft such as business jets. Other innovations were introduced as time went on. After the Model 17, the Model 18 was produced for almost 40 years until 1970.
The American company knew how to preserve and enhance the reputation of its famous aircraft. The company was overwhelmed with orders during the Second World War. American pilots carried out training on a regular basis in these aircraft. As a result, the company grew from 235 to over 2,000 employees in order to meet all the demands.
Bonanza
In 1947, the Bonanza was born, one of Beechcraft's flagship aircraft.
This revolutionary model holds the world record for the longest production period in the history of private aviation. Indeed, this piston plane has been manufactured for almost 60 years. This 6-seater flying which can reach a speed of 300 km/h is still in operation today. It guarantees performance and technological quality of the highest order.
These aircraft are the first of a long list that Beechcraft manufactured little by little. Below you will see all the business aircraft that Beechcraft has produced.
A change of direction
In 1950, there was a turnaround in the company's history. The CEO at the time, Walter Beech, died suddenly. His wife Olive Ann Beech then took over the management of the company and became President for 30 years. She was one of the few women entrepreneurs in the United States. The company did not stop its activity, on the contrary, it grew during these years. The company had as many as 10 production sites and 17 subsidiaries. During her presidency, Beechcraft sales tripled.
But in February 1980, it was time for Olive Ann Beech to step down and leave the running of Beechcraft to the Raytheon Company, which had bought her company.
Merger with Hawker and change of ownership
In August 1993, Raytheon also acquired the manufacturer Hawker. The following year, the two entities Hawker and Beechcraft merged and named themselves Raytheon Aircraft. For eight years the names of the two companies faded away, but in 2002, the two brands resurfaced.
Another change of ownership followed in 2007. Raytheon abandoned all of its aviation operations. American and Canadian investment funds joined forces to buy the company and renamed it Hawker Beechcraft.
A few years later, in 2011, the company went bankrupt, which was a huge blow. The company was then sold to Textron in 2013. This company already owned Bell, a helicopter manufacturer, but also Beechcraft's oldest competitor, Cessna. As a result, they became partners and currently have approximately 70,000 business jets in circulation worldwide.
The considerable advantage that this company has is that they operate on small business jets, while many European and American aircraft manufacturers (Dassault or Gulfstream) make much larger business jets, with a longer range.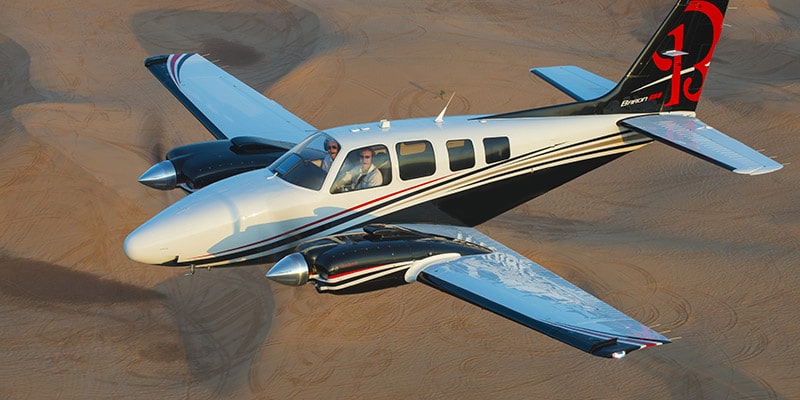 Beechcraft's 3 main aircraft lines today
The Baron G58
This small, very light jet is a twin-engine piston jet. It is able to carry 6 people at a flight speed of 325 km/h. It is ideal for short day trips, for example. And it is an economic model in business aviation. Combining practicality, know-how and efficiency, this is the jet to choose for small leisure trips or for a professional trip, with complete safety guaranteed!
The King Air range
In the fleet that Beechcraft produces, the King Air range contains several models such as the King Air 200 or the King Air 350. These are turboprop aircraft that can accommodate up to 8 passengers, ideal for short-haul trips. These are the manufacturer's must-have models that have proven their resistance and robustness. They tick so many boxes, including cabin comfort, but also modern design. All this with a touch of advanced aviation technology.
The Beech 1900D
The Beech 1900D, an evolution of the 1900C, is a slightly larger aircraft than what this manufacturer originally planned. This turboprop jet can accommodate up to 19 passengers. Its use is therefore ideal for group flights, but can also be used for air cargo. Finally, with its convertible cabin, the aircraft is also used for medical evacuations (EVASAN). In fact, 6 stretchers with all the necessary medical equipment can be installed inside.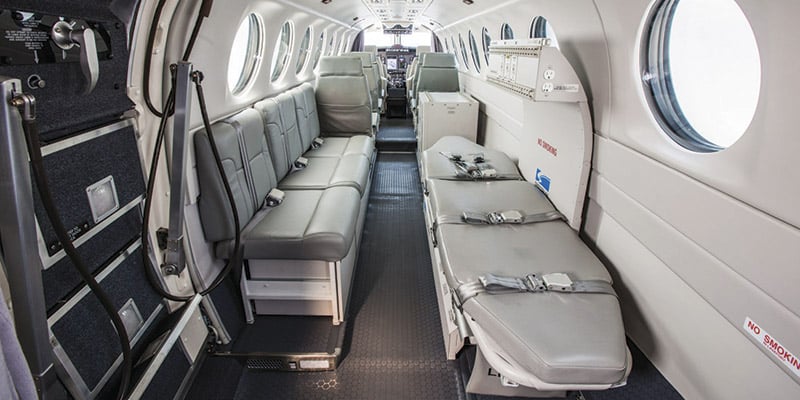 Charter a Beechcraft with AEROAFFAIRES
Despite years of company takeovers and ownership changes, Beechcraft has never lost its brilliance or even its reputation. It has one of the most successful legacies in the private aviation sector against other competitors. Its initiatives extend even beyond business aviation. Some models are used by airlines in their medical evacuation missions, but also in the military sector. This company responds to many requests and offers customized business jets.
If you are looking for a small Beechcraft private jet, at AEROAFFAIRES we have the expertise to select the aircraft you desire. Fill out the online quote or call us at +33 (0) 1 44 09 91 82.
What is Beechcraft's flagship private jet?

The King Air 200 is one of the most popular private jets in the Beechcraft range.

What are the advantages of Beechcraft private jets?

Beechcraft private jets are turboprop aircraft. Their main advantage is their cost. They allow for relatively economical private jet travel.

How many stretchers can be loaded in a medical evacuation (EVASAN)?

The Beechcraft 1900D can carry 6 stretchers as part of a medical evacuation (MEDEVAC).