Piaggio Aerospace: aircraft manufacturer
Piaggio Aerospace: aircraft manufacturer. Piaggio Aerospace has established itself over the years as a real leader in business aviation, defense and security. They make use of state-of-the-art technology, which makes them the number one supplier to airlines worldwide. The CEO, Rinaldo Piaggio, founded this company with a passion for innovation and to provide aircraft and engines for civil, government and military purposes. Piaggio Aerospace's success is down to their excellent recruitment. From aeronautical engineers to sales experts, each employee is passionate about producing quality work in line with the company's standards.
Key dates for Piaggio Aerospace
Piaggio was founded in 1884 in Italy before expanding worldwide. Although Piaggio has become known for its innovative and progressive services, the company continues to improve themselves every day.
1915: The first Piaggio engines and airplanes are certified.
1922: Piaggio's P1, with its innovative design, caught the world's attention and propelled Piaggio to the top.
1928: Launch of new aeronautical research to enhance the company even further.
1946: Piaggio starts to rebuild after the war.
1964: Launch of a new jet, the PD-808, which pledges the independence of the airlines.
1998: Piaggio becomes Piaggio Aerospace, a real turning point in its international expansion.
2006: New partnership with Mubadala Development Company.
2012: Launch of a multirole patrol aircraft (MPA) program. This launch provided the military services with the highest quality aircraft.
The scope of Piaggio Aerospace's actions
Business aviation with Piaggio Aerospace
Piaggio Aerospace primarily provide civil aviation services. That is, passenger transport services on demand.
They offer transport with their flagship aircraft; the Piaggio Avanti P180 EVO. The name of this model is well suited, as Avanti in Italian means "in advance". With this aircraft, efficiency, performance and profitability are all guaranteed and all in a "made in Italy" style. Thanks to its twin-engine turboprop, the aircraft ensures a top-quality flight experience to all passengers. There are never any worries about delays or the safety of their flight. Comfort is a guarantee thanks to the spacious cabin that can carry up to 7 passengers. Also, this aircraft has the ability to land on any type of runway, including those not served by scheduled flights.
Piaggio Aerospace built this aircraft because of the ever-growing demands in the aviation sector. This was also true about customers, who became more and more demanding, so it was necessary to design an aircraft that could best meet their needs.
The Avanti EVO was designed to be the fastest aircraft on the market. The most impressive thing about this aircraft is that its speed has absolutely no impact on costs. It is equipped with an assistance program that keeps costs at a fixed rate by the Piaggio manufacturer.
Let's take a ride on board the Avanti EVO for a unique journey.
The aviation industry and the defense and security sectors with Piaggio Aerospace
Piaggio Aerospace has quickly established itself as a real leader in the European aviation industry, particularly in the defense and security sectors.
Always focusing their strategies on innovation, they have designed unmanned aerial systems (UAS) and multi-role patrol aircraft (MPA).
About the unmanned aerial systems:
Piaggio Aerospace is one of the few companies to have this kind of technology. This technology allows them to develop unmanned systems to ensure space security.
Recently, Piaggio Aerospace launched a new generation of multi-role patrol aircraft (MPA):
These air patrol aircraft can carry out any type of mission with guaranteed efficiency. They also have remote control and data management systems that enable them to respond to threats such as terrorist attacks, illegal immigration or the protection of exclusive economic zones.
Let's take a look at the Piaggio Aerospace MPA patrol aircraft. It is a continuation of the P.180 Avanti II. Its two turboprop engines allow it to carry out special missions while consuming 30% less fuel than its competitors. The main purpose of this aircraft is for aerial surveillance missions as well as land, coastal and maritime patrols. It is equipped with a search radar and integrated electro-optical and infrared sensors.
Piaggio Aerospace designed this patrol aircraft in partnership with ADASI – Abu Dhabi Autonomous System Investment. Partnering with ADASI is a major step for Piaggio Aerospace as they manage many technological and industrial development programs for the armed forces within the UAE.
A little background information about the Avanti EVO. It should be noted that this aircraft is also used by the armed forces, government agencies, air ambulance units, surveillance patrol units, among many others.
Piaggio Aerospace provides the most innovative and versatile tools on the global aviation market, especially in the areas of intelligence and surveillance.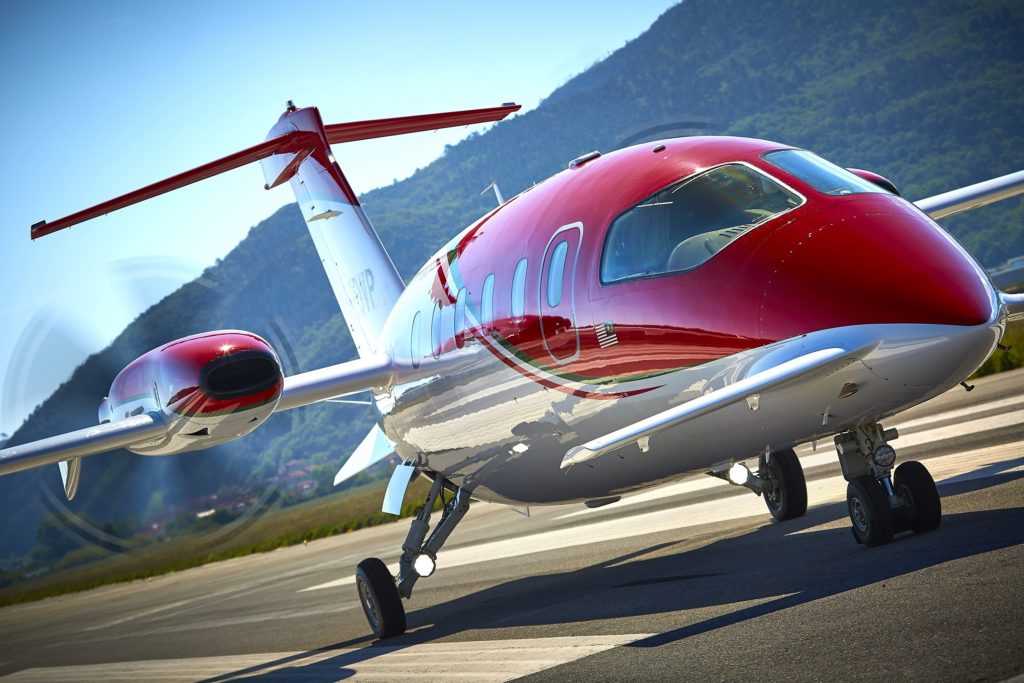 Piaggio Aerospace's engines
Engine production:
Piaggio Aerospace's manufacturing sites have the most innovative facilities to design and provide the best aircraft on the global market. These facilities allow the company to perform the highest quality operations with the highest level of precision.
To design the most efficient and innovative models, Piaggio Aerospace works with the leading aircraft manufacturers around the world. These international companies all have the latest technologies at their disposal.
By producing top-notch models, Piaggio has established itself as a global pioneer in the production of aircraft engines. The company specialises in producing various components, final assembly and testing, and complete maintenance, repair and enhancements for a wide range of engines.
To produce these kind of engines, they partner with some leading aircraft engine manufacturers such as: Rolls Royce Plc, Honeywell, Pratt & Whitney and Pratt & Whitney Canada. They are in long-term contracts with them to equip civil and military aircraft and helicopters around the world with their engines.
Aircraft engine test assembly:
One of Piaggio Aerospace's specialties is to test and verify certification of the construction of their individual subassembly components and the assembly of their aircraft engines. All of this combined has enabled Piaggio Aerospace to offer an increasingly wide range of products and expand its operational activities.
As an example, Piaggio Aerospace currently assembles different types of aircraft engines for very specific programs. They are currently assembling the Honeywell (55-L-714 APratt & Whitney Canada – PW206 & PW207). These engines are assembled in specific factories where there is sufficient space nearby for testing.
They are also on MRO. This MRO division guarantees Piaggio Aerospace years of experience in maintenance, repair and improvements.
The MRO activities allow Piaggio Aerospace to produce many components using the most advanced and innovative technologies.
For example, Piaggio Aerospace produces parts for the famous Pratt & Whitney PW200. This is a very well known turbo engine in the aviation world. Piaggio Aerospace produces many components for the PW206 and PW207 engines.
As well as manufacturing, Piaggio Aerospace also maintains, repairs and enhances engines throughout their life cycle.
Let's talk about the PW200 program. This program covers all areas of engine management at Piaggio Aerospace.
This program has also forced the company to implement new finance strategies. These new strategies are put in place to increase investments in installations and machinery. This increase in investment allows the company to boost its production level and increase sales.
Now let's take a closer look at the F135 program with Pratt & Whitney America.
We have to mention this program as it represents one of the most advanced military programs ever developed in the world.
Piaggio Aerospace recently signed an agreement for the production and supply of many components required for the production of the F135 engine.
The Pratt & Whitney F135 engine is an afterburning turbojet engine, which first appeared in the 2000s. It is the most powerful and advanced hunting engine on the market. This engine was a real breakthrough in the military world, offering unprecedented reliability. The F135 provides performance levels that are still unmatched today.
This program enables the manufacturing of low pressure turbines and high pressure turbine supports, as well as various other components. The planning of producing the various components is shared between the two companies: Piaggio Aerospace and Pratt & Whitney.
This program is revolutionary for the military sector due to the performance of the F135 engine. It enables operations to be carried out in difficult and threatening environments.
It is the ideal aircraft to fight and win.
Piaggio Aerospace: quality customer service
If you have any issues, Piaggio Aerospace has a team of professionals all over the world to solve your problems. They are available for you 24/7, a service center will allow you to repair, enhance or maintain your aircraft, or simply answer any questions you may have.
Piaggio Aerospace's service center will respond to you as soon as possible and direct you to their main suppliers of components.
The latest enhancement to this is to offer maintenance programs for all your aircraft components. This program covers all regular maintenance work and offers customers a service with a fixed monthly fee.
Piaggio Aerospace's sustainability projects
Piaggio Aerospace recently launched the Clean Sky 2 program. It is a research program financed by the European Union, and is the most significant European program of aviation research in history. The funding is close to 4 billion euro and is intended to support more sustainable aviation policies. The main aim of this program is to meet the objectives set by ACARE (Advisory Council for Aeronautics Research in Europe) by 2050. These objectives include a 75% reduction in CO2 emissions.
What is Piaggio Aerospace's role in this program?
Piaggio Aerospace has contributed a percentage of the funding and is carrying out research activities with Clean Sky 2 as a "leader in the development of small aircraft transport technology".
Now you know more about this aircraft manufacturer.
At AEROAFFAIRES, our team is available 24/7, including weekends and public holidays. We will make every effort to respond quickly to your request from our online quote, or by phone at +33 1 44 09 91 82 or email charter@aeroaffaires.com.