Would you like to charter a turboprop? AEROAFFAIRES makes you discover the advantages and disadvantages of these specials aircraft.
Business aviation offers two types of aircraft engines: private jet engines and private turboprop aircraft. The distinction between these 2 aircraft is not always obvious. You must define your needs and desires to make your choice. The turboprop is a very unknown aircraft, which is why we are going to give you all the necessary details for chartering your turboprop aircraft.
What is a turboprop?
In the United States, in 1939, several engineers broke new ground. They used a new mechanism to rotate the propellers: a gas turbine. The first turboprop engine was the Rolls-Royce Trent built in 1945.
Today, a turboprop aircraft is easily recognizable thanks to these propellers. Whether they are on the wings or on the slat of the aircraft, the blades are the decisive element allowing the take-off of this aircraft.
How does a turboprop work?
The fundamental difference between a private jet and a turboprop is the operation of the engine.
The passage of air through the engine is the key to starting it. The air passe through the compressors and then the combustion chamber. The fuel is then injected and burned causing an increase in heat. This drives the turbine and the propeller. The faster the air enters, the faster the turbine rotates and propels the unit. The exhaust gases and the residual energy not recovered by the turbine blades provide additional thrust.
Turboprop engine operation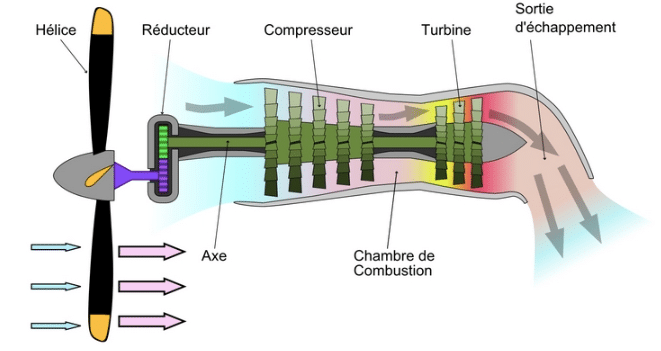 Operation of a turbojet engine used on private jets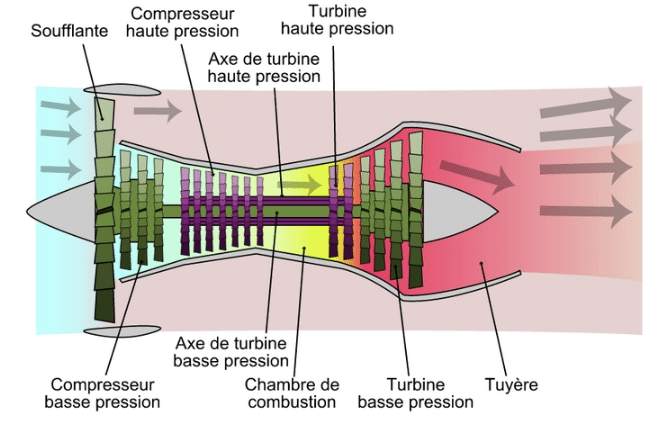 These 2 diagrams illustrate the difference in operation.
What are the advantages and disadvantages of renting a turboprop engine?
Today, this aircraft suffers from stereotypes. Passengers consider it as a slow, old and inferior to a private jet. However, propeller aircraft offers performances that no private jet can match.
The advantages of renting a turboprop aircraft
Versatility: Turboprops outperform private jets on landing and takeoff. Propeller aircraft can land on short runways (less than 900 metres) and on any type of surface (earth, grass or even sand). This gives them access to almost all airports (8,000 sites worldwide offered by AEROAFFAIRES). For example, if you want to go to Courchevel, you can only land with a turboprop, private jets do not have the required authorisations to land.
Reduced costs: A turboprop consumes less kerosene than a private jet turbojet. In addition, the operating costs of turbo-prop aircraft are often one-tenth of the costs of turbo-jet aircraft.
Short distances: Turboprops offer comparable performance to very light private jets over short distances. Turboprops fly at a slightly lower speed than very light jets. In cruising speed, this gives an average of 500 km/h for propeller planes against 650 km/h on average for ultra-light private jets. However, the turboprop can fly at a low altitude, saving take-off and landing time and allowing a shorter route. Thus, the flight time is similar: a Paris Le Bourget – Geneva flight in a turboprop aircraft will last as long as a flight in a light private jet, at a lower cost.
Medical evacuation: Turboprop aircraft are the most commonly used aircraft for medical evacuations. The Pilatus PC-12 offers unrivalled performance, essential for medical flights. This aircraft has access to 2,500 airfields in Europe while private jets have access to only 1,500 runways. In addition, the Pilatus PC-12 is economical, has a large cargo hold and the cabin can be easily modified to meet medical emergencies. The aircraft can therefore land and take off as close as possible to your medical facility and offer a safe flight thanks to the transport of specific medical equipment.
Economical price: Turboprop aircraft are much more economical than private jets. The Phenom 100, a must-have in the ultra-light private jet category, is available for rental for 2,300 euros per hour. The Pilatus PC-12, the best-selling turboprop is available for 1,400 euros per hour. For short-haul flights, renting a turboprop aircraft will prove much more cost-effective.
Air freight: Turboprop aircraft are the ideal tool to meet the demand for air freight. These economical aircraft, with an interior that is easily modulated and capable of landing in specific locations, are very popular for air freight.
The limitations of chartering a turboprop engine
Flying speed: Only aircraft not exceeding 700Km/h are equipped with a turboprop engine. The speed of the air hitting the propellers causes transsonic shock waves. For example, at 800km/h, a third of the length of the blades is hit. This reduces the efficiency of the plane by 50%, making flight impossible.
Comfort of certain aircraft: Turboprop engines are being modernized. New aircraft on the market, such as the Pilatus PC-12 NGX, now offer comfort almost similar to that of a private jet. However, the majority of propeller aircraft suffer from soundproofing problems and a lack of hi-tech tools on board.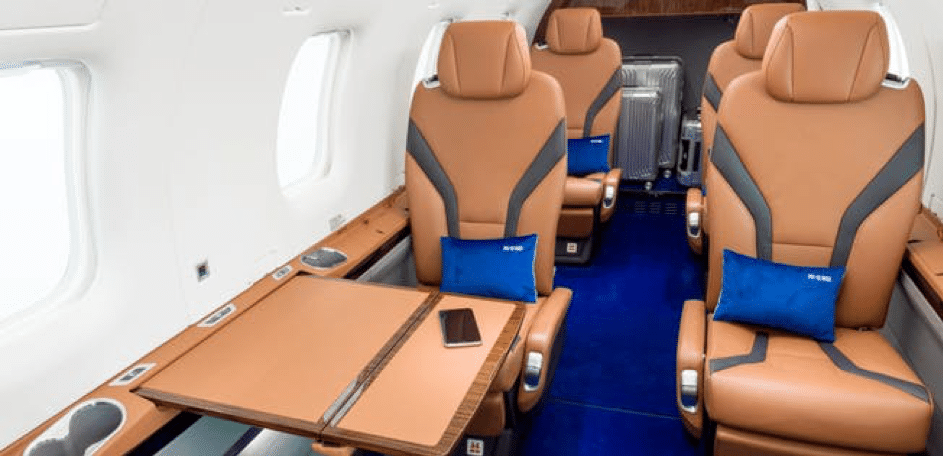 Pilatus PC-12 NGX interior
What are the most rented turboprops?
The aircraft presented below are available for rent with AEROAFFAIRES. When you rent an aircraft from a broker or airline company, the strict rules of public passenger transport must be respected. Airlines have an Air Operator Certificate (AOC). This approval ensures that passengers have a plane in perfect condition and qualified pilots. The AOC guarantees a high level of maintenance on the aircraft and strict monitoring of pilot qualifications.
For turboprops, a fundamental rule is added: "two engines, two pilots". Thus, all aircraft available for rental by airlines and brokers must be twin-engined (with the exception of the Pilatus PC-12 and the TBM 850) in order to have a second engine in case of failure. It is essential to understand the interest of the AOC to distinguish between aircraft offered by brokers and passenger aircraft offered by co-carrier companies.
Pilatus PC-12, the most modern turboprop aircraft
The Pilatus PC-12 is a genuine Swiss Army knife for business aviation and meets all the requirements of a wealthy clientele. A technological jewel, this aircraft is also an accomplishment in terms of design and comfort. With a leather interior redesigned by BMW Design Work, Wifi, latest-generation air-conditioning system, reduced noise pollution, increased flight speed and record take-off distance (only 750 metres), the Pilatus PC-12 NGX is the market's essential turboprop.
Price example:
Paris – Saint Tropez from 8 500 euros for 7 passengers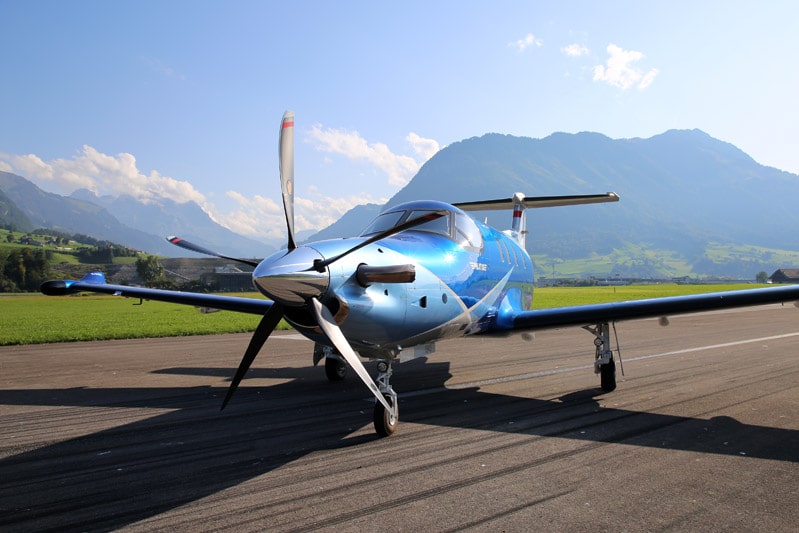 Piaggio Avanti, fastest turboprop engine
Nicknamed the Ferrari of the air, the Piaggio Avanti P 180 is comparable to a private jet: comfortable, spacious and fast. Its cruising speed of 700 km/h is a record for a turboprop. Moreover, the large windows, the 175 centimetre ceiling height, the silence on board and the interior design allow it to compete with the best light private jets.
Price example;
Geneva – Nice from 5,500 euros for 7 passengers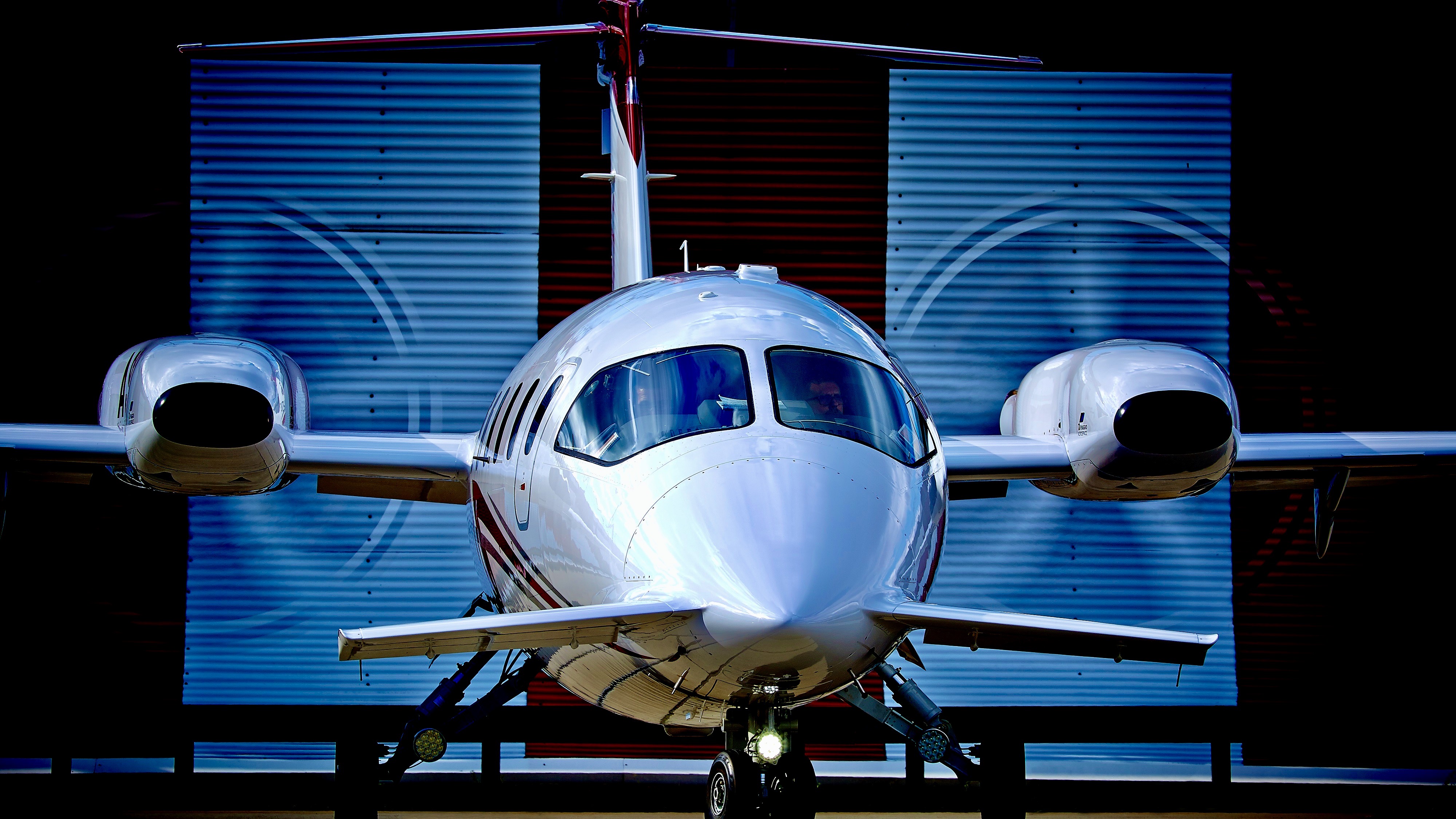 King Air C90 GT, the most used propeller aircraft
The King Air is one of the most popular aircraft for rent. Its luxurious interior is perfectly organized. It has a cabin 50% larger than that of light private jets. And a hold space accessible from the cabin.  The range of this aircraft is 1,700 kilometres with an average speed of 400 km/h, making it ideal for short-haul flights.
Price example
London – Amsterdam from €6,500 for 7 passengers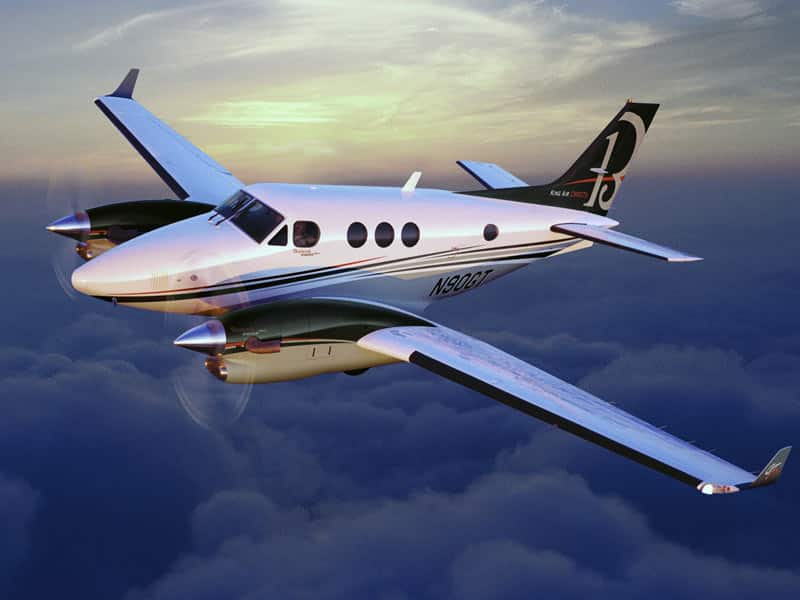 Beechcraft 1900 D, for group flights of less than 20 people
The Beechcraft 1900 D can accommodate 19 passengers and is the ideal aircraft for domestic scheduled flights. It is one of the only aircraft on the market capable of carrying more than 15 passengers and can land on short runways. In addition, the aircraft's cabin can be modified to accommodate up to 6 stretchers for medical evacuation. Air freight is also possible with this turboprop.
Price example
Paris – Cardiff from 11 500 euros for 18 passengers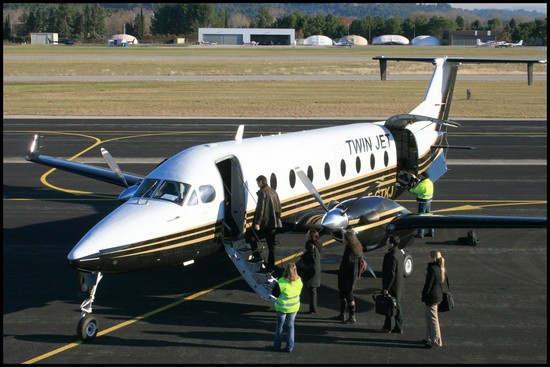 Fokker 50, for flights of more than 20 persons
As an airliner with a capacity of up to 50 passengers, the Fokker 50 is the perfect answer to the needs of group and sports team transport. This aircraft offers optimal flight conditions with large windows and a cabin height of 1.97 metres. In addition, the interior of the aircraft can be transformed into a VIP configuration to offer an exclusive flight experience to passengers.
Price example
Brussels – Nice from 35 500 euros for 49 passengers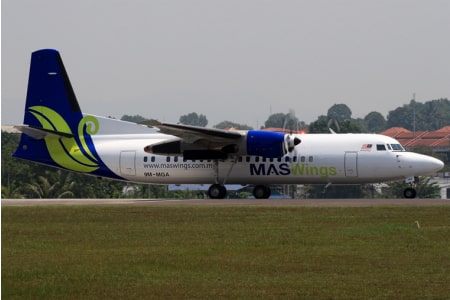 Vulcanair Aviator TP 600, for mountain flights
Equipped with state-of-the-art flight technology, the Vulcanair TP 600 is one of the most powerful aircraft in its class. These Rolls-Royce turbines enable the aircraft to land and take off on very short runways. Along with the Vulcanair P68, this aircraft is the only turboprop to have the necessary authorisations to land in Courchevel by public transport.
Rent a Vulcanair Aviator TP 600 between Paris and Courchevel from 7,500 Euros.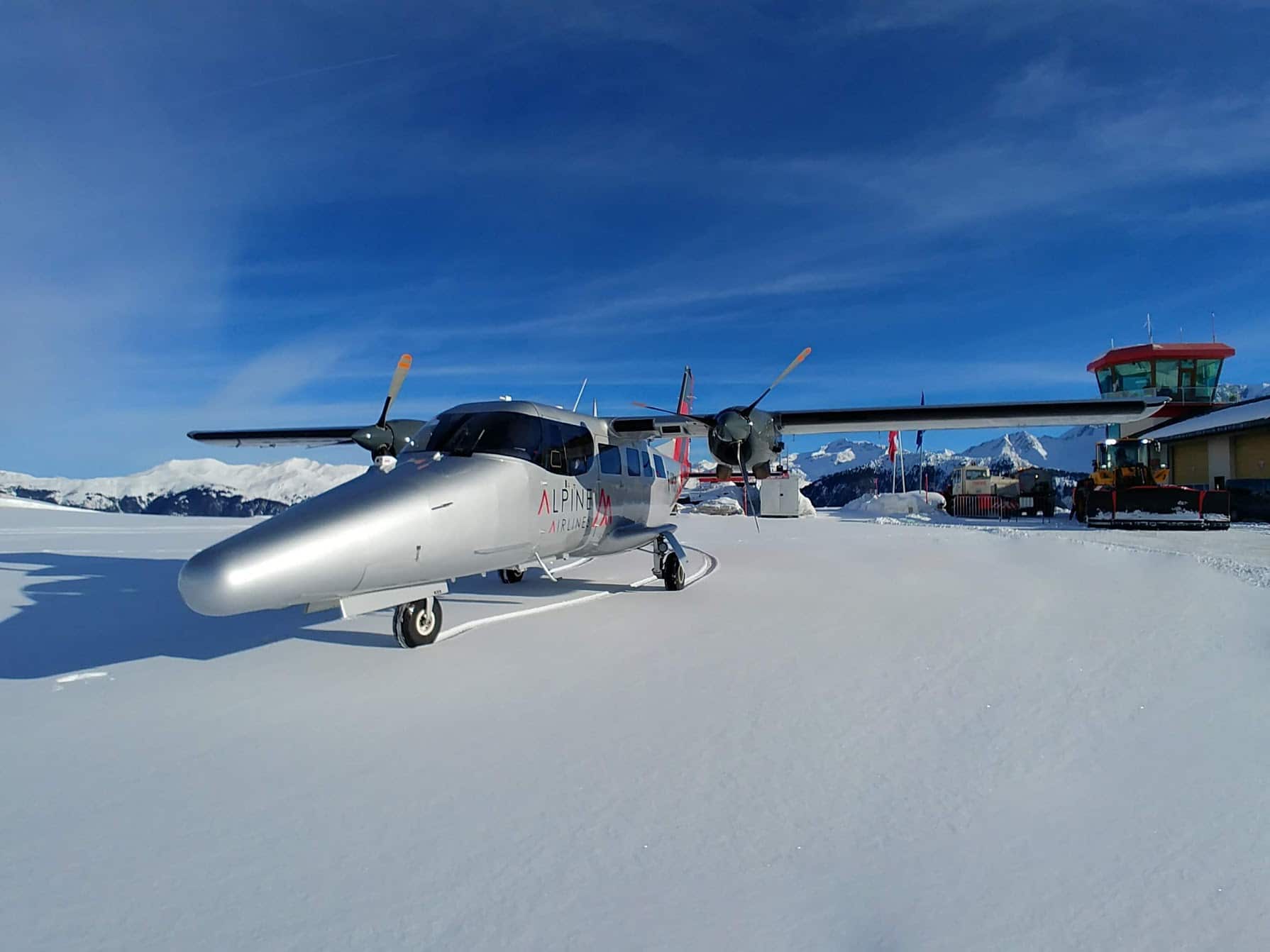 Conclusion
Turboprops are the perfect aircraft for short distances (Paris-Geneva or Nice-Milan). Above all, it is important to define your needs. If cost and flexibility of landing/take-off outweigh speed and comfort requirements, turboprop aircraft will satisfy you perfectly. Not to mention that some propeller-driven aircraft offer the same comfort as a private jet.
Charter a turboprop with AEROAFFAIRES, our air experts will answer all your requests 24/7 at +33 (0) 1 44 09 91 82.