In May 2021, German start-up, Volocopter unveiled a new flying device: the VoloConnect.
Being able to transport people, this air cab differs from the capabilities of the VoloDrone. But also from its brother, the VoloCity, by its characteristics and its use.
Thus, they are both complementary, although similar in its mission of transporting individuals. Indeed, the VoloCity has been developed in order to relieve the congestion of metropolises, facing the growing influx of land routes. It is ideal for making connections between the city center and transport infrastructures, such as airports and train stations.
On the other hand, the VoloConnect aims to serve suburbs with adjacent cities.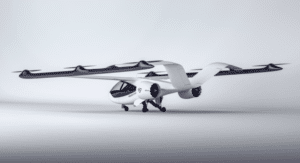 Photo credit @Volcopter
Amazing features to define the VoloConnect
To connect suburbs with cities, this device will have a range of 100 kilometers. Thus its range is multiplied, compared to the VoloCity and its 40 kilometers. Moreover, it can reach 250 km/h but its travelling speed will be 180 km/h. For the moment, there is a grey area concerning the presence of a pilot or the possibility of creating a totally autonomous version. One thing is sure, the VoloConnect can accommodate four people.
This flying cab offers several advantages for its users.
Indeed, it offers a stronger promiscuity with the city and its agglomeration, while promising to save time on travel. Flying in the air, thus allows to avoid the numerous daily traffic jams as well as the public transport, which are often saturated. The electric of VoloConnect and its brothers offers a great calm and participates in the reduction of noise pollution. To continue, these flying cabs evolve in an integrated ecosystem, favourable to their evolution. It is in this dynamic that the VoloPort, vertiports, have been imagined in order to integrate these devices to the infrastructures. All these creations will be linked to VoloIQ, responsible for flight operations. Thus, in front of this technology, the safety is in the center of the development of this apparatus, to guarantee each displacement. Moreover, Volocopter has more than 10 years of expertise, allowing it to propose the safest inventions with numerous test phases.
Faced with a limited lifespan of technologies, Volocopter is committed to offering products that are built to last over time and provide sustainable transportation for tomorrow's world.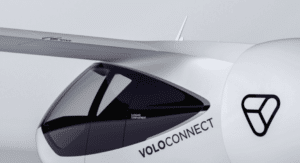 Photo credit @Volocopter
The VoloConnect, a flying car that differs from the VoloCity but also from its competitors.
Presented in October 2020, the VoloCity hits hard, going ever further in the transportation of tomorrow. Being able to move two people within a 40 kilometer radius, its capabilities are quite honorable and perfect for connecting city centers with their transport infrastructures, such as train stations and airports.
The European Union grants a real advantage to this flying device, granting it a flight certificate for the drone mode (without passenger) and in non-risky areas, issued by the European Union Aviation Safety Agency (EASA).
The German company Volocopter did not stop there and imagined the VoloConnect. More of an alternative to the sometimes obsolete public transport, it will be deployed to reach cities from the suburbs. This second device, unveiled in May 2021, has interesting characteristics with a range of 100 kilometers and a speed of 180 km/h. Moreover, the possibility of transporting four people, distinguishes it drastically from its brother, the VoloCity. This flying cab would therefore combine the advantages of a helicopter with those of an airplane, while achieving a vertical takeoff.
A test flight is planned in Singapore for the end of the year. The company hopes to commercialize its cabs by 2023 – 2026.
Volocopter managed to raise 200 million in March 2021 to continue the development of this flying cab and is considering an EASA certification for 2022.
To go further, the German company has imagined a prototype of a terminal for its aircraft, in order to land on the roofs of buildings in city centers. Called VoloPort, it will aim to smooth the flow of people.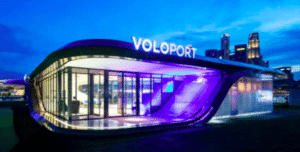 Photo credit @Volocopter
Thus, the German firm's thinking is well thought out, allowing it to expand its offer, with devices whose scope of action is complete but with singular characteristics.
The greatest strength of the start-up Volocopter lies in the choice to imagine and create electric devices, thus distinguishing itself from its competitors. This desire to offer more ecological and sustainable means of transport, responds to the problems of tomorrow concerning transport but also to environmental issues by offering electric and emission-free aircraft.
Our aviation experts are at your disposal 24/7 for your private flight at +33 (0) 1 44 09 91 82. Do not hesitate to visit our online quote to get a price estimate for your private flight.