For more than 30 years, AEROAFFAIRES has been committed to providing its customers with a quality service. To reward our most loyal customers, we have created the Flying Jet Card. The aim of this loyalty programme is to enable its members to benefit from numerous advantages. It is particularly interesting for companies in the current health context. Indeed, at a time when many commercial routes are suspended due to Covid-19, business aviation is an interesting alternative. The use of a private jet provides the flexibility and comfort sought by many employees. With the Flying Jet Card, AEROAFFAIRES goes one step further and offers you a new flying experience to facilitate your travel.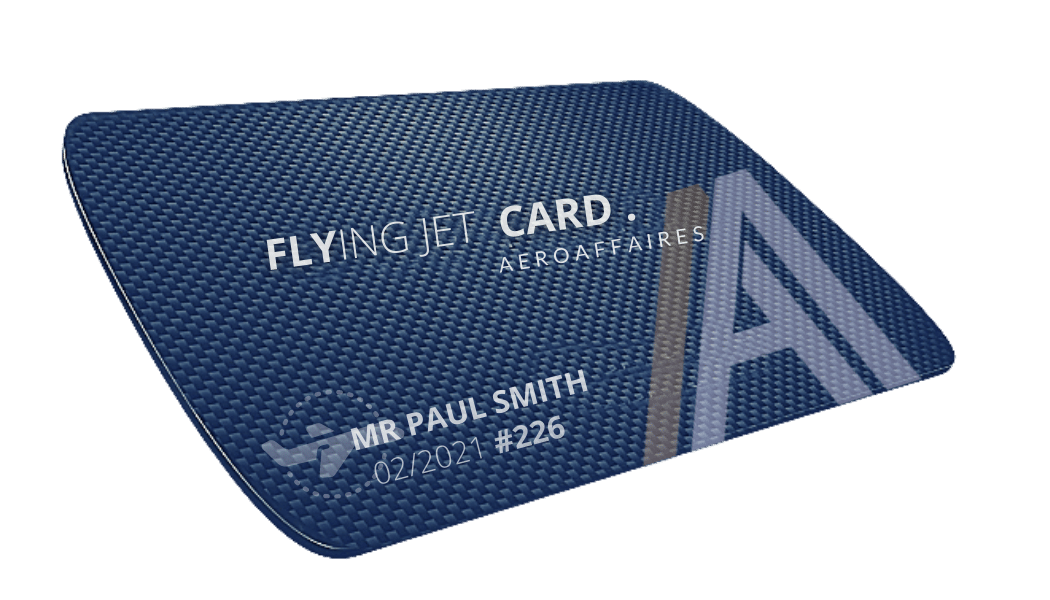 Discover the advantages of our Flying Jetcard for your company:
Easy booking and priority access to all our aircraft:
The Flying Jet Card allows you to book a private jet at any time. If you have a last minute obligation or a schedule that does not allow you to anticipate your travels, the Flying Jet Card is the solution you need. What's more, you don't have to worry about emergency transfers, as AEROAFFAIRES will take care of them. As a member, you and your staff will have priority on over 8,500 private jets and helicopters. Our team is committed to finding you the aircraft best suited to your requirements and to getting it off the ground in less than two hours. This service is available 24 hours a day, anywhere in the world. The Covid-19 crisis has severely disrupted air traffic, but with the Flying Jet Card, you can be sure that you will be able to meet all your obligations and arrive at your destination.
Exclusive rates on your itineraries
Joining our loyalty programme also means taking advantage of attractive prices. AEROAFFAIRES is committed to offering you competitive fares on all your itineraries and our Top 10 destinations.. The Flying Jet Card therefore allows you to make substantial savings. What's more, you can anticipate the exact annual budget you will allocate to this expense item thanks to fixed hourly rates.
Upgrade and downgrade your aircraft without penalty
Do you have to go to a meeting with six people instead of three? Have you changed your destination and it's not accessible with the jet you booked? No problem, with the Jet Card you can upgrade or downgrade your flight without penalty. This way you can have complete peace of mind about your trip. Our experts will find a solution to each of your problems so that you can make your flight.
Flexible cancellation policy
As a member of our programme, you also have access to simplified cancellation conditions. Flexibility is the name of the game in business aviation, but even more so in the corporate world. We know that unforeseen circumstances can arise, and even more so in the current situation, forcing you to cancel your flight at the last moment. This is why AEROAFFAIRES is committed to doing its utmost to drastically reduce cancellation costs.
The Jet Card can be used in many ways. If your company is a member of our programme, all your employees can benefit from our advantages without limit. Indeed, you can share your access to our programme with your entire network. It can also be used for business and private purposes. The Jet Card is one card with millions of possibilities.
Your company can stop its membership in our programme at any time without any additional costs. You can decide at any time to pay for the hours you have used and we will reimburse you for the rest. Our goal is to provide the customer with the maximum ease and discretion.
100% carbon offsetting included for each private flight
For all private flights booked with the Flying Jet Card, AEROAFFAIRES is committed, via its Sky CO2 programme, to offsetting the flight's carbon emissions by supporting a major primary forest preservation project in Peru. This "Martin Sagrado" project, operated by the social enterprise PUR Projet in the San Martin region, is registered as a UNESCO World Heritage Biosphere Reserve.
Access to the AEROAFFAIRES Premium Club
As a member of our loyalty programme, you also become a member of the AEROAFFAIRES SkyPremium Club. The club is made up of our most loyal customers and offers access to several privileges. These include concierge services such as car, restaurant and hotel reservations around the world. But also, preferential rates in hotels and restaurants, exclusive invitations to sports and cultural events (Qatar 2022, F1, Art Basel…), personalised goodies, aeronautical anti-stress courses… And many other advantages to discover!
How to become a member of our loyalty programme?
It's easy to become a member of the Flying Jetcard. Simply contact us to purchase a block of hours at your convenience. It can be 5, 100, 500 hours, depending on your needs or those of your company. After that, you can enjoy all the benefits of our loyalty programme. As for the hours you buy, you benefit from an unlimited validity in time to use them.
Our aviation experts are available 24/7 for your private flight at +33 (0) 1 44 09 91 82. Do not hesitate to visit our online quote to obtain a price estimate for your private flight.