Airlec Air Espace is a French airline founded in 1958. It is the oldest French company specialising in private aviation. It is based in Mérignac, in the Gironde department. Immediate boarding in this national airline.
History of the airline Airlec Air Espace
The airline Airlec was founded in 1958 by Michel Le Collen at the General Management. It is specialized in private aviation and transport on demand. The company's activities diversified in the 1970s, with V.I.P. flights, tourist flights, surveillance flights, links with the Bordeaux vineyards and above all high-voltage lines for the company EDF, Electricité de France.
Later, in 1984, the company collaborated with the SAMU and specialised in medical flights. It organises night medical transport with hospitals.
In 1992, in order to expand, it joined forces with the airlines Air Vendée, Air Excel and Air Transport Pyrénées to form the Régional Airlines group.
The company has been called Airlec Air Espace since 1995. Its founder Michel Le Collen passed away in September 2016 but the company is still alive and flying. It is the oldest French company specialising in private aviation and is also a pioneer in flights for medical purposes. It has contributed to the development of aviation. Its Airlec Ambulance business unit is a strong leader in the field of medical transport.
It is based in Bordeaux and Paris, at Le Bourget.
The mission of Airlec Air Espace:
Airlec Air Espace acts as an air broker specialising in the business aviation sector. It has its own fleet. Its mission is to meet the punctual need to move from point A to point B, for business customers and for medical flights. They have to offer the best service at the best price according to the specifications of each of their clients. The mission coordinators are responsible for calculating estimates and talking to clients and patients. They are trained in medicine, languages and aviation.
The different subsidiaries of Airlec Air Espace:
Airlec Air Ambulance: The company is specialised in medical flights and care for all patients. It operates worldwide, every day of the year. The company's fleet of aircraft is composed of ambulance planes and is equipped to respond to scenarios and emergencies. In this field, it offers numerous services worldwide, including Asia, America, Africa, Europe, the Pacific and the Middle East. There are many doctors, which allows Airlec to provide safe transportation to meet the specific needs of patients. With its emergency flights, it is able to repatriate and resuscitate premature babies, full-term infants and perform intensive care on board. Patients are carefully cared for by specialised teams and equipment. Equipment is available on board such as incubators, paediatric ventilators and more to best meet the needs of passengers. As an example, Airlec transferred a large number of European victims of the 2014-2015 winter Ebola virus outbreak with decontamination and disinfection procedures meeting very strict standards on board the aircraft. The COVID-19 pandemic, has allowed Airlec to develop its activities and establish itself as a leader in the medical transport market. The company also operates in war zones and crisis areas, safely and professionally.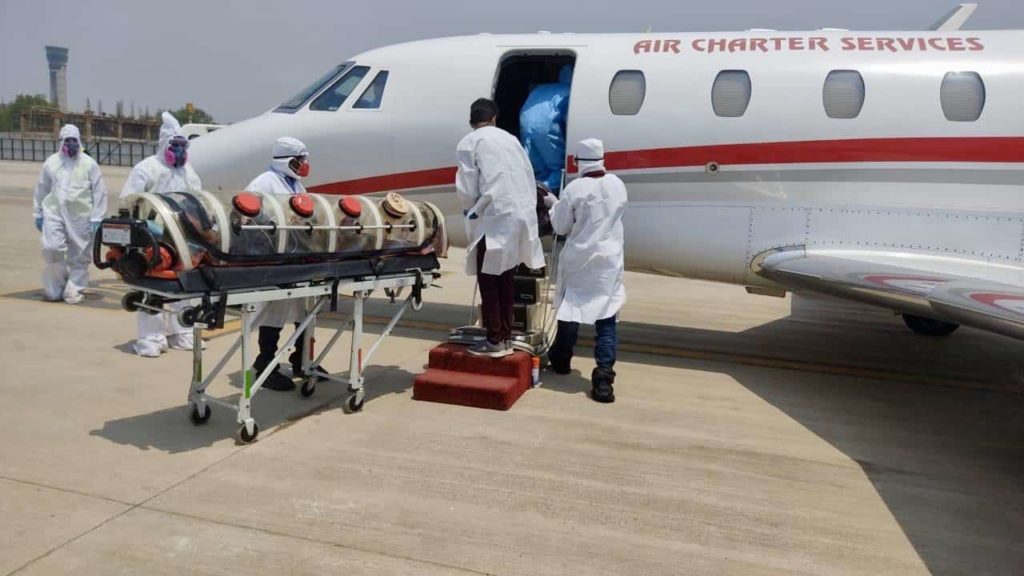 Airlec Air Executive is the subsidiary of Airlec Air Espace for the business aviation industry. It guarantees its customers a high quality service, regardless of their final destination and needs. Business aircraft have a level of safety equivalent or superior to that of military, commercial and scheduled aviation. Airlec has 22 professional civil aviation pilots, always ready to take off. Each pilot has an average of 8,000 flying hours, which guarantees the professionalism of the crew. In addition, the aircraft maintenance service is carried out internally at Airlec by a qualified team of technicians and mechanics. They regularly monitor the fleet and ensure that safety standards are met. Airlec has an in-house call centre that is available around the clock to send out quotes as quickly as possible. Airlec's mission is to offer its clients private jets and helicopters that meet all their needs and expectations. As with all brokers, its objective is to save its clients time, without restriction of location and to find the airports closest to the final destination. Commercial air transport does not offer these advantages.
Airlec Speciality: this is the subsidiary of Airlec specialising in aircraft maintenance because, like any airline operator, it is responsible for its maintenance programme. Even if passengers are not very aware of the importance of maintenance, it is thanks to it and to the care given to the aircraft that aviation remains the safest mode of transport there is. Since its creation in 1959, Airlec has acquired a great deal of experience in this field of aviation maintenance and offers its customers a safe and high quality transport.
Airlec SimAirlec is a programme of training, research and innovation to make Airlec the best airline in its field. This is the case, for example, for its medical team, which it trains continuously. The SimAirlec programme is offered by the company to provide customers with innovative training techniques. In order to enrich its offer, the company proposes this new training programme which aims to improve the skills of aeromedical professionals in terms of quality of care for Airlec Ambulance patients. The company is always looking to improve its expertise.
Airlec Air Espace's fleet of aircraft
Airlec has its own fleet of business aircraft, with their own registration. In order to best meet the needs of customers and patients, the fleet includes ambulance aircraft. It consists of 9 aircraft in transit in European airspace. The fleet is composed of 5 different categories of jets, as follows
Falcon 900Ex: The Falcon 900 is a three-engine aircraft from the Mystère-Falcon range of the manufacturer Dassault Aviation. This private jet, which is omnipresent in air traffic, has a large, adapted cabin and has room for 8 to 12 passengers. (Bombardier's private jet is the Global 5000).
Hawker 1000 B Elixir: This private jet has increased performance features improving its range. Airlec has adapted these models to the specificities of Air Ambulance, for the transport of patients. At Airlec, this model is presented as a medical aircraft.
Hawker 900: This is a medium-sized business jet and is the ideal solution for long-distance patient flights. The Hawker 900 can accommodate several patients on a stretcher or in a seated position. It allows the most complex medical techniques to be performed on board.
Citation Eagle 2: The Cessna Citation 550 is a business aircraft from the manufacturer Cessna. It is dedicated to ambulance flights and is ideal for short and medium haul flights with a cargo door that facilitates the transport of medical equipment.
Merlin 3B: This is a turboprop business jet produced by FairChild. Airlec has 3 aircraft of this type; converted into air ambulances. The advantage of this jet is its very low fuel consumption.
At AEROAFFAIRES, we are available 24/7 all year round. We will respond as quickly as possible to your request for a quote online, by telephone on +33 1 44 09 91 82 and by email: charter@aeroffaires.com .