At the beginning of 2020, firm measures to deal with the coronavirus epidemic began. The world barricaded itself in and a whole series of medical repatriations was amplified. Indeed, French nationals had to be repatriated to France, but also medical repatriations for patients from Covid 19. In the first case, commercial airlines were able to carry out these missions. However, for patients suffering from the coronavirus, it is necessary to charter a private jet which will act as a medical aircraft, an Air Ambulance. We answer all your questions about medical repatriation for Covid 19 patients.
What is the Covid 19?
First of all, here is a brief overview of Covid 19 in order to understand the basics of this virus.
Covid-19 is the disease caused by a new type of coronavirus called : SARS-CoV-2. It was discovered in China in the city of Wuhan exactly in December 2019. This is where the virus originated and is still causing a worldwide pandemic today. Because this virus is very easily transmitted and has spread rapidly across the globe. Some people contract Covid 19 without symptoms. But for others, the symptoms are as diverse as they are varied. Feeling of fever, coughing, aches and pains, headaches, fatigue, loss of taste and smell, etc. Serious forms of the disease may develop, requiring emergency hospitalisation or even admission to the intensive care unit. To date, treatments are being researched and vaccination is available to limit the serious forms.
But in which cases is it necessary and/or possible to repatriate patients? We will explain everything below.
The difference between medical repatriation and medical evacuation
First of all, you need to know the difference between these two terms. It should be noted for Covid patients that in both cases below it is possible to charter a medical aircraft.
Medical evacuation (EVANSAN): this consists of evacuating a person with a serious illness, a medical emergency, a Covid patient for example, to a health centre or a hospital adapted to the patient's medical situation. In this type of situation, it is very important to know that private jets have access to 10 times more airports than commercial lines. Medevac by business jet is necessary when a patient requires specific care but the health facilities near him are not equipped for the care he needs. Medevac is then recommended. It can be carried out by ambulance for short distances, but the private jet is to be preferred in case of more distant destinations because it can go anywhere in a short time.

Medical repatriation

: a medical repatriation is dedicated to people who are abroad and who for various medical reasons must return to their country of origin in order to receive the necessary care. For example, you are French and on holiday in Spain, you are positive for Covid and you need specific care, a medical repatriation is then necessary.
To find out more: see our dedicated article to understand everything about medical repatriation other than for Covid 19.
What is a medical plane chartered for a Covid 19 patient?
When you hear the word private jet, you might think of corporate travel or celebrity private jets. However, business aviation has many missions, including medical repatriation.
The private jet is specially equipped with all the necessary medical equipment. This includes oxygen, intensive care equipment and artificial respirators (used when a Covid patent is intubated). Depending on the type of business jet chartered for medical repatriation missions, they have the capacity to accommodate one or more stretchers in the cabin and have seats for the doctor and/or accompanying persons.
To find out more: see our dedicated article on Air Ambulances, medical aircraft.
Examples of regularly chartered medical aircraft: Falcon 100, Falcon 900, Piaggio Avanti, Citation Mustang.
Can a Covid 19 patient be repatriated by commercial airliner?
The answer is no. A person who is positive for Covid, or even suspected of having contracted the virus, will not be able to travel as a normal passenger on commercial routes. Indeed, with all the measures put in place within a country, at the borders and abroad, nowadays you have to prove a recent negative PCR test (between 24 and 48 hours depending on the country). If you do not prove this, you will not be allowed to fly on major airlines.
This is why it is necessary to charter a medical plane for your travels with Covid 19. Whether it is to benefit from a medical repatriation towards your country of origin, or a medical evacuation in order to benefit from specific care, or for another imperative reason in relation with the Covid 19.
Moreover, the advantage of a medical repatriation with a private jet is that the latter can land on 10 times more destinations than in commercial aviation. You are taken as close as possible to the hospital or destination you wish to reach for treatment. In addition, this on-demand mode of transport will ensure that you depart in the shortest possible time compared to commercial aviation.
What is the procedure for medical flights for a Covid 19 patient?
Depending on the case and the different stages that Covid 19 patients may report, medical flights can take place in different ways. We explain how the flights work in each case.
Medical flight for a Covid 19 patient with symptoms
For patients who have tested positive for the Coronavirus and who have declared symptoms, your flight will take place as follows. On the medical plane you need to be welcomed and transferred in the best conditions. That is why you will be provided with full medical equipment on board, as well as a doctor (specialised for these aeronautical missions). You will be transported in a stretcher with an insulating bubble. Below we explain this very important method of isolation for covid patients. This is very important for covid patients because it prevents the transmission of the virus. Finally, during the entire flight, the doctor on board will provide you with the appropriate care for your condition. Once the private jet has landed, your ambulance will be waiting to transfer you to the hospital where you will be treated.
Air-Ambulance flight for a Covid patient with intubation
For Covid patients with a severe form that requires intubation, the medical flight is very important. Intubated patients are often in a serious condition, unconscious or anaesthetised. It is then up to the doctor to ensure that their condition is stable before the flight and that the patient will be able to make the flight without obvious complications. The chartered private jet will have state-of-the-art medical equipment (such as respirators and oxygen) to deal with any problems that may arise during the flight. In addition, the coronavirus can cause respiratory failure and the air pressure in aircraft is different from that on the ground. This means that in flight, the air contains less oxygen than on the ground. This is why it is very important to have the patient's up-to-date medical file and the doctor's opinion. Once the flight is over, the Covid patient will be taken care of as soon as possible by the medical teams on the ground.
Medical flight for a symptomless Covid 19 patient
A medical flight for patients who are positive for the coronavirus but without symptoms is usually the same as for those who have symptoms. However, there are exceptions. It is possible that the patient may be able to travel without being in the isolation bubble. However, the patient should travel alone, or at least not be in contact with the staff on board or even the doctor. The asymptomatic patient should strictly adhere to barrier procedures. This medical repatriation will be more comfortable for the patient. Finally, once the medical repatriation has been completed, the private jet chartered for the mission will be completely disinfected and cleaned in order to avoid the risk of transmitting the virus.
What is the Covid patient isolation system?
The isolation system used to transport Covid 19 positive patients is a kind of ergonomic stretcher. It is made of transparent plastic that forms a kind of cocoon around the patient. For information, this insulated bubble was developed following the Ebola virus, in order to fight against the infection and limit transmissions. The same applies to the Covid 19. This type of insulated stretcher is perfectly adapted for the coronavirus, which is very virulent and easily transmitted. During medical evacuations in medical aircraft, it allows the medical and flight personnel not to be infected during the flight. Finally, if the patient needs to be manipulated, openings are placed on the sides of the bubble and allow the doctor to reach the patient if he or she wishes to provide specific care.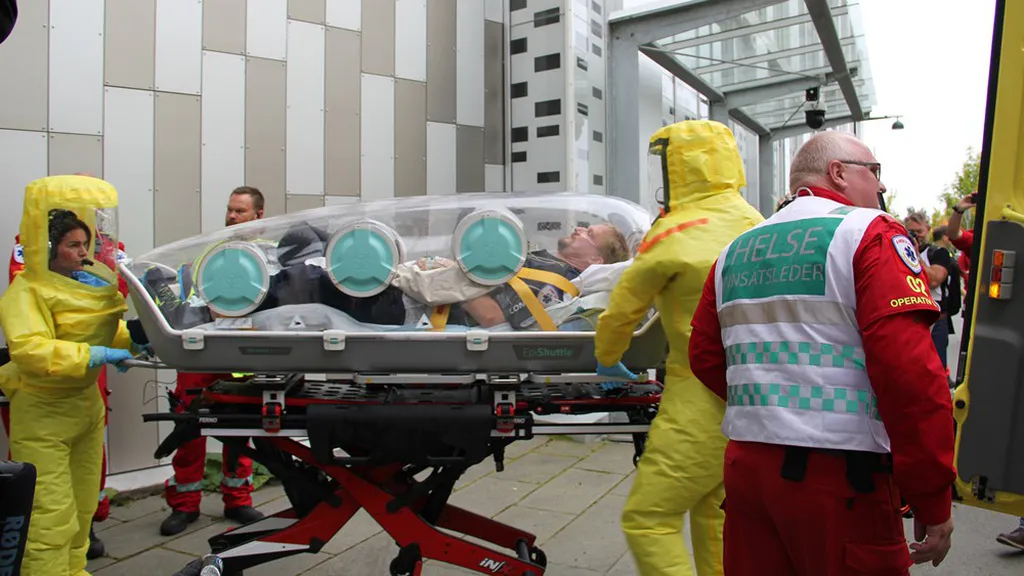 Can you get a medical plane with a long Covid?
Some people who have developed Covid 19 go on to have symptoms of what is called a long Covid. These symptoms range from breathing problems such as shortness of breath or coughing, to recurrent headaches or problems with taste and smell. If the symptoms are not severe and your health allows it, you can travel on commercial routes.
However, depending on the case, it is sometimes better to opt for a medical flight in a medical aircraft. This way, you avoid situations that can be a source of anxiety in commercial aviation. Such as waiting at airports or being close to others during the flight. In a private medical jet you have a doctor on board and the latest medical equipment to deal with any problems that may arise during your flight. It is important to be able to react to any situation during the flight as a result of the long Covid. The patient will then be assured of being taken care of and will travel with peace of mind.
How much does medical repatriation of a Covid 19 patient cost?
During medical repatriations, the price is a little higher than for traditional flights. This is because a medical aircraft is equipped with the latest medical equipment. In addition, the extra cost is also due to the presence of a doctor on board.
Example of a fare for a medical repatriation: Marrakech – Paris: from 15 000 € with a Falcon 100.
What should I do if my PCR test is positive while travelling abroad?
You are travelling abroad and your test tells you that you are positive for Covid? What should you do? Is repatriation mandatory or even automatic? The answer is no, a medical repatriation is not automatic. It depends on several criteria. You therefore have several options if you are in this case:
Confine yourself: If you are positive during a trip abroad, you have the option of staying on site and quarantining yourself in order not to transmit the virus. You will need to follow the procedures and health regulations of the country you are visiting. Finally, you will need to be re-tested after your quarantine and prove that you have tested negative for Covid before returning to your home country. However, if you need to return to your country or need urgent care that you will not be able to obtain locally, you should consider the following option.
Medical repatriation: You fall ill from Covid 19 abroad and you wish to return to your country of origin for a compelling reason or for a medical emergency? Medical repatriation is your solution. The country must give you permission to leave the country in your case. You will need to charter a private plane, equipped with full medical supplies and the presence of a doctor, which is necessary.
How to book a medical plane when you have Covid 19?
Nothing could be easier, at AEROAFFAIRES, just call us on +33 (0) 1 44 09 91 82, or complete our online quote. Our team will find you an aircraft to carry out and organise your medical repatriation as quickly as possible.
However, a few things must be provided in order to benefit from medical repatriation. It is necessary to have the up-to-date medical report of the patient with the Covid. Depending on the patient's condition, it is possible to provide additional or specific medical equipment. Of course, the identity papers of the patient and those accompanying him/her must be provided. It is also important to have the contacts of the ambulances on the departure and arrival of the flight. This is necessary in order to be able to organise your transfer as well as possible. And of course, to validate the medical repatriation flight, we need a letter of acceptance from the hospital where you will be taken care of on arrival. Without this, we cannot validate and carry out the flight. Finally, AEROAFFAIRES may ask the patient to provide a discharge letter.