What is biofuel? Biofuel is made from renewable organic plant material such as agricultural waste, sunflower or forestry residues. As its name suggests, it is an alternative fuel. Composed of biological materials rather than fossil materials, biofuel has several beneficial advantages, particularly for the aviation sector. Indeed, for several years now, concerned by environmental issues, the latter has been developing eco-responsible projects for a sustainable future.
What role does ecology play in the airline industry?
The development of biofuel represents a significant issue in the airline industry. Indeed, do you know how much a private jet consumes? According to a study conducted by the United Nations Climate Expert, 5% of CO2 emissions come from air traffic, of which 8% is from business aviation.
Private aviation is a considerable tool for the productivity of companies because it allows them to connect markets in an increasingly globalized world. However, this also represents risks for the environment, forcing the sector's players to innovate by developing projects, new consumption modes, more efficient and less polluting jets, etc.
In 2009, the business aviation industry, represented by the General Aviation Manufacturers Association (GAMA), and business jet owners, represented by the International Business Aviation Council (IBAC), committed themselves to the fight against climate change through a program, Business Aviation Commitment on Climate Change. The program aims to reduce carbon emissions through three specific objectives
Improve fuel efficiency by 2% per year, starting in 2010 and ending in 2020;
Achieve carbon-neutral growth by 2020;
Reduce CO2 emissions by 50% by 2050.
Strategic partnerships at the heart of the ecological transition
As part of this ecological transition, players in the aviation sector are developing new strategic partnerships. For example, Air BP, a BP subsidiary, has developed a Sustainable Aviation Fuel (SAF) called Biojet, which has been on the market since 2010. An ambitious project in line with the program established between GAMA and IBAC.
Air BP is also involved in strategic partnerships, such as in 2016 with Fulcrum BioEnergy, a pioneer in the production of low-carbon fuels. This collaboration, with an investment of $30 million, ensures the commercial development of FAS: the California-based company is building its first plant in Nevada, ensuring the production of sustainable fuel from household waste. The company plans to supply Air BP with more than 50 million U.S. gallons of FAS per year.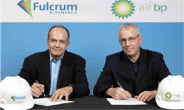 In 2018, Air BP is initiating a new partnership with Neste. The latter is the leading producer of renewable fuel that is produced from 100% renewable feedstocks from waste and residues. As a result of this collaboration, new SAF supply chains have been developed around the world.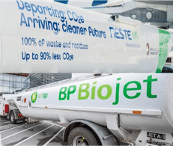 What are the limitations of green fuel?
The main disadvantage of biofuel is that it is a resource that is considered scarce. Biofuels consumed today are produced by "first generation" processes that use plant seeds. The "second generation" processes allow the use of the non edible parts of the plants. Unfortunately, these biofuels are still very poorly developed. The "third generation" concerns the production of biofuels from microscopic algae, but these processes are still in the development stage. Today, 1st and 2nd generation biofuels are used as supplements in the fuels supplied at service stations. Biofuel remains an unaffordable resource and therefore represents a barrier to the expansion and commercialization of this green and sustainable resource.
Why is biofuel an unaffordable resource today?
The aviation industry is committed to reducing carbon emissions, yet governments need to establish appropriate policy measures to accelerate the growth of FAS. Indeed, its production requires long-term policy security to reduce investment risk and a focus on research, development and commercialization of improved and more efficient production technologies and new sustainable feedstocks.
The worldwide development of biofuel illustrates the commitment of the airline industry to the protection of our planet. Ecology is a fundamental value at AEROAFFAIRES, which is committed to protecting the planet through the SKY CO2 program: 100% of the CO2 emissions generated by a flight are offset via a certified reforestation project. With AEROAFFAIRES, you can book an eco-friendly flight at the best rates before the arrival of 100% electric private jets!
Our aviation experts are at your disposal 24/7 for your private flight at +33 (0) 1 44 09 91 82. Do not hesitate to visit our online quote to get a price estimate for your private flight.