The Courchevel altiport is one of the most difficult to access in Europe with its 537-metre asphalt track on the mountainside. It has an 18% inclined runway, upwards for landings and downwards for take-offs. The altiport has a customs service. However, it is not certified for night flights and for flight operations in instrument flight conditions (in case of bad weather).
This is why, until now, only one airline company could land in Courchevel by public transport.
Until 2021, the Courchevel runway was reserved for owners and two aircraft by Public Transport.
Until now, only two aircraft could land at Courchevel altiport by Public Transport* (or TP), the Aviator and the Vulcanair P 68. These two twin-engined turboprops were the only ones to hold the Public Transport certification allowing them to land at Courchevel with pilots qualified for this very special approach. In addition, aircraft from owners with technical performance and pilot qualifications could also land and take off in Private Transport at their own risk.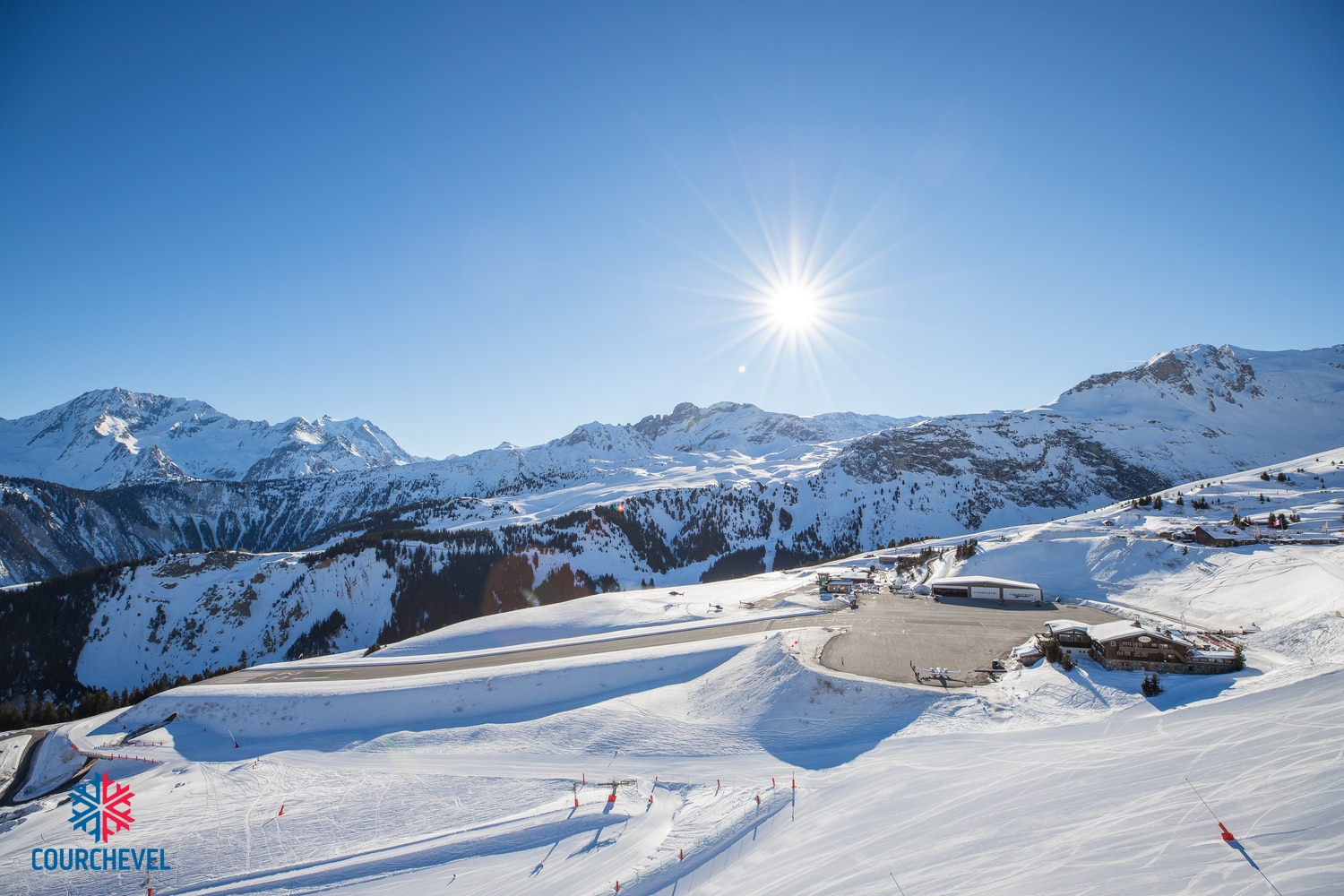 *Public Transport : Article L330-1 of the Civil Aviation Code very clearly defines public transport (TP) or public passenger transport (TPP): "Public air transport consists of transporting passengers, freight or mail by aircraft, from a point of origin to a point of destination, for payment.
Public transport certification is compulsory for all airlines wishing to operate in the European Union. In France, this document is issued by the Direction Générale de l'Aviation Civile (or DGAC). As an airline broker, we scrupulously check the validity of this licence so that the chartered aircraft can land safely in the airport of your choice with the associated insurance.
New certification for the Pilatus PC 12 authorised to land on Public Transport in Courchevel
Since January 2021, a new airline is now allowed to land with its crew in "TP". It is therefore a new model of turboprop that will now be able to access the prestigious ski resort of Courchevel. This allows us to offer our passengers a direct and fast access in the best conditions.
Within business aviation, this is a real revolution. Indeed, the PC-12 is one of the most comfortable and versatile turboprops. It is often described as a luxury air SUV because it can land on short concrete or grass runways. In addition, it has a cargo door for chartering equipment. It can also be used for medical flights from the ski resort.
The PILATUS PC 12, a real 4×4 from the air
The PILATUS PC-12 is a single-engine turboprop, the only one accredited in France for public transport. Manufactured in Switzerland and certified in 2017, it is the first single-engine single-pilot turboprop to be approved for public transport. It also has instrument flight rules (IFR) certification.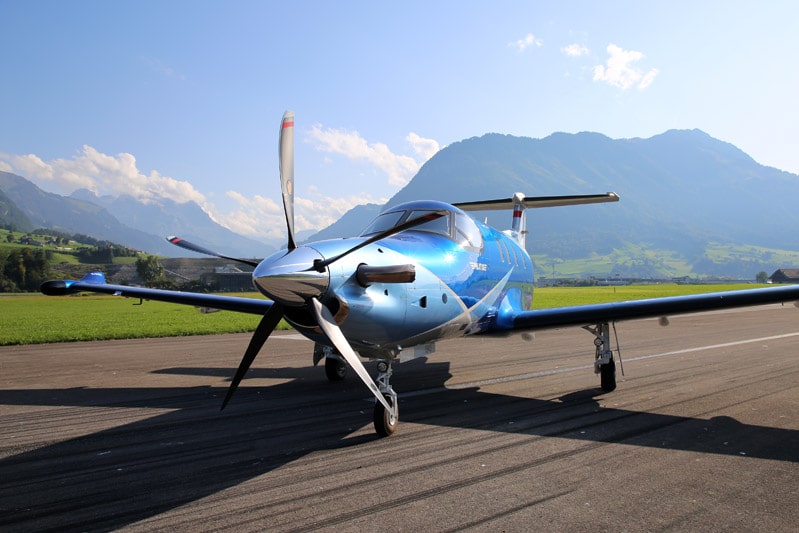 Here are some of the key features:
The PILATUS PC-12 has a spacious cabin ideal for up to 8 passengers.
It has access to more than 2,500 runways in Europe, including very short or grass-covered runways such as Saint Tropez or Gstaad.
The PC-12 also provides access to a large hold and a cargo door. It is ideal for cargo transport or medical flights in remote areas.
It is also available at the economy rate of €2,500 per flight hour.
How much does a private jet to and from Courchevel cost?
It's time to book your good weekend or holiday plans for the winter season with AEROAFFAIRES. We will drop you off from the centre of Paris to Courchevel in less than 2h20 by private plane or helicopter.
Examples of prices for a private jet hire Paris – Courchevel
About 500 kilometres, or 1h10 of flight time, separate Paris from Courchevel. With the Aviator and the Vulcanair P68, count from €6,000 for a single ticket for 5 people.
With the Pilatus PC 12, count from €7,000 for a single ticket for 6 passengers, with 1h10 of flight time.
Examples of prices for a private jet hire London – Courchevel
In Pilatus PC 12, it is necessary to count for 6 passengers, from €13,000 one way, with 1h50 flight time from London Biggin Hill.
Examples of prices for a private jet hire Luxembourg – Courchevel
In Pilatus PC 12, 6 passengers can be counted on, from €9,000 one-way, with 1h15 of flight time.
Would you like to charter a Pilatus PC-12 for Courchevel?
Our on-demand flight service is available 7/7-24H/24, contact us on +33 1 44 09 91 82.