Business aviation is becoming a more and more affordable travel option and it is now possible to hire a private jet for the same price as a ticket on a business class flight. There are many private jet companies offering their services. But which one should you choose and what should you consider when making your decision?
Key aspects of a business aviation company
Clients should bear a few things in mind when deciding between private jet companies to guarantee they are travelling in the best conditions.
Safety, professionalism of operations and crew training
The most important aspect to remember when it comes to choosing a business aviation company is safety. The company should have an Air Operator's Certificate (AOC). This is an approval issued by the air transport supervisory authorities on the basis of very strict criteria. It authorizes the company to carry passengers under the public transport's rules and is a guarantee of safe transport.
The requirements for obtaining an AOC are defined in Europe by the European Aviation Safety Agency (EASA). They include an obligation for business airlines to carry out regular maintenance on their private jets and they must take out insurance policies with particularly high limits to protect you in the event of damage. Pilots must also maintain their qualifications by undergoing training at least every 6 months and are obliged to complete a certain number of flying hours on the aircraft.
Nevertheless, the emergence of new business models sometimes challenges these requirements. Some private jet companies are trying to offer business travel at very low prices, circumventing the law and security requirements. At AEROAFFAIRES, the safety of our customers is our biggest concern and we only select private jet companies that demonstrate a very high level of care in aircraft upkeep and pilot training.
Aircraft fleet and quality
Each private jet airline has its own fleet. Make sure that the business jet company has the right aircraft for your needs.
Aircraft size is critical and will depend on whether you are travelling alone or in a group. Aircraft flight range is also important to consider; are you making short- or long-haul trips? The cabin and the equipment it contains can vary depending on your needs. Some private jets have a toilet, sofa, TV, or even Wi-Fi.
Some companies choose to standardize their fleet with a single type of aircraft to reduce their costs. The price is often cheaper, but you have to make sure that this private jet perfectly meets your needs.
Last but not least, it is vital to ensure the quality of the fleet and its maintenance state. Safety should not be neglected when flying in a private jet.
Range of destinations
The range of destinations an airline offers should be taken into account. Private jet companies do not operate on regular routes and can therefore take you anywhere at any time. This allows you to arrive as close as possible to your final destination.
Some companies only offer short- and medium-haul flights while others offer long-haul flights. It is essential to compare them according to your needs.
Pilots must also have specific qualifications to land and take off at unusual airports. For some mountain airports, such as Saint-Morizt, Gstaad and Courchevel, pilots must have a mountain flying qualification. And some airports that are difficult to access, such as Saint-Tropez or Calvi, require pilots to have a special qualification to land. You must therefore make sure that the airline has the right pilots to take you to your destination.
On-board service and ground assistance
The services offered and the quality of customer support are critical when choosing your private jet company.
Some business aviation companies that have positioned themselves as low-cost do not offer the same customer service as traditional companies. This is essential in the event of flight cancellation, damage, or needing to change schedules or even destination at the last minute. Some private jet companies refuse to do this or charge significant fees while others respond favourably and take care of your requests.
It is also important to consider this in the event of specific needs such as dietary requirements, a group flight, transport of animals, or even carrying special goods. Some companies will assist you to the best of their ability and take care of all the administrative procedures.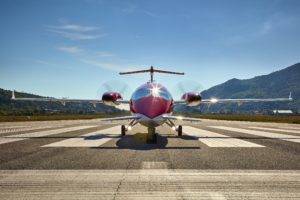 AEROAFFAIRES: An all-in-one and tailor-made solution
The options available can seem overwhelming. At AEROAFFAIRES, we make it easy for you to book your private jet and offer you an all-in-one, tailor-made solution.
Our airline experts will search for the companies and private jets that are the right fit for your needs. We offer solutions that meet your criteria and you can choose the right one for you. You don't have to worry about anything as we take care of the administrative procedures and make sure that you travel in total comfort.
Contact us at any time via our online quote form. Our team is also available 24/7 by telephone on +33 (0)1 44 09 91 82.