Dijon Burgundy : Introduction
Want to treat yourself to a glass of wine worthy of the name? AEROFFAIRES offers you the opportunity to fly to one of the main wine-producing areas of Burgundy. Whether you're traveling with your family or colleagues, renting a private jet flight to Dijon with us allows you to travel quickly and serenely.
Dijon, in the heart of the Côte d'Or
Dijon is a city located in the east of France, in the Burgundy-Franche-Comté region. The city is known for its famous mustard, which has been produced there since the Middle Ages. Dijon is also famous for its architecture, with many buildings dating from the Renaissance and medieval periods.
Popular sights in the city include the Place de la Libération, the Saint-Bénigne Cathedral, the Palace of the Dukes of Burgundy, the Tour Philippe le Bon and the Arquebuse Gardens. Dijon is also an important cultural and academic center, with several museums, theaters and universities.
Focus on Dijon Burgundy airport
Dijon Bourgogne Airport is a small regional airport located about 6 km southeast of the city of Dijon. It is mainly used for business flights and medical flights in relation to the Dijon University Hospital.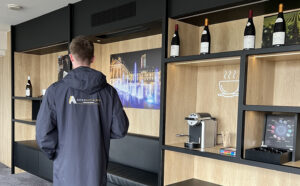 In terms of infrastructure, Dijon airport has a comfortable and modern terminal with a dedicated passenger lounge. It is easily accessible by car from downtown Dijon, in about 15 minutes with regular traffic conditions.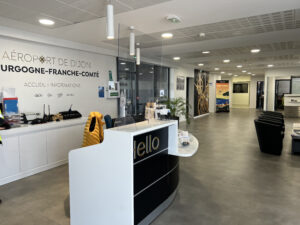 The airport has two runways, the longest of which is 2,500 meters long. It can accommodate a large range of aircraft, including Bombardier business jets, for instance. The airport also has modern facilities and services for private jet flights, such as a dedicated passenger lounge and 24/7 services.
Dijon by private jet with AEROAFFAIRES
Since our creation in 1991, we have accompanied nearly 95,000 travelers and have chartered 20,000 private aircraft all over the world. All of our private jets are Public Transport certified to guarantee your safety. Our experts are at your service 24 hours a day.
Whether you want to book a light cab plane for one to four people, a private jet for fifteen or so, a jumbo jet for a large group or a helicopter to get to a strategic point or visit a region, we will find the aircraft best suited to your needs.
Furthermore, AEROAFFAIRES is committed to offsetting 100% of the CO2 emissions generated by our private flights. This is why we have designed the SkyCO2 program. Thanks to this program, we have been able to create a partnership with associations working to preserve the primary forests of South America.
Book your private flight now by contacting us 24/7 at +33 (0) 1 44 09 91 82.