Innovation in the field of electric aviation is growing, particularly in business aviation. Indeed, smaller private jets should be the first to become 100% electric. Currently, several players, aviation giants or visionaries, are building the electric aircraft and private jets of tomorrow. Among them, the Slovenian Pipistrel and its two-seater Alpha Electro, the Israeli start-up and its Alice prototype planned for 2022, and the collaboration between Airbus, the RATP and the ADP Group for the City Airbus, a four-seat flying taxi.
On 11 March 2021, the aviator Tecnam and the car manufacturer Rolls Royce announced their collaboration with Widerøe, the largest Scandinavian airline operator. Their goal is to design an electric regional jet by 2026.
A pioneering project for an electric regional aircraft for business aviation
In 2019, Rolls Royce and Widerøe started a research programme on sustainable aviation. The aim of this research programme was to evaluate and develop electric aircraft concepts. The ultimate goal of the collaboration is to enable the Norwegian airline to have the first electrified aircraft on domestic scheduled flights by 2030.
At the same time, Widerøe has taken advantage of Rolls-Royce's partnership with Tecnam to carry out this project. Rolls-Royce will contribute its expertise in power and propulsion systems. Tecnam will be responsible for the design, manufacture and certification of the aircraft. Finally, the Scandinavian airline will ensure that all the skills and requirements of an airline are in place so that everything will be operational in 2026.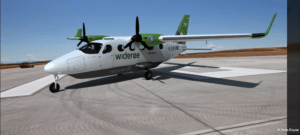 The design of the P-Volt electric aircraft is based on the Tecnam P2012 Traveller. It will therefore be a twin-engine electric aircraft. Its use will be mainly focused on the Norwegian commuter market, the category of regional transport aircraft with up to 19 seats. However, the aircraft should be able to carry a maximum of 9 passengers and would have a limited range of less than 300 kilometres.
Before the pandemic, Widerøe offered approximately 400 flights per day to 44 airports. Moreover, 74% of the airline's flights are less than 275 km. And the shortest flights last between seven and fifteen minutes.
Due to its topography, Norway therefore uses aviation mainly for short and medium-haul flights. With this electric aircraft project, the country aims to reduce its emissions by 80% for all domestic flights by 2040.
Why is this development important for private aviation?
The environment is a subject of great concern, particularly in the aeronautics sector. Indeed, aeronautics accounts for between 3 and 4% of greenhouse gas emissions. This figure rises to over 14% in the transport sector.
However, while the automobile industry has been able to gradually reduce its environmental impact thanks to technological progress, the task is more complicated for the aeronautics industry.  In fact, despite the constant development of battery and electric motor technologies, there is still no electric aircraft capable of flying long distances with a large number of passengers. The main obstacle to electric aviation is that the batteries are too heavy and massive. For example, to equip a commercial aircraft such as an A320, which carries about 150 passengers, with a battery, 150 tonnes of battery would be needed. This is well above the 70 tonnes that an aircraft weighs on take-off with full tanks of paraffin.
This is why electric aviation is a major challenge for business aviation. Private jets are smaller and carry fewer passengers. As such, they are likely to be the first electric aircraft used for commercial flights.
AEROAFFAIRES hopes to be able to offer you the rental of the next electric aircraft very soon. In the meantime, our SkyCo2 initiative allows you to offset 100% of the CO2 emissions generated by your flights by supporting a reforestation project.
Our aviation experts are available 24/7 for your private flight at +33 (0) 1 44 09 91 82. Do not hesitate to visit our online quote to obtain a price estimate for your private flight.