First flight in a private jet? Are you excited and confused at the same time? Don't worry, AEROAFFAIRES explains all the rules to follow on board a private jet!
As for the classic commercial flights, it is compulsory to present ourselves on board with our personal identity papers. Are you traveling within the Schengen area? Only a simple identity card will suffice. Beyond these borders, a passport will be required as well as a visa in certain cases. These obligations depend on the legal rules and laws of the country you wish to visit. Do you need information? Our AEROAFFAIRES flight consultants will be happy to answer your questions about the legal procedures required for your private jet flight.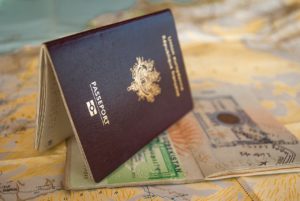 Arrival time at the airport
For European flights, we recommend that you arrive at the airport 20 minutes before departure and 30 minutes for international flights. Some airports are able to accommodate business travelers more quickly than expected. Your AEROAFFAIRES consultant will provide you with an estimate of the time required to complete all the necessary administrative procedures at the airport where your flight will take place.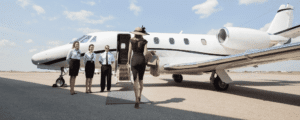 Unlike commercial flights, you are not required to turn off your electronic devices on board the private jet. In addition, most private jets are Wi-Fi enabled, allowing you to work on board, be entertained, or communicate with your loved ones on board.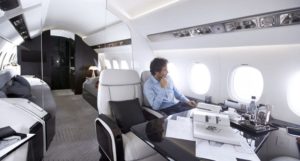 Smoking on board a private jet
Similar to commercial flights, smoking is not permitted on board, out of respect for the passengers who will be traveling on the same private jet. Aircraft chartered by AEROAFFAIRES are non-smoking. Nevertheless, AEROAFFAIRES is able to adapt to your requests and offer you a tailor-made service. Please let us know when you request a charter so that we can offer you private jets where smoking is allowed on board.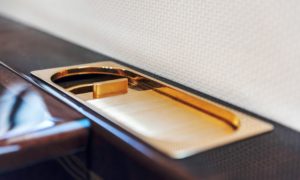 You can board your private jet accompanied by your pet, its passport and its updated health record. However, you must inform us at the time of booking so that we can notify the crew members and the company. Our AEROAFFAIRES team also recommends that you check with the laws of certain countries. For more information, see our article on the conditions for traveling with animals.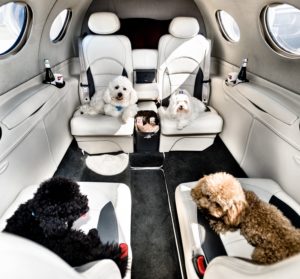 Tailor-made catering is possible: as this is a tailor-made trip, you will have the possibility to choose your own catering on board. We work with qualified caterers who will be happy to take into account your dietary habits. If you have specific requests (vegetarian meals, specific alcoholic beverages, or food for your pets), please let us know when you make your reservation.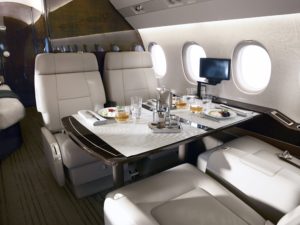 Payment methods for a private jet flight
Regarding the payment method, you are free to choose the method of payment that suits you best. If it is an emergency flight for the same day, payment must be made by bank transfer or by check before boarding the chartered aircraft. Upon confirmation of your flight, a 50% deposit will be required to reserve the aircraft you have selected with the airline operator.
Modification of a reservation
With AEROAFFAIRES, tailor-made private aviation becomes as simple as booking a cab! You can modify your reservation at any time. Would you like to add an additional destination? Contact our AEROAFFAIRES team on +33 (0)1 44 09 91 82, and an air consultant will organize the additional connection.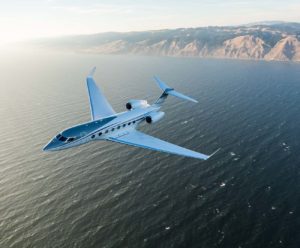 The number of bags you can take on board your chartered aircraft depends on the size of the aircraft and the number of passengers. If you wish to travel with bulky or fragile baggage, please inform your dedicated AEROAFFAIRES consultant for further advice and information.
Are you looking for an airport transfer service? Our AEROAFFAIRES team would be happy to take care of your transfer thanks to its airport car transfer service. Whatever model you prefer: Audi RS7, Mercedes S Class, Tesla Model S, Aston Martin Rapid S, Porsche 911, we can provide you with the car of your choice.
AEROAFFAIRES also offers a helicopter rental service for transfers to and from airports. Helicopter transfers offer several advantages, such as dropping you off as close as possible to your destination, taking off and landing at your convenience without having to adapt to takeoff slots, or avoiding the constraints of car traffic.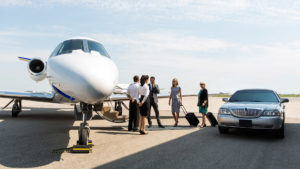 Would you like to charter a private jet or helicopter? Contact our AEROAFFAIRES team available 24/7 at +33 (0)1 44 09 91 82.