What's the private jet luxurious interiors in look like?
High-quality leather seats, luxury dishes, high-end bedding, bathroom or even premium kitchen. The interiors of private jets are the object of all desires.
Private owners or airlines of private jets can customize their aircraft as they wish. Many companies and architects specialise in the design of luxury cabins. Jacques Pierrejean, in particular, is a French aircraft interior designer who is internationally renowned for his designs in luxury aircraft.
AEROAFFAIRES, a broker specialized in business aviation for more than 30 years, reveals you all about luxury private jet interiors.
The interior of light private jets
Ultra-light and light private jets are airplanes that can accommodate up to 7 passengers. They have narrow cabins but are still very luxurious and pleasant to travel in.
The floor of the interiors of light private jets is always made of carpet. The dominant colours in the cabin are beige and cream. Darker and darker oak woodwork dominates for the tables and storage furniture. All this furniture is custom-made by craftsmen in leather, crystal, precious woods and marquetry.
The cabins of the light private jets can sometimes be configured to have a toilet, as in the Phenom 300, or to have a mini-bar.
The Phenom 100, for example, is an ultra-light private jet that is very popular with people who travel with it. It can accommodate up to 4 passengers. Its cabin is 3.35 metres long, 1.50 metres high and 1.55 metres wide.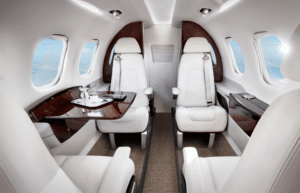 Interior of a Phenom 100 equipped with 4 seats, two shelves and a toilet. ©Embraer
The interior of intermediate private jets
Intermediate private jets are aircraft that can accommodate up to 12 passengers. Their interior is larger than that of light private jets, and passengers can stand up in the middle of the cabin.
These business jets can be equipped with a bed or sofa for relaxation. They are often equipped with a kitchenette or mini-bar. They also have a toilet with a sink.
The most modern of this range have technological equipment such as touch-controlled lighting, in-flight entertainment systems and wifi.
The interiors of the intermediate private jets make it possible to fly very comfortably, in groups and over long distances.
The Praetor 600, for example, is a very modern intermediate private jet that can carry up to 12 passengers. The cabin is 1.83 metres high, 2.49 metres wide and 8.32 metres long. It has a disruptive interior, often with a food counter and a sofa bed.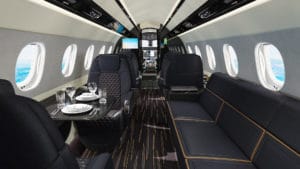 Interior of a Praetor 600 equipped with 6 seats, a sofa, a kitchenette and toilets. ©Embraer
The interior of long-haul private jets
Private long-haul and very long-haul jets are aircraft that can carry up to 19 passengers over long distances.
The interiors of these long-haul aircraft are the most spacious of the entire range of private jets. Passengers can stand upright and the space allows for furniture, sofas, a bed and even a separate bedroom or bathroom.
All modern technological equipment can be installed. The owners can have a TV, wifi, online communication facilities (satellite phone), touch-controlled lighting and state-of-the-art sound system installed.
The Gulfstream G650, for example, is a long-haul private jet that is highly appreciated by AEROAFFAIRES customers. The cabin is 2.60 metres wide, 2 metres high and 16.33 metres long. It is often equipped with several compartments: a kitchen, seats and sofas and toilets. It is equipped with 16 large oval-shaped portholes with a span of 71 cm. The crew is equipped with touch screens to adjust the temperature, light it or lower the portholes' flaps. These features make it one of the private jets with the most technological cabin on the market.
The passenger area of a G650 with TV, seats, sofa, toilet and kitchen. ©Gulfstream
The interior of VIP airliners
Even bigger than private long-haul jets, VIP airliners. These are airliners that are converted for business travel. Their interiors offer passengers the most luxurious refinement possible in an airplane.
Meeting module, dining room, office, bedroom, kitchen, bathroom, jacuzzi and even interior fountain; these planes are real living places in the sky.
The two main manufacturers of VIP airliners are Airbus ACJ and Boeing BBJ. Both compete with private jet manufacturers.
Airbus ACJ
Airbus Corporate Jets (Airbus Prestiges – ACJ) is an Airbus subsidiary that markets Airbus aircraft adapted to business aviation. Its range includes medium-haul VIP airliners such as the ACJ318, ACJ319, ACJ320 and ACJ321 and long-haul VIP airliners such as the ACJ330, ACJ340, ACJ350 XWB and ACJ380.
These ultra-luxury Airbuses can carry from 8 passengers for the ACJ318, up to 50 passengers for the ACJ380. The VIP version of the Airbus A380 is currently the largest VIP airliner in the world.
The interiors of the Airbus VIPs can be fitted out at the owners' discretion. In 2017, Airbus joined forces with the Italian super-sports car manufacturer Pagani Automobili to develop the cabin for the ACJ319 neo. The interior of this aircraft has the particularity of having a ceiling that gives a direct view of the sky above thanks to an ingenious system of screens and cameras.
Boeing BBJ
Boeing Business Jets (BBJ) is a range of Boeing airliners designed for business travel.
The BBJ fleet consists of the 737 BBJ for medium-haul, and the 777 VIP, 787 VIP and 747-8 VIP for long-haul.
Boeing's VIP aircraft are mainly used by Fortune 100 companies, state authorities or very wealthy personalities.
The interior of private medical evacuation and cargo transport jets
Private jets are versatile when they have a large cargo door. Their cabins can be converted for missions other than passenger transport. This is particularly the case for medical evacuations (EVASAN) and cargo transport.
Medical transport
Air ambulances, or air ambulances, make it possible to transport patients by air quickly and without the constraints of airlines. The interiors are configured for medical operations on board and have all the necessary medical equipment.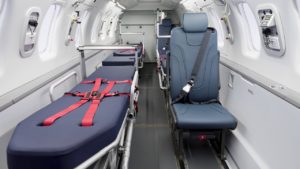 The Pilatus PC24, also known as the Super Versatile Jet, is available in a version that allows it to carry out medical evacuations. The cabin is equipped with medical beds, oxygen dispensers and artificial ventilators. ©Pilatus
Freight transport
Private jets can also be converted into cargo aircraft. Their cabin is then emptied of all seats and decorative elements in order to accommodate cargo. Tailor-made air freight avoids the constraints of international cargo airlines. It allows goods to be transported immediately, at any time and to any destination.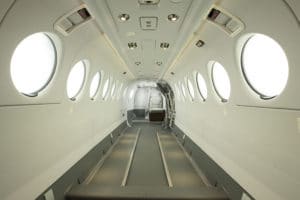 The cabin of a King Air 2000 adapted for the transport of goods. ©Textron Aviation
Flying in a private jet with a personalized interior with AEROAFFAIRES
AEROAFFAIRES offers you to rent a private jet and customize the cabin as you wish. Special meals, decoration elements, flowers, we answer all your requests.
Make your request at any time via our online quote form. Our air experts will provide you with a quote as soon as possible.
We can also be reached by phone at +33 (0)1 44 09 91 82 or by e-mail at info@aeroaffaires.com .
The AEROAFFAIRES team is available 24/7 to provide solutions to all your needs.
Photos: ©Embraer, ©Gulfstream, ©Citadel Completion, ©Pilatus, ©Textron aviation