What does a luxurious private jet interior look like?
High-quality leather seats, fine dining, high-end bedding, elegant bathrooms or even kitchens. Getting to experience a private jet interior is a fantasy for many.
Private owners or private jet airlines can customize their aircraft as they like. Many companies and architects specialise in designing luxury cabins and many of them are internationally renowned for their work in luxury aircraft.
AEROAFFAIRES, a specialist business aviation broker with more than 30 years' experience, reveals all about luxury private jet interiors.
Light private jet interiors
Ultra-light and light private jets can accommodate up to 7 passengers. Although more compact, all the luxurious touches are still there.
Light private jets are always carpeted and are often decorated in beige and cream. This makes the darker oak woodwork of the tables and storage furniture stand out. All the furniture is hand-crafted in leather, crystal, marquetry and the finest woods.
With the light private jet cabins, there is the option to have a toilet, as in the Phenom 300, or a mini-bar.
The Phenom 100, for example, is an ultra-light private jet that is very popular with users and can accommodate up to 4 passengers. Its cabin is 3.35 m long, 1.50 m high and 1.55 m wide.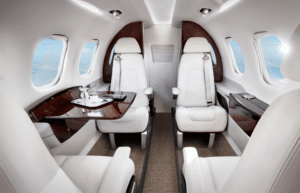 Interior of a Phenom 100 equipped with 4 seats, two shelves and a toilet. ©Embraer
Midsize private jet interiors
Midsize private jets can accommodate up to 12 passengers. With a larger interior than a light private jet, there is room for passengers to stand up in the cabin aisle.
If relaxation is key, these business jets can be equipped with a bed or sofa and they are often fitted with a kitchenette or mini-bar. A toilet with sink is fitted as standard.
The most up-to-date models in this range have tech such as touch-controlled lighting, in-flight entertainment systems and Wi-Fi.
The interior of midsize private jets are designed for comfortable flying when in larger groups and going long distances.
The Praetor 600, for example, is a very modern midsize private jet for up to 12 passengers. The cabin is 1.83 m high, 2.49 m wide and 8.32 m long. The interior, which often features a dining area and a sofa bed is stunning.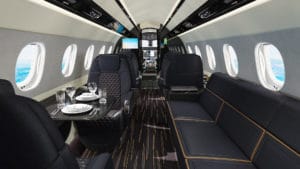 Interior of a Praetor 600 equipped with 6 seats, a sofa, a kitchenette and toilets. ©Embraer
Long-haul private jet interiors
Long-haul and very long-haul private jets can carry up to 19 passengers over long distances.
The interior of these long-haul aircraft offers the most space of the entire range of private jets. There is space for passengers to stand upright as well as for furniture, sofas, a bed, and even a separate bedroom or bathroom.
There is the option for premium technological equipment, such as a TV, Wi-Fi, online communication facilities (satellite phone), touch-controlled lighting and a state-of-the-art sound system, to be installed.
The Gulfstream G650, for example, is a very popular long-haul private jet with AEROAFFAIRES customers. The cabin is 2.60 m wide, 2 m high and 16.33 m long and often features several compartments including a kitchen, seating areas and toilets. It is equipped with 16 large oval-shaped portholes measuring 71 cm. The craft is equipped with touch screens for adjusting the temperature, lighting or lowering the portholes' shutters making it one of the most technologically up-to-date cabins on the market.
The passenger area of a G650 with TV, seats, sofa, toilet and kitchen. ©Gulfstream
VIP airliner interiors
If you are looking for something even bigger than private long-haul jets then VIP airliners are for you. These are airliners that have been converted for business travel and their interiors offer passengers the ultimate in refined luxury air travel.
With a meeting area, dining room, office, bedroom, kitchen, bathroom, jacuzzi and even an interior fountain, this is truly a living space in the sky.
The two main VIP airliner manufacturers are Airbus ACJ and Boeing BBJ with competition from private jet manufacturers.
Airbus ACJ
Airbus Corporate Jets (Airbus Prestiges – ACJ) is an Airbus subsidiary that markets Airbus aircraft adapted to business aviation. Its range includes medium-haul VIP airliners such as the ACJ318, ACJ319, ACJ320 and ACJ321 and long-haul VIP airliners such as the ACJ330, ACJ340, ACJ350 XWB and ACJ380.
These ultra-luxury Airbuses can carry groups of different sizes, from 8 passengers on the ACJ318 to 50 passengers on the ACJ380. The VIP version of the Airbus A380 is currently the largest VIP airliner in the world.
The interior of the Airbus VIPs can be fitted out according to the owner's taste. In 2017, Airbus joined forces with the Italian super-sports car manufacturer Pagani Automobili to develop the cabin for the ACJ319 neo. The most eye-catching feature inside this aircraft is the ceiling with a view of the sky above, through the use of an ingenious system of screens and cameras.
Boeing BBJ
Boeing Business Jets (BBJ) is a range of Boeing airliners designed for business travel.
The BBJ fleet consists of the 737 BBJ for medium-haul flights, and the 777 VIP, 787 VIP and 747-8 VIP for long-haul flights.
Boeing's VIP aircraft are popular among Fortune 100 companies, for use on governmental visits or by very wealthy figures.
Inside private medical evacuation and cargo transport jets
Private jets with a large cargo door are extremely versatile aircraft. Their cabins can be converted for uses other than passenger transport, such as medical evacuations (EVASAN) and cargo transport.
Medical transport
Air ambulances make it possible to transport patients by air quickly and without the constraints of airlines. The interiors are configured to make it possible to provide medical treatment onboard and have all the necessary medical equipment.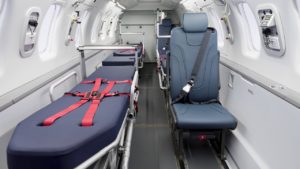 The Pilatus PC24, also known as the Super Versatile Jet, is available in a version that allows it to carry out medical evacuations. The cabin is equipped with medical beds, oxygen dispensers and artificial ventilators. ©Pilatus
Freight transport
Private jets can also be converted into cargo aircraft. In this case the cabin is emptied of all seats and decoration to accommodate cargo. Tailor-made air freight avoids the constraints of international cargo airlines meaning goods can be transported quickly, at any time and to any destination.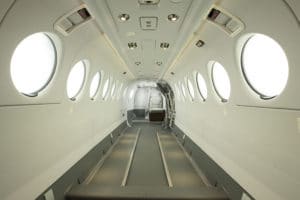 The cabin of a King Air 2000 adapted for the transport of goods. ©Textron Aviation
Experience a private jet with a personalized luxury interior with AEROAFFAIRES
AEROAFFAIRES offers you the opportunity to rent a private jet and customize the cabin to your taste. Whatever your requests, from lavish meals to opulent decoration and flowers, we can make it happen.
Send a request at any time via our online quote form and our air experts will provide you with a quote as soon as possible.
You can also reach us by phone at +33 (0)1 44 09 91 82 or by e-mail at info@aeroaffaires.com .
The AEROAFFAIRES team is available 24/7 to provide solutions to all your needs.
Photos: ©Embraer, ©Gulfstream, ©Citadel Completion, ©Pilatus, ©Textron aviation