CEO and businessmen have very busy days and have to make dozens of hours of journeys per year to ensure their meetings. In business aviation, this mode of transport helps companies to develop. In this article, AEROAFFAIRES presents the top 5 private jets used by French business CEO.
Bernard Arnault's private jet
Bernard Arnault is the majority shareholder and CEO of the world's leading luxury group LVMH. He is among the top three richest men in the world. The company's jets are changed every five years. In the 1980s, Bernard Arnault sold his jet, a Beech 200, to Jean-Jacques Goldman. He currently owns a Bombardier Global Express private jet, worth an estimated 48 million euros. The Global Express model, a long-haul private jet, is one of the most efficient aircraft in private aviation. It has the capacity to fly between two cities in 14 hours without a stopover, such as Bordeaux to Seoul.
As an indication, a flight from Paris to Tokyo on a Bombardier Express private jet rental is estimated at 130,000€. To estimate the exact price of your trip, please contact us to establish a quote that will meet your exact requirements. Alternatively, you can already make your: online quote.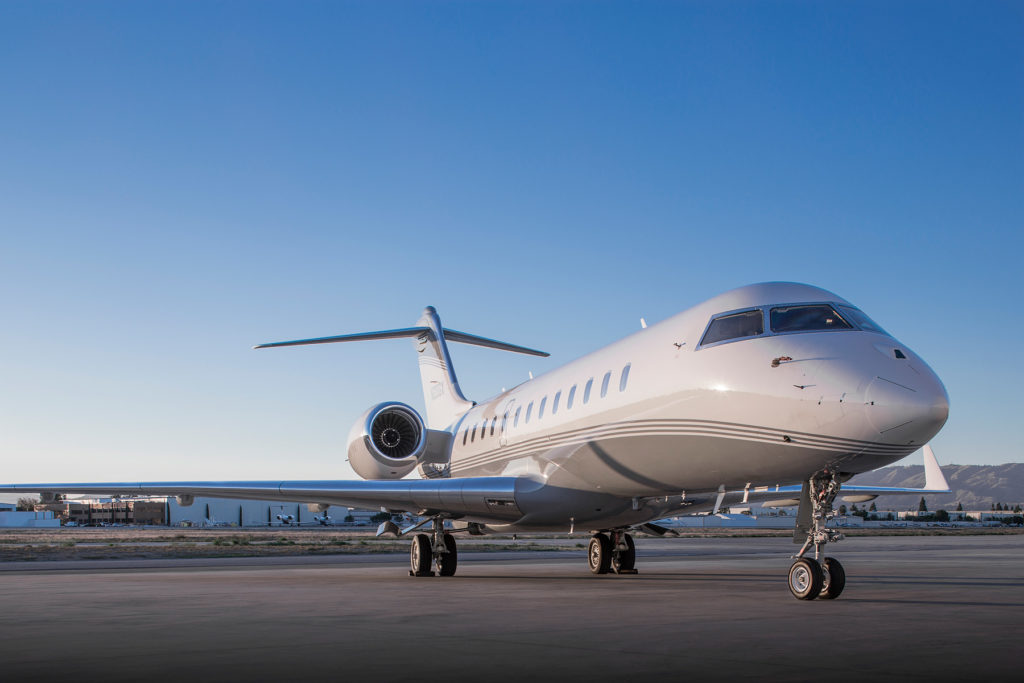 Martin Bouygues' private jet
Martin Bouygues is a businessman and head of the French billionaire company Bouygues Telecom. He also bought Bombardier's top of the range jet, the Global Express. Bouygues also owns a smaller jet, a Raytheon Hawker 800XP. This aircraft can accommodate 8 passengers. The seating arrangement is very well thought out, with the seats forming a small lounge. It is also equipped with a mini bar.
It has a range of 5,000km, which allows for international travel.
It is registered in Luxembourg and is owned by the airline company Bouygues Air Transport Services.
François Pinault's private jet
François Pinault is a French businessman and billionaire, founder of the companies Artémis and Kering. Kering is the second largest luxury goods group in the world, owning several brands including Gucci, Yves Saint Laurent, Balenciaga etc. François Pinault is at the head of a substantial fleet, for example he has a Falcon 900 EX, a three-engine jet that he has personalised and registered in the name of the painter Goya. It is a prestigious aircraft that is among the most popular. It offers outstanding safety and flexibility for the flight plan due to its flight altitude. François Pinault also has a luxurious Falcon 7X. He also regularly rents Yves Saint Laurent's Cessna 525.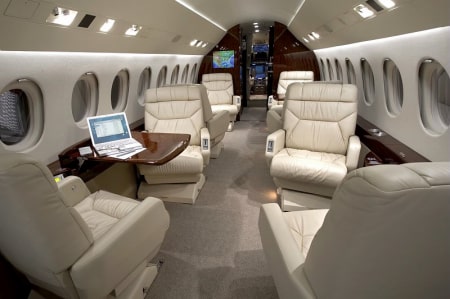 Pierre Fabre's private jet
Pierre Fabre is a pharmacist and businessman, founder of the eponymous cosmetics group. He has been using his company's Falcon 50 for 13 years. It is a business jet that can accommodate 8 to 10 passengers for flights of 4 hours on average. The Falcon 50 has a comfortable cabin. It is a powerful and efficient jet that can take off and land on short runways. As an indication, the price of a Geneva – Marrakech flight aboard a Falcon 50 costs about 25 000€ for 8 passengers.
Jean-François Gobertier's private jet
Jean-François Gobertier is a French businessman. He is an investor in the world of retirement homes, where he made his fortune. He fell for a Pilatus PC-12. It is a single-engine plane with an integrated propeller. It has a spacious cabin with room for 8 passengers. The Pilatus PC-12 can land at more than 2,500 airfields in Europe, unlike a larger private jet or a commercial aircraft.
Why own your own private jet?
Buying a private jet gives you full ownership and freedom to use your aircraft. However, leasing a private jet is much cheaper than buying one. Renting allows you to avoid a substantial investment that may not be very profitable. The advantages of private aviation are numerous: flexibility for the passenger, time saving when travelling, a productivity tool for companies, comfort offering serenity, confidentiality and more.
If you wish to charter a private jet for a business or leisure trip, contact our team of aviation experts at +330144099182 to book your private jet. You can also contact us by email: charter@aeroaffaires.fr or make a free estimate with our online quote.