When you own huge companies like SpaceX and Tesla, time is limited. You have to delegate tasks and visit employees on a daily basis. That's why you need your own private jet, to save time and get to the four corners of the world more quickly. In this article, AEROAFFAIRES presents the private jet of the world's richest businessman: Elon Musk.
Who is Elon Musk?
Elon Musk was born in June 1971 in South Africa. Today he is an American entrepreneur of South African origin. He is the founder of the electronic payment company PayPal and the spacecraft manufacturer SpaceX. He is also the CEO of Tesla, a brand of electric cars. This has made him one of the most influential men in the tech world. He is constantly launching new projects such as Hyperloop, a very high speed train, and Neuralink, chips implanted in the skull. He is the richest man in the world, with an estimated fortune of 219 billion dollars in 2022. Since last month, the billionaire is now the owner of the social network Twitter after having officially bought it for 44 billion dollars.
Why own your own private jet?
If you are a businessman and can afford it, owning your own private jet has many advantages. Long hours of flying become hours of work. Private jets are real flying offices with technology and services on board that are as good or better than on the ground. Even in the sky, it is possible to enjoy a high-speed network, extreme comfort and staff at your service.
If you're wondering, should you buy or lease a private jet? Buying a private jet allows you to have complete freedom in the use of your aircraft. However, leasing a private jet is much cheaper than buying one. Renting allows you to avoid a substantial investment that may not be very profitable. Renting a private jet gives you greater flexibility, you can choose the most suitable one for your time and the number of passengers. An article on this subject can also be found on the AEROAFFAIRES blog.
Elon Musk's private jet: the Gulfstream G650ER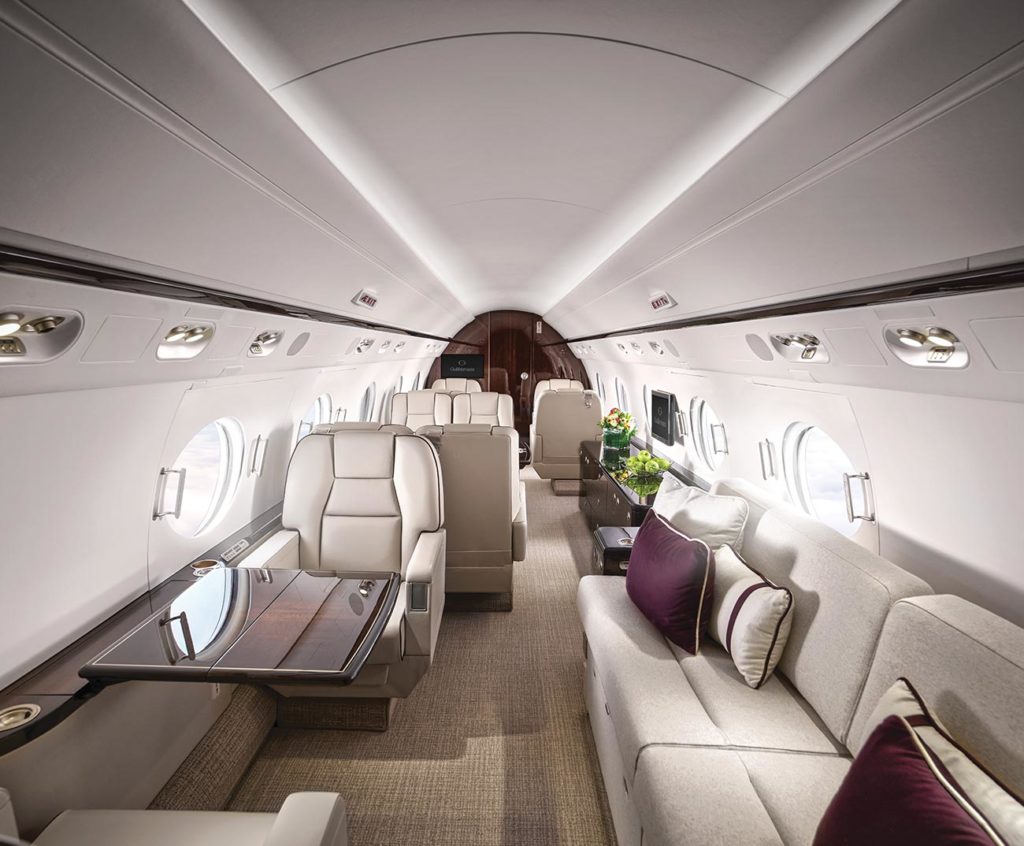 Before he owned his current private jet, Elon Musk had a Falcon 900 with a capacity of 12 passengers, but he sold that aircraft in 2006. Since then, he has owned a Gulfstream G650ER, the same plane as Jeff Bezos, the CEO of Amazon, also the second richest man in the world. This private plane is estimated to be worth $75 million when purchased. It is an iconic model of the American manufacturer as it is often considered the most luxurious model. Indeed, it belongs to the category of long-haul private jets. The Gulfstream has the capacity to accommodate up to 13 passengers. It is equipped with an ultra powerful Rolls-Royce engine and has a range of 16 hours non-stop flight and 13,890km. Its luxurious cabin can be arranged in 4 spaces. It also has a large baggage compartment. This business jet is equipped with a lounge, a work area that can be transformed into a relaxation area, and a kitchen.
The Gulfstream makes it possible to fly non-stop from Los Angeles to Paris in less than 9 hours.
If you wish to charter a private jet of this type or any other aircraft for business or leisure travel. Contact our team of aviation experts on +330144099182 to book your private jet. You can also contact us by email: charter@aeroaffaires.fr or make a free estimate with our online quote.