Have you ever wondered why world champion footballer Kylian Mbappé uses private jets? When we know about business jets and their advantages, the answer is simple.
These top-of-the-range means of transport represent many advantages for professional players who are constantly looking for time and flexibility. But which footballers have a private jet?
What are the advantages of a private jet for a footballer?
Being a professional footballer is not just about playing top-level sport.
These businessmen in football jerseys live with an overloaded schedule. Notably because of player transfers between clubs, which consists of buying players to complete the teams each season. Players also have to travel to training sessions for national teams as well as for clubs. In addition, the year is punctuated by major European competitions.
They are looking for flexibility, a luxury offered by business aviation.
It is also necessary to ensure transfers and partnerships, which are often confidential because of the commercial stakes and the colossal amounts at stake. When travelling, private terminals, the preferred location for these business aircraft, are a definite advantage. They are a guarantee of discretion and calm for these stars who are often followed or even harassed by the omnipresent press and fans in search of the slightest information.
These men with their busy year take full advantage of every rare opportunity to see their loved ones and family.
In this context, it is much easier to board their private plane directly. Whereas in an airport, travelling takes time and organisation.
Which category of football player can buy a business jet?
The average price of a private light size jet is around €5 million. Namely, the average salary of a player playing in league 1 is €94,000. Not all football players can easily acquire a private jet.
It is also important to know that owning a personal jet represents a cost per year of maintenance, upkeep and airport fees. These costs can range from €700,000 to €4 million for the most expensive aircraft.
If you would like to know more about the profitability of buying a private jet, see our article on this subject.
Despite these expensive fees, a handful of football superstars are lucky enough to own a private jet and we'll take a look at the TOP 10 AEROAFFAIRES of these players with their aircraft.
TOP 10 of Football Players' Private Jets
N°1 – Cristiano Ronaldo and his Gulfstream G650 – €65 million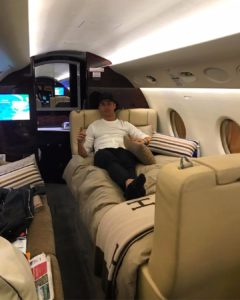 Cristiano Ronaldo, five times winner of the mythical Golden Ball award, is at the top of the ranking of footballers with a private jet. He played as a striker for Juventus in Turin and holds a number of records in the discipline.
The Portuguese number 7, who earns around 30 million euros from his club alone, now flies aboard a Gulfstream G650, a model that is worth around 65 million euros.
The G6 is a versatile, fast and reliable jet with many advantages. It can accommodate up to 16 passengers with a cabin that can be adjusted to suit the most demanding requirements. The CR7 has an impressive technical data sheet. With a range of more than 16,000 kilometres and a cruising speed of 900km/h, it is ideal for travelling at the height of the Champions League season to all the stadiums of the world.
However, after a few years as a private owner, the world's first footballer has settled down. Seeing the many advantages of renting a private jet, he decided to use the same aircraft but through a private company. The rental of a Gulfstream G650 is around 6000€/hour for the first market prices.
N°2 – Lionel Messi and the Embraer Legacy 650 – 35 million euros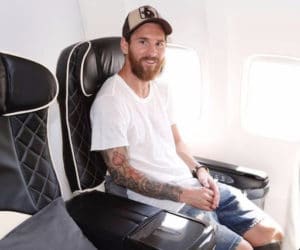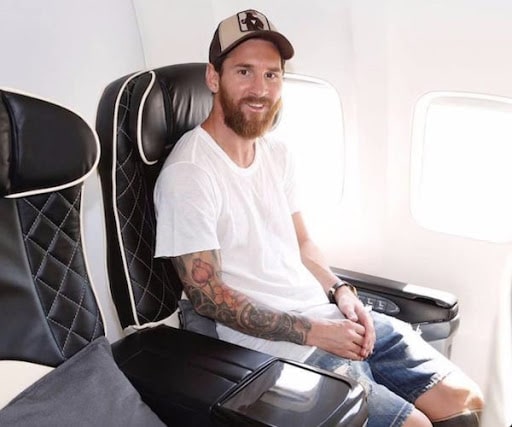 Lionel Messi, also a five-time winner of the Golden Ball, is a great Argentinian player who plays year-round as a striker for FC Barcelona.
Messi earns around 26 million euros, not counting the Argentinean striker's business partners and sideline activities. With this money he is the proud owner of the Legacy 650, mass-produced by the Brazilian manufacturer Embraer.
This high-tech jet is equipped with a bar and kitchen area, a bathroom, a plasma screen and wifi on board. It is ideal for travelling to the United States as if you were at home in one go. Flying at an average speed of 910 km/H with a range of 7,000 km, it is perfect for travelling from Argentina to Barcelona for major competitions.
N°3 – Zlatan Ibrahimovic accompanied by the Cessna Citation Longitude – 25 million euros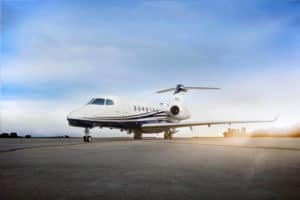 Zlatan Ibrahimovic, is the ancient icon of Paris Saint Germain. The Swedish player with a strong character now plays for AC Milan where he is a striker. In 2019, the player will earn 7.2 million euros thanks to his Italian club. Once again, this salary does not include the various commercial partnerships made by the star.
The Swedish striker owns a CESSNA Citation longitude manufactured by Textron. It is a high-tech private jet of the latest generation. When Ibrahimovic travels he can invite up to 11 passengers on board his jet. The purchase price of a Citation Longitude is around 25 million euros.
David Beckham, despite the fact that he is no longer an active player, is still a living legend of the sport. Having played for a long time with Manchester United, the club through which he joined the English Football hall of fames. Together with his wife Victoria, the English player was able to accumulate a total fortune estimated at 900 million euros.
Thanks to this amazing loot, David Beckham bought a Challenger 350, one of the most popular private aircraft, with about ten seats on board. Moreover, this jet, estimated at about 23 million euros, allows us to reach the two American coasts for example.
N°5 – Paul Pogba – Gulfstream G280 – 20 million euros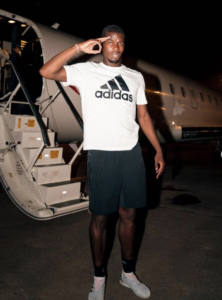 Paul Pogba is one of the most popular 2018 world champions among French youth. Aged 27, he plays in David Beckham's former club as a midfielder. The English club pays him an annual salary of around 15 million euros. The French celebrity can afford the luxury of a Gulfstream G280 estimated at 20 million euros.
This private jet is one of the best aircraft in the super midsize class. On board, it can accommodate a dozen passengers and it also holds the speed record in its category by connecting London and New York in record time. This aircraft, renowned for its agility, allows the French player to reach any stadium on the European continent without stopping within a radius of 6,600 kilometres. Finally, these various journeys can be made by fitting out up to two living areas within the aircraft itself.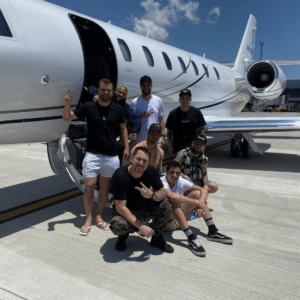 Neymar da Silva Santos Júnior, or more commonly known as Neymar Jr is the most expensive football player in the world. It represents an investment of 222 million euros for the Parisian club. Despite his almost inestimable fortune evolving through partnerships, the Brazilian superstar is reasonable about his business plane.
Neymar JR has indeed opted for a Citation Sovereign 680, a jet assembled by CESSNA. This plane is somewhat like the Brazilian player, it is indeed recognized for its practicality and not in excess. Estimated at around twenty million euros, its classic configuration is 8 seats divided into two squares. It is also comfortable to travel for 3 to 6 hours.
N°7 – Wayne Rooney – Falcon 900LX – 18 million euros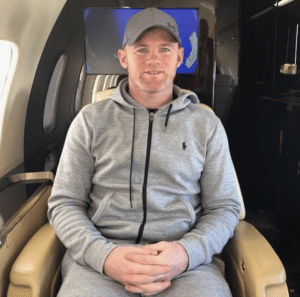 Wayne Rooney is Manchester United's record goalscoring player. Rooney now plays for the prestigious Liverpool club. He also plays in national competitions for the English team.
The English striker has opted for the French manufacturer Dassault Aviation and its Falcon 900 LX. This renowned and also very popular private jet with a range of 8,800 kilometres allows transatlantic flights without any problems. In addition, this jet, estimated at 32 million euros, is known for its safety and reliability provided by its three jet engines.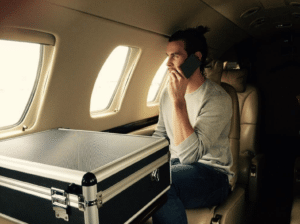 Gareth Bale is a Welsh player known for his powerful strikes. He progresses year-round on the right wing of Tottenham Hotspur FC. Recognised by his team-mates as a friendly and caring player, Tottenham paid him an annual salary of €15 million in 2019.
Gareth, meanwhile, has opted for the Citation XLS+ estimated at around €8 million. This midsize jet allows him to fly up to 3100 km at a speed of 800 km/h with a mini bar and telephone on board.
N°9 – Ricardo Kaká – Embraer phenom 100 – 3.2 million euros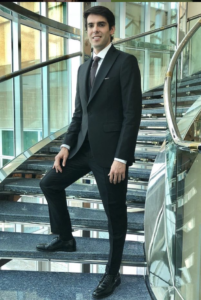 Ricardo Kaká, the legend of Brazilian football is in ninth place in this ranking. With a fortune estimated at 100 million euros, the footballer does honour to his country by leaning towards the Brazilian manufacturer Embraer and the phenom 100.
The phenom 100 is an ultra lightsize private jet, the elegant interior with large portholes allows a sunny flight if the conditions allow it. In addition, this business jet has a spacious luggage compartment. Finally, the Phenom 100 has a range of 2,180 km flying at 722 km/hr.
Ronaldinho, presents himself as one of the most technical Brazilian players with a fortune estimated at nearly 80 million euros. The former PSG player has also decided to honour his country in the same way as kaká by taking the same model with a few less equipment details.