The Belgian NGO "Transport & Environment" (T&E) has unveiled a study about CO2 emissions from air traffic. In its report, the implementation of a kerosene tax for commercial flights is observed. This tax would be applied gradually on these flights in the European Union. In mid-July 2021 the European Commission suggested to preserve business jets (as well as air freight, cargo flights) on this tax.
A measure contested by some airlines
In the T&E report, the tax would be assessed on the environmental and energy performance of the fuel. This is to encourage airlines to use more and more fuels, called sustainable SAF (Sustainable Aviation Fuel), some of which would contain biofuels because they are not taxed.
The implementation of the tax was to be carried out over a decade and would allow a gain of 325 million euros per year as it applies to flights in the EU and the United Kingdom. These revenues will potentially be used in the mission to decarbonize aviation, the report says.
Discussed by EU member states, some are already in favor of an immediate application of the tax (Austria, Luxembourg but also Belgium). However, in order to be implemented, the agreement of the 27 EU Member States is required, and this is no small matter.
European airlines such as Air France and Lufthansa are concerned about a distortion of competition. This measure is not unanimously supported. Airlines For Europe is alarmed that these aircraft can intentionally provide part of their fuel outside the EU to be at least exempted from the tax.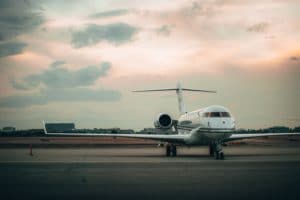 Photo Credit: Unsplash
A boon for business aviation?
Private jets as well as air freight (cargo planes), are for the moment excluded from this tax due to legal constraints.
However, it should be noted that business jet aviation is doing well. In 2019, one out of every 10 planes taking off from France was a private jet. During the health crisis, unlike commercial aviation which saw its traffic reduced by 60%, it has managed to survive. But this has not been without consequences on CO2 emissions. T&E reports that between 2005 and 2019, private jet emissions increased by 31%, compared to 25% for commercial aviation.
However, it is clear that the private aviation sector will be able to offer less polluting aircraft and travel solutions more quickly.
Business aviation will be used twice as much for short trips of less than 500 km. This is a considerable advantage when you consider that these flights will be ideally suited to zero emission aircraft. Several projects for hybrid or 100% electric aircraft will be launched in the coming years, with business aviation as the primary beneficiary.
In addition, AEROAFFAIRES is committed to the SKYCO2 initiative, which means that 100% of the CO2 emissions generated by the flight are offset via a certified reforestation project.
You wish to charter a private jet? Our AEROAFFAIRES aviation experts are at your disposal 24/7 for your private flight at +33 (0) 1 44 09 91 82. Do not hesitate to visit our online quote to obtain a price estimate for your private flight.