Do you want to go skiing in a private jet, with family or friends? AEROAFFAIRES presents you the Top ski resorts of its customers in Europe to fly to by private jets. Thanks to custom-made aviation, get as close as possible to the ski slopes by plane or helicopter.
1/ Courchevel, France
It is difficult to resist to the charms and splendour of Courchevel. Known for its palaces and luxury boutiques, Courchevel also owes its reputation to its ski area, the largest in the world, with 600 kilometers of slopes. Courchevel is divised in four villages, including Courchevel 1850 accessible by private plane thanks to its altiport.
Courchevel has the particularity to have an altiport with strict access conditions. The altiport is not certified for night flights and flight operations are sometimes limited to certain hours of the day due to meteorological reasons. Moreover, as the runway is very short and steep, 2000 meters, there is only one air operator certified to land in Public Transport with qualified pilots.
There are two possibilities to get to the Courchevel altiport:
Arrival directly at the foot of the slopes of Courchevel
Arrival in Chambery or Geneva by private jet followed by a transfer by helicopter or car to Courchevel :

Transfer between Chambery and Courchevel by car (1 hour drive) or by helicopter from 1 600 euros for 20 minutes flight.
Transfer between Geneva and Courchevel by car (2 hours) or by helicopter from 2 400 euros for 30 minutes flight.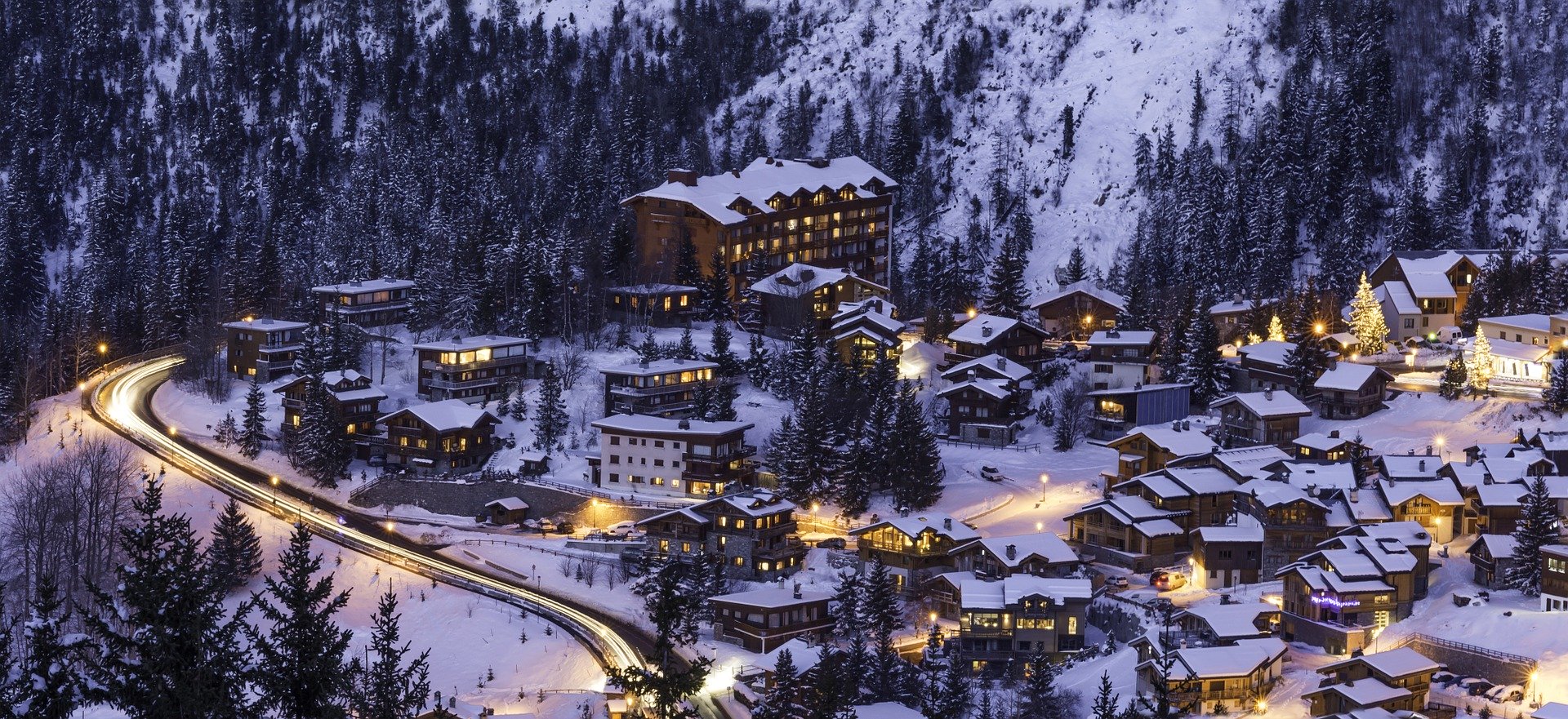 2/ Gstaad, Switzerland
A small village in the Bernese Alps, Gstaad is the meeting place of romance, situated at an altitude of 1050 metres. Between authentic chalets and large high-end brands, Gstaad is a privileged destination for all mountain and luxury lovers. In search of authenticity, charter a private jet for a stay in this village in French-speaking Switzerland and enjoy 200 kilometers of slopes.
Saanen airport is located 2.8 kilometers from Gstaad. The runway is very specific. It is 1400 metres long and mainly accommodates turboprops. Moreover, in case of bad weather conditions, your private plane may be diverted to Bern.
Transfer between Bern and Gstaad :
Car: 1 hour to cover 50 kilometers.
Helicopter: 30 minutes flight from 1,710 euros.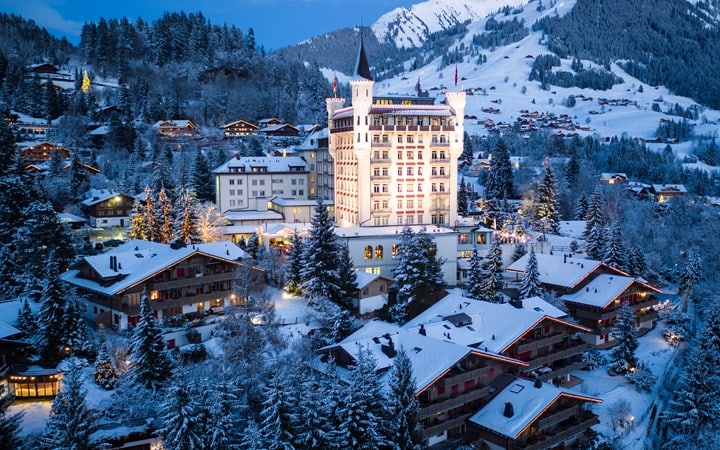 3/ St Moritz, Switzerland
St. Moritz, located at an altitude of 1800 metres, is the most sumptuous ski resort in Europe. Luxury boutiques, jewellers and the 326 kilometers occupy the days of a privileged clientele. At night, the lights of St. Moritz reflect off the palace fronts and shimmer in the starry night.
The nearest airport is Samedan-Engadin Airport, only 10 minutes by car from St. Moritz city center. The 1,800-metre long runway in the valley can accommodate many types of aircraft such as turboprops, private jets or regional aircraft. It is also accessible to fully loaded long-haul jets such as the Gulfstream G550, the Bombardier Global 6000 or the Dassault Falcon 7X.
AEROAFFAIRES organizes your business flight. Rendez-vous in Saint-Moritz in January to take part in the Snow Polo Cup, an unmissable winter competition.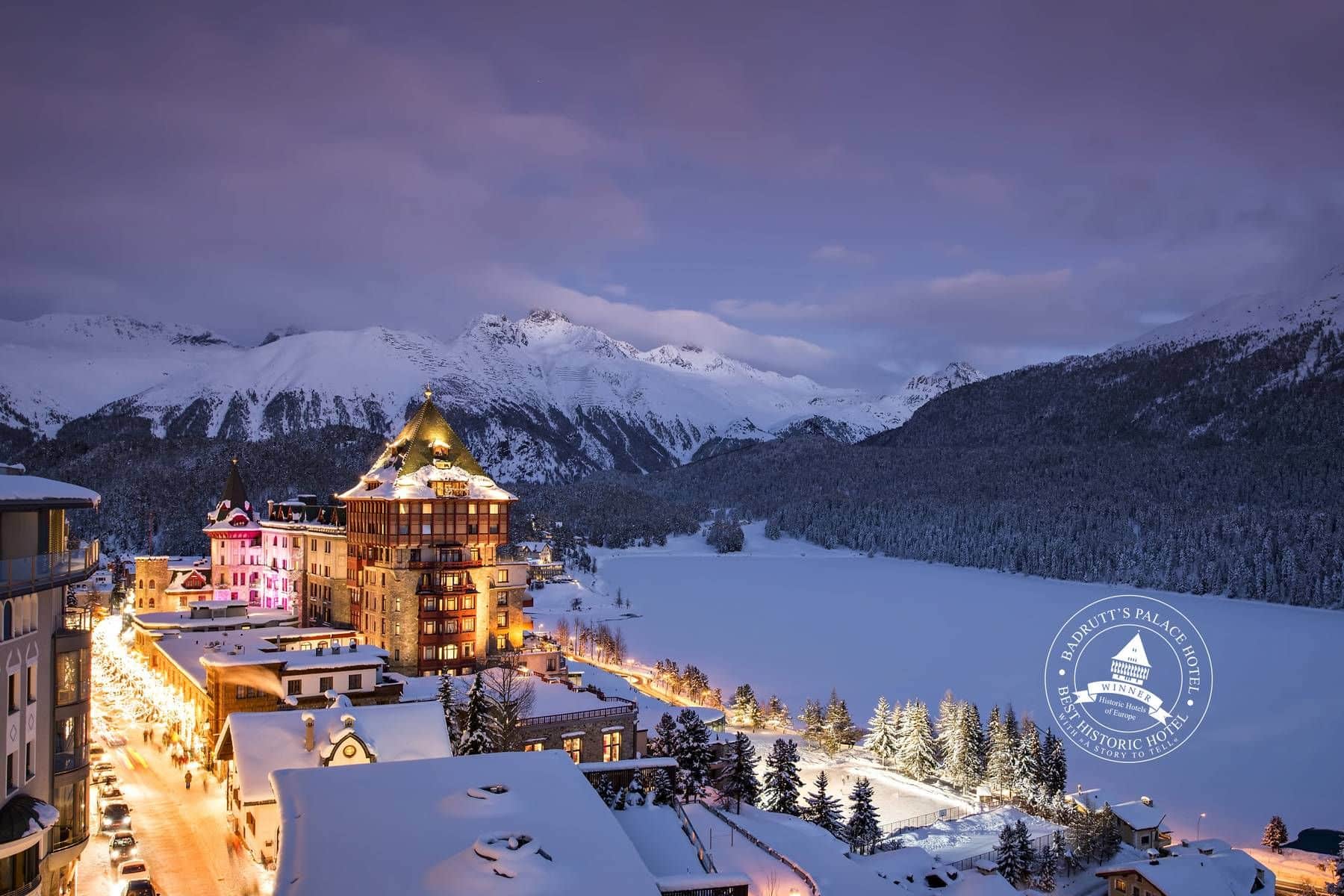 4/ Verbier, Switzerland
Verbier is the main resort of the 4 valleys domain and is a destination of choice for an upscale clientele. The 4 valleys ski area offers 410 kilometers of piste in the middle of a magnificent landscape. At night, the resort reserves its share of exclusive evenings.
Book your private jet to Sion airport with AEROAFFAIRES. The airport has a 2,000-metre runway that can accommodate all types of private aircraft. We organize your helicopter transfer to Verbier.
Transfer between Sion and Verbier :
By car : 55 minutes to drive 54 kilometers.
By helicopter: 10 minutes flight from 900 euros.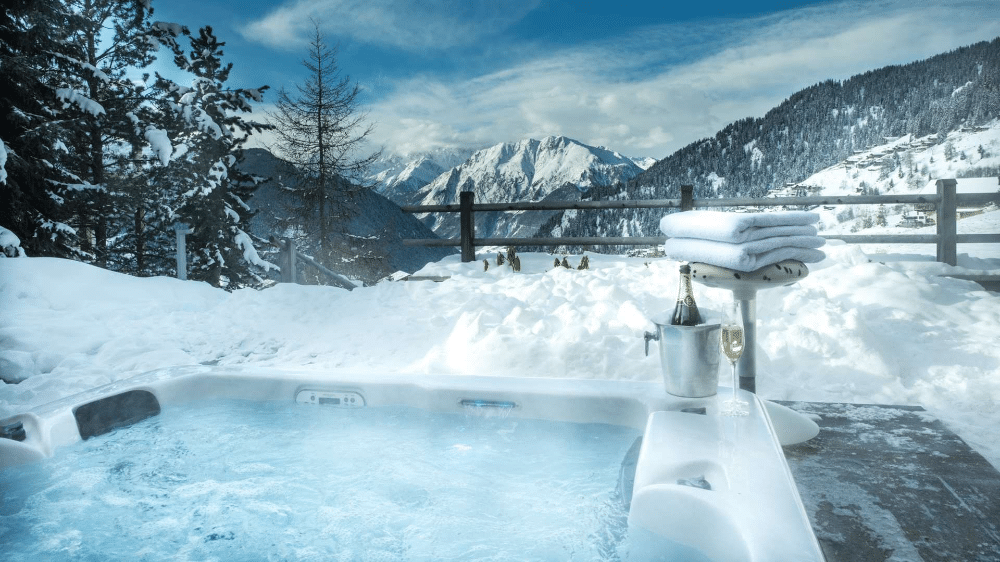 5/ Zermatt, Switzerland
The ski resort of Zermatt is located at the foot of the emblematic Matterhorn, at an altitude of 1600 metres. An authentic ski resort with more than 200 kilometres of slopes, Zermatt has managed to retain its charm and splendour over the years. Chic and sober, this resort distinguishes itself from other Swiss villages for its discretion and its preserved traditional architecture. The wealthy have the opportunity to spend a stay in peace and quiet while enjoying the luxury boutiques on Bahnhofstrasse.
As in Verbier, you land your business jet at Sion airport to reach the runways of Zermatt.
Transfer between Sion and Zermatt:
By car: 2 hours to cover 80 kilometers.
By helicopter: 15 minutes flight from 1,220 euros.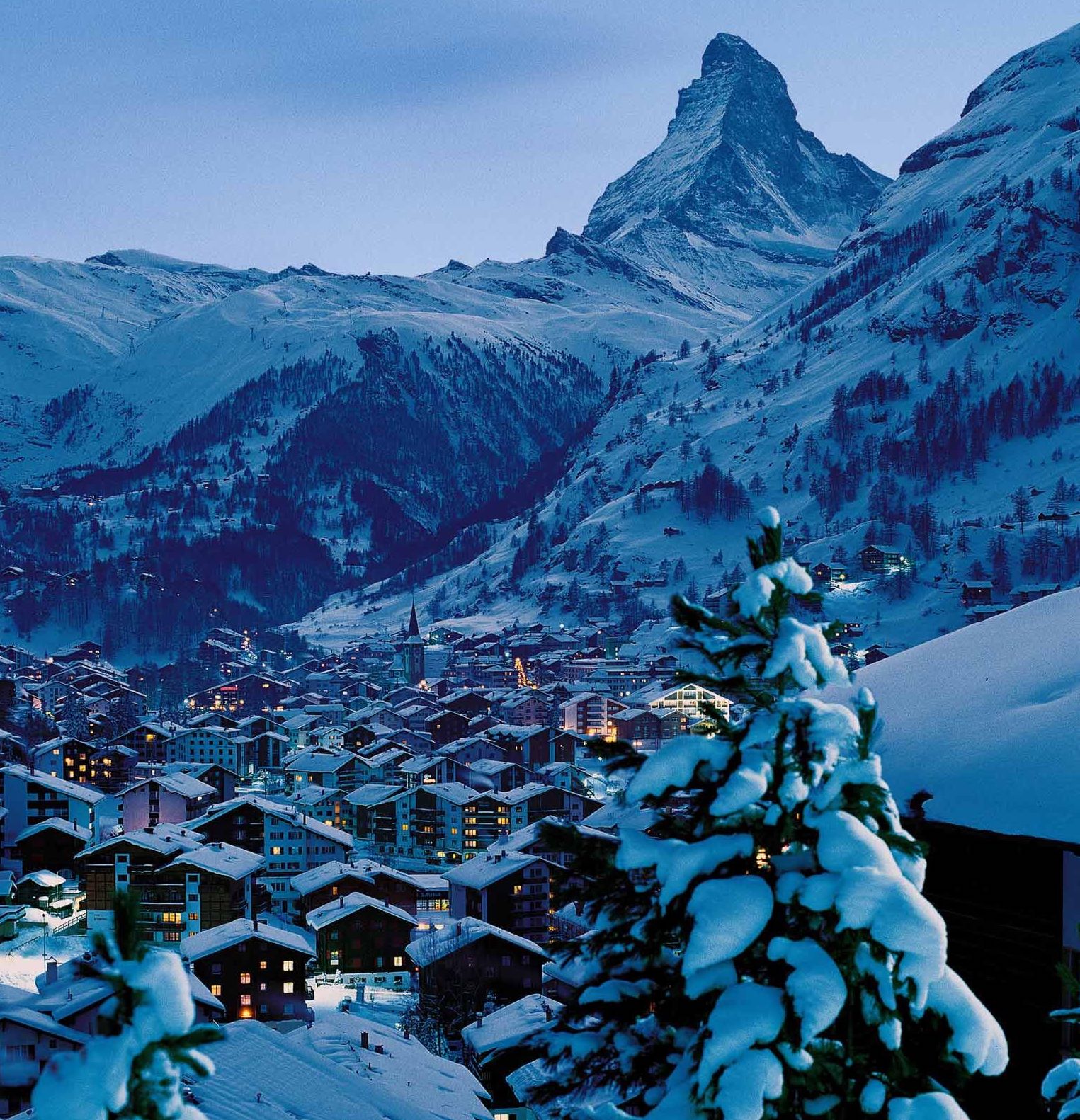 6/ Kitzbuhel, Austria
Kitzbühel is a lively and sporty resort in Austrian Tyrol. The mountain scenery around Kitzbühel is breathtaking, including the Schwarzsee lake in the middle of a beautiful mountain setting. A small pearl of the Austrian Alps, Kitzbühel owes its fame to its very diversified ski slopes and the sumptuousness of its hotels and restaurants. It is the ideal destination if you want to ski first and foremost. 170 kilometres of slopes are spread out around the town, including the famous Streif descent.
Charter a plane to Kitzbühel. The nearest airport is Innsbruck. Its 2,000-metre long asphalt runway allows all types of aircraft to land, including turboprops, private jets of all sizes, as well as regional and wide-bodied aircraft.
Transfer between Innsbruck and Kitzbühel :
By car: 1 hour 15 minutes to cover 95 kilometres.
By helicopter: 25-minute flight from 3,550 euros.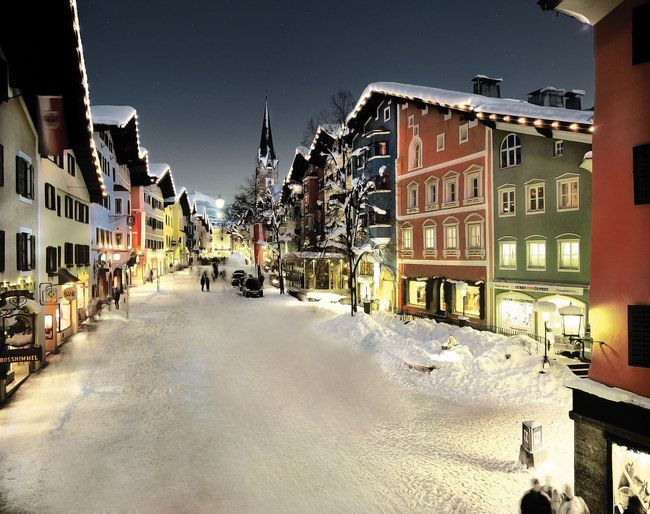 7/ Crans Montana, Switzerland
Like Gstaad, Crans Montana is part of the French-speaking part of Switzerland and has 140 kilometers of track. A resort with numerous cultural and sports activities, Crans Montana attracts a wealthy clientele every year. The best luxury shops line its charming little streets. And the most beautiful sports cars drive on the cobblestones of this historic city.
To reach Crans-Montana, you will land at Sion airport. Charter your plane and enjoy an exclusive service with AEROAFFAIRES.
Transfer between Sion and Crans-Montana :
By car : 35 minutes to drive 32 kilometers.
By helicopter : 10 minutes flight from 950 euros.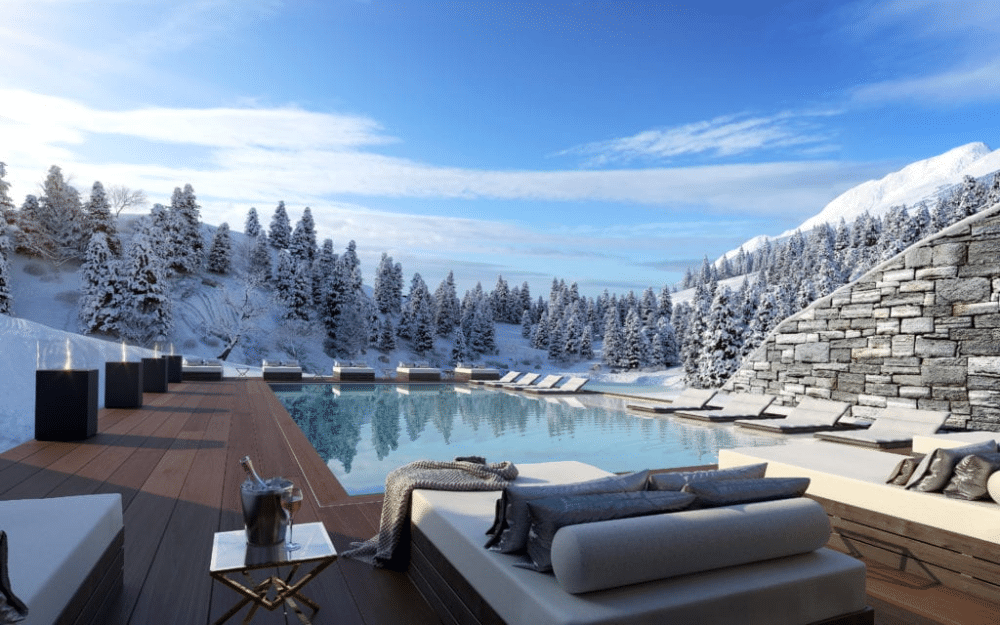 8/ Megève, France
The ski resort of Megève is often called the French Saint-Moritz. Composed of seven 5-star hotels and many top-of-the-range brands, this ski resort in the Alps, at the foot of Mont-Blanc. An old resort, created at the instigation of the Rothschild family, Megève has been able to modernise while retaining the charm and glamour of the top ski resorts.
Would you like to discover Mont-Blanc from a different angle? Take the direction of Annecy airport by chartering a taxi plane with AEROAFFAIRES. We take care of your transfer by helicopter to the altiport of Megève.
Transfer between Annecy and Megève :
By car : 1 hour to drive 84 kilometers.
By plane : 20 minutes flight from 1 400 euros.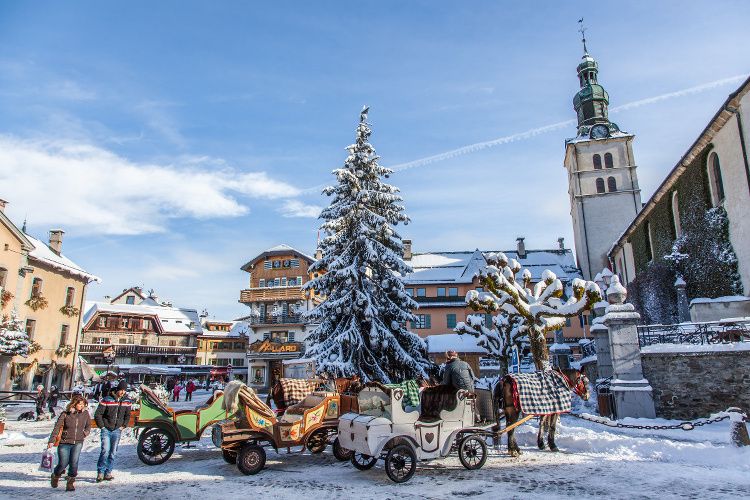 9/ Cortina d'Ampezzo, Italy
Cortina d'Ampezzo is part of the Dolomiti Superski domain with 120 kilometres of slopes. But it is not for skiing that the European aristocracy moves to this northern Italian resort. Cortina d'Ampezzo is the only Italian resort in our top 10, and is known for its festive and extravagant atmosphere. The sparkling shop windows of Italy's leading brands surround the roads that are used by Ferraris and Lamborghinis.
Fly to Venice Tessera Airport and board a helicopter to reach the resort of Cortina d'Ampezzo.
Transfer between Venice and Cortina d'Ampezzo:
By car: 1 hour 55 minutes to cover 148 kilometers.
By plane: 25 minutes by helicopter from 1,500 euros.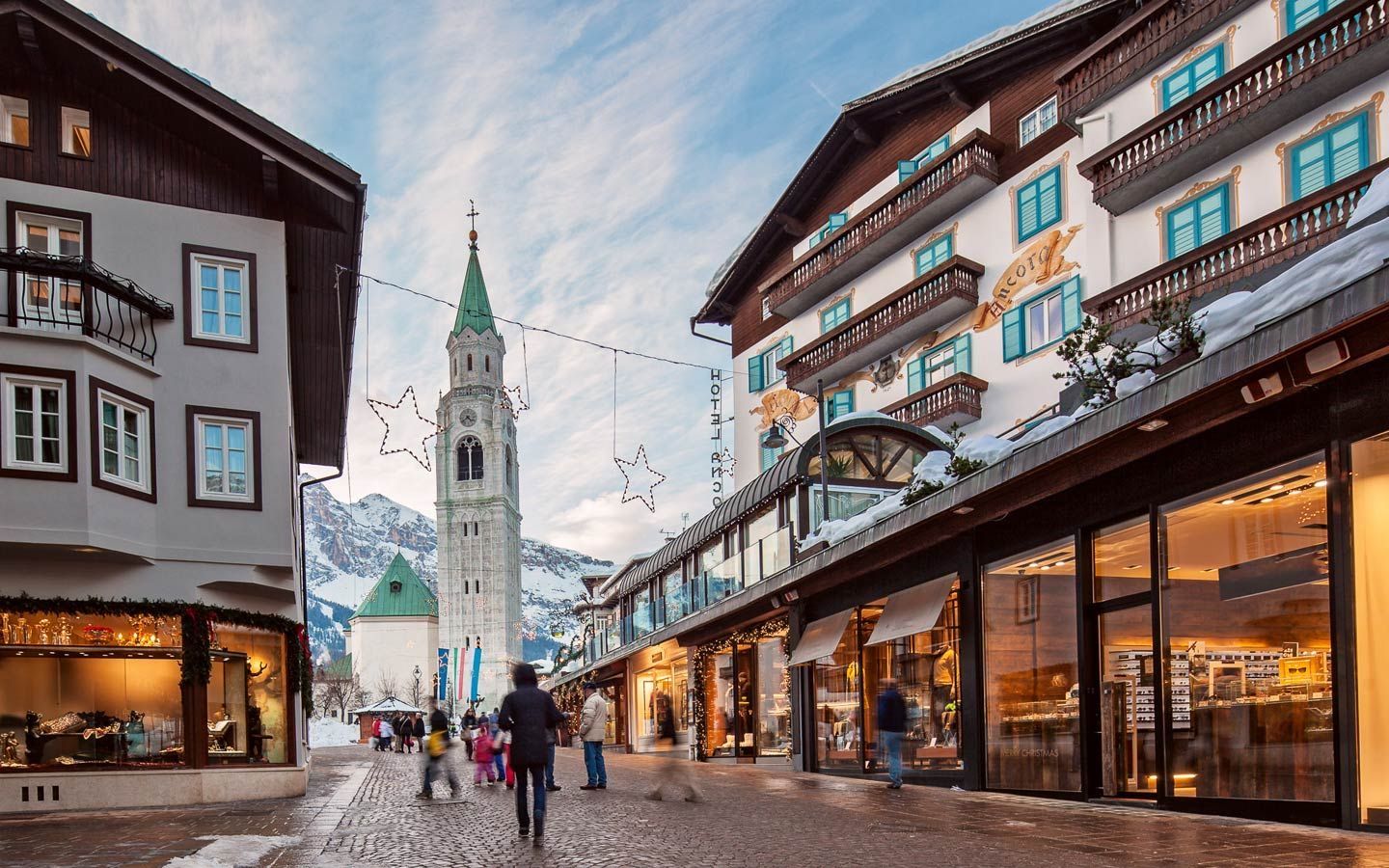 10/ The resorts of Zurs and Lech, Austria
These two resorts are a perfect reflection of Austrian Tyrol, richness in all sobriety. In the resorts of Zurs and Lech, no extravagance, no window displays or palaces, you will find an intimate and authentic atmosphere here. Calm and exclusivity are emphasized with a very limited number of accommodations. Traditional in appearance, the most fortunate people come here every year to recharge their batteries in the midst of dazzling landscapes.
Just as when you fly to Kitzbühel, your private jet will land in Innsbruck.
Transfer between Innsbruck and Zurs :
By car: 90 minutes to drive 115 kilometres.
By helicopter: 25 minutes flight time starting at 2,980 euros.
Transfer between Innsbruck and Lech :
By car: 90 minutes to cover 120 kilometers.
By helicopter: 40 minutes flight time from 3,150 euros.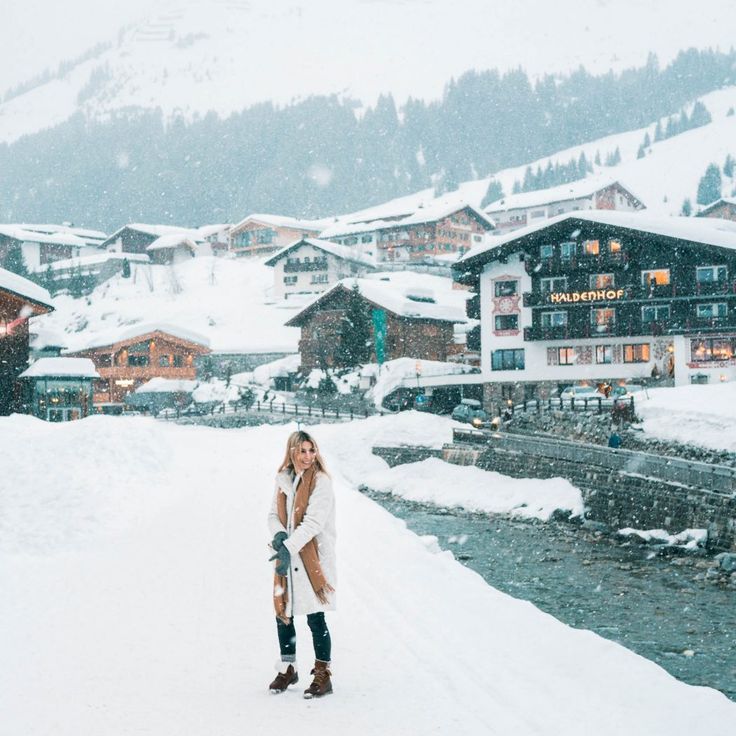 Please note that the price is given as an indication according to the availability of helicopters. All our helicopter flights are private flights by public transport (1 to 7 passengers depending on the helicopter model). Mountain flights will be carried out subject to good weather conditions. During a helicopter transfer, bulky luggage will follow by road with a chauffeur-driven car service provided by AEROAFFAIRES.
Our team is at your disposal 24 hours a day, 7 days a week to find the private flight that suits you best for each of these events. Taxi plane, helicopter, private long-haul jet or commercial plane for VIPs, AEROAFFAIRES accompanies you in the booking of your private flight.
Trusting AEROAFFAIRES also means protecting the environment. With its SkyCO2 programme, 100% of the CO2 emissions produced by each business flight are offset by supporting the preservation of forests in South America.
Book your private jet by contacting us 24/7 on +33 (0) 1 44 09 91 82.