At the beginning of 2019, The Economist dealt with this subject by explaining that "More and more business travellers are favouring the privatisation of a private jet for 8 people rather than taking 8 first class tickets on short and medium distances". Indeed on certain destinations, it costs the same to rent a private jet rather than buying several first class tickets, especially on trips within Europe.
Travelling in First Class or Business Class, which are the airlines' top-of-the-range classes, ensures a more pleasant journey. If you often use Premium Class, you may have wondered about the fares and benefits of chartering a private jet for business travel.
We'll see for you whether it's better to travel in First Class, Business Class or a private jet depending on your needs. The purpose of this article is to enlighten you on the different options for your business trip and to demonstrate the democratisation of private aviation for certain destinations.
What are the differences between First Class, Business Class and the private jet?
Business Class and First Class, chosen for their reputation?
A commercial jet is divided into several "classes" that are relatively different in terms of service and comfort. Business Class and First Class are more comfortable classes than Economy Class. The economy class, as its name indicates, is the general public class, while the opposite is the first class, the highest class with the most space for the passenger.
Business Class guarantees more comfort than Economy Class. Especially in terms of personal space, catering and seat quality. However, the quality of this class varies depending on the airline and the route. What's more, you have no more privacy than in Economy Class. On long-haul flights, however, business class is often upgraded. It generally offers even greater comfort, more choice of catering in the quality menus on board and more privacy. This business class comfort is generally only possible on long-haul scheduled flights, such as Paris – Los Angeles or London – Singapore.
In addition, Business Class will offer you services before and after your flight. Depending on the airline, you will have access to a different terminal from other travellers, both on departure and arrival. You may also have the opportunity to board and exit the aircraft before other travellers.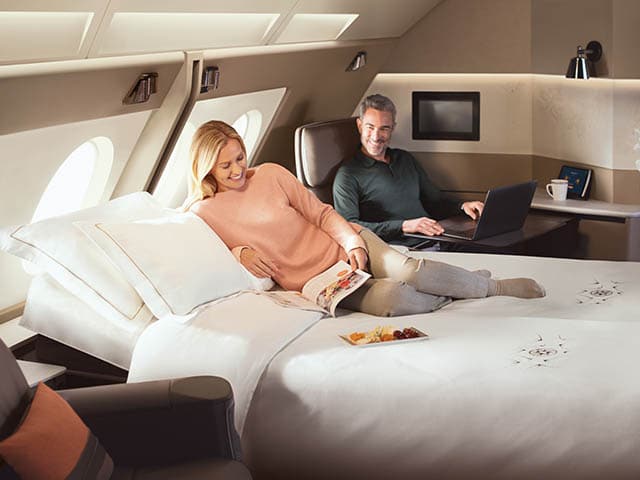 As for the First Class, it represents the "Must Have" of regular aviation. It exists on regular long-haul flights such as Paris – New York. It costs 15,000 euros for a one-passenger ticket compared to 80,000 euros for a private jet with 6/7 passengers on board. On board, you can enjoy luxurious comfort and even a private flat, as recently offered by Qatar Airways. You also have greater privacy and larger screens available for your entertainment. What's more, the cuisine is served in the style of a Michelin-starred restaurant. You can order the food and drink of your choice from the à la carte menu. It goes without saying that the quality of the catering is much higher than in Business Class.
When you book your flight in First Class, you also enjoy concierge-like services before, during and after your flight. Of course, there is a major price difference of 30% between Business Class and First Class. Especially when you have to travel in a group, where a ticket is required for each person.
When you are lucky enough to find it on a flight that suits your needs. First Class offers a flight of a quality that is very close to that offered by a private jet at a more attractive fare.
However, the latter requires a lot of space on a plane that also contains the other classes. This is why it is less and less available, sacrificed in favour of the more profitable economy class.
To sum up, the high-end classes offer greater comfort. But when you want to travel to destinations with little air travel via a commercial airline, you travel in economy class. And even if you have luxurious comfort. You won't be able to bypass the queues due to identity checks and other mandatory formalities.
The private jet, a possible solution in the age of Coronavirus?
The private jet is a means of transport all too often associated with a life of celebrity and the conquest of luxury around the globe. Did you know that the majority of private jet customers are actually businessmen, especially in these times of health crisis?
To what extent can business aviation fill the gap for grounded commercial airlines in 2020?
Business jets and their services offer you invaluable luxury in a world where action hunting is timed. They offer time savings and flexibility. Indeed, the flights offered by commercial airlines are determined at precise times and in dedicated airports, 300 commercial airports compared to 3000 for private aviation in Europe. Business aviation is tailored to your needs, your desires and your schedule. It is true that when you travel by private jet, it allows you to land as close as possible to your final destination thanks to the numerous airports and aerodromes. This flexibility is possible because business jets, due to their size, access smaller airports with short runways. In Europe alone, a private jet can land at almost 10 times as many airports as an airliner.
In addition to accessibility, you will have a customized private flight experience based on your needs and passengers. Will you be delayed for take-off? Your private jet will be waiting. Will you be early? Your aircraft will be too. You will finally be travelling in a group? You will be able to come along depending on the seats remaining on board without changing the fare, you will be booking an aircraft and not a seat or a cabin.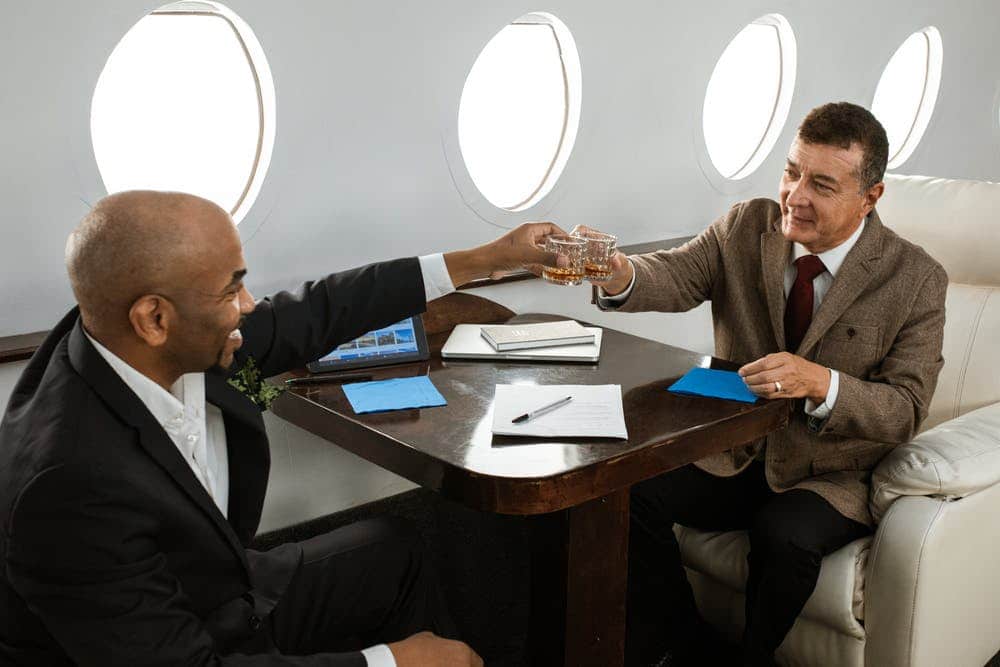 If you need to make several short visits far away from each other, the private jet is the solution. You can fly to several European cities in one day using business aviation. Then you'll save on costs: hotels and various airline tickets. You also save time so you don't lose efficiency and can concentrate on your business and your loved ones.
To continue, on board your jet you will have access to everything you want, it is possible to eat and sleep comfortably on board. All your requests can be met according to your needs and the importance you attach to comfort. You will also be able to continue working on board with your colleagues in complete discretion.
Finally, you will take off from private terminals where few passengers transit. An asset in these times of social distancing or health safety is an imperative. In addition, they are disinfected much more regularly than government recommendations in order to ensure impeccable sanitary hygiene. These terminals also offer top-of-the-range services. In addition, they significantly shorten the often lengthy obligatory administrative procedures.
Why choose the private jet over the Business Class?
When it comes to long-haul flights between two major capitals on scheduled flights. It is undeniable that renting a private jet costs more than a First Class ticket.
However, on short non-scheduled routes where there is no Business Class, the private jet offers much greater comfort and total flexibility. You choose your own schedule and airport at competitive rates if you fill the plane. For example, a Paris – Figari for 7 passengers will cost from 12,000 euros one way, while 7 Premium tickets for the trip will cost you 1500 euros per person, so it's worth asking yourself the question.
We are convinced that companies and business travellers will think more and more about the efficiency of private aviation. It is necessary to evaluate one's time and that of one's collaborators by passing through a commercial company, especially if your competitors use a private jet? Have you ever wondered what image you would have if you always arrive on time and as close as possible to your appointment without wasting time due to the hazards of commercial aviation? As a customer, wouldn't you favour the most efficient company that can be by your side as quickly as possible?
Our team of aviation experts have all the keys to optimise your business trips both in terms of time and also financially.
Why not you?