France is full of places to spend an exceptional vacation, whether you are looking for the sun of the Mediterranean, the excitement of the Atlantic coast, or the cultural heritage of its castles and the Champagne region! Whatever your destination in France or Corsica, the French company AEROAFFAIRES will accompany you and organize your customized trip by private jet or helicopter. By comparing the aircraft of 1,200 partner business aviation companies, we find the solution that best suits your needs.
What are the best destinations in Corsica to travel by private jet ?
This island of beauty is a unique destination in France! Its island location gives it a very special atmosphere with a local population that is both welcoming and proud of its particularities. Corsica is also an island full of heavenly landscapes! With 4 airports (Figari, Calvi, Bastia and Ajaccio), but also airfields, Corsica is an ideal destination to go by private jet. Whatever your destination, AEROAFFAIRES can organize your trip with VIP service, by business jet or helicopter.
1. Bonifacio
A picturesque town dominated by a thousand-year-old fortress, Bonifacio is perhaps the most beautiful town in Corsica. Located in the south of the island, Bonifacio is world famous for its superb citadel and its villas perched atop high cliffs jutting into the Mediterranean. Visiting Bonifacio is also an opportunity to admire its turquoise blue creeks and its famous sea caves.
Where to sleep : Hotel Casadelmar
To reach Bonifacio by private jet: 
Bonifacio is accessible from Figari airport north of the city, then by transfer via helicopter or via one of our partner drivers.
2. Porto Vecchio
Very popular with vacationers in the summer, Porto Vecchio is one of the most beautiful beaches on the island. The famous beach of Palombaggia, a true paradise on earth, is even considered one of the most beautiful beaches in the world! Close to an airport, it is also very easy to get there to enjoy a relaxing vacation in the sun.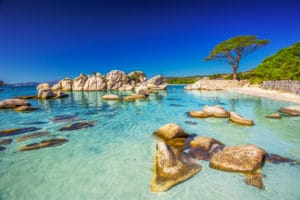 Where to sleep : Les Bergeries de Palombaggia
To reach Porto Vecchio by private jet: 
Porto Vecchio is accessible from Figari airport south of the city, then by transfer via helicopter or via one of our partner drivers.
Calvi is, with Ile Rousse, one of the two big seaside resorts of Balagne. Its old town protected by large fortifications is one of the most beautiful jewels of Corsica. This city, very popular with tourists, is known for the charm of its old town, but also for its sublime bay bordered by six kilometers of heavenly beaches!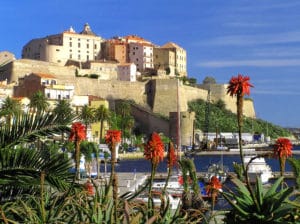 Where to sleep : La Signoria & Villa
To reach Calvi by private jet : 
Located in the southwest of Corsica, Propriano is an ideal place for relaxation, swimming and hiking in the hinterland. Less touristy than its neighbors, Propriano is a destination of choice for adventurers wishing to avoid the crowds and enjoy a serene vacation. Nature lovers will be delighted by the natural site of Campomoro.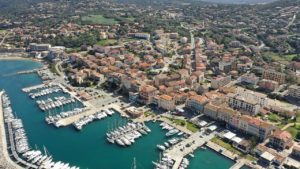 Where to sleep: Hotel Marinca & Spa
To reach Propriano by private jet : 
What are the best destinations in France to travel by private jet ?
The city of Cannes is known worldwide as a bastion of the 7th art, where the famous Cannes International Film Festival takes place every year. Apart from this famous event, Cannes is a delight for its vacationers thanks to its streets full of treasures, such as the Suquet district, an old fishermen's village.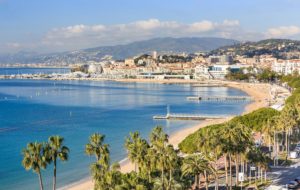 Where to sleep: Hôtel Barrière Le Majestic
To reach Cannes by private jet: 
Capital of the French Riviera, Nice is the second most popular city for travelers, after Paris. Its Promenade des Anglais and its old town charm anyone who passes by. Don't miss a taste of "socca", a thin pancake made from flour, chickpeas and olive oil, the typical dish of Nice.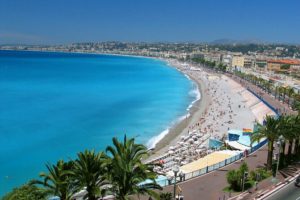 Where to sleep : Radisson Blu Hotel
To reach Nice by private jet : 
An elegant seaside resort in southwestern France, Biarritz and its wild coastline attract many vacationers to the Basque Country. Once a favorite vacation spot of the nobility, it is now the European capital of surfing! The Grande Plage is the real center of attraction of the city. Don't forget to visit the old port and the beautiful art deco buildings of the city.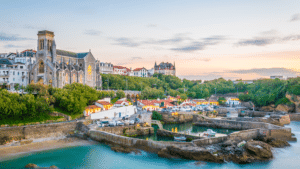 Where to sleep: Beaumanoir Small Luxury Boutique Hotel
To reach Biarritz by private jet : 
The international tourist capital, St Tropez has become a myth and has contributed to the fame of the French Riviera. The lively St Tropez owes its popularity to its festive summer atmosphere, its frenetic nightlife, and its exuberant yachts. Yet St Tropez is first and foremost a beautifully preserved Provencal village.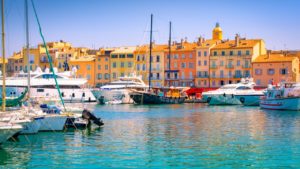 Where to sleep : Hotel des Lices
To reach St Tropez by private jet: 
5. Monaco
Monaco is always fashionable. This principality perched on its rock and yet enclosed in the middle of the French Riviera is one of the privileged vacation spots of the Jet-Set. As in St Tropez, super yachts and palaces are legion. If you can come to attend its Formula 1 Grand Prix and its tennis tournament, Monaco remains above all a city full of charm and history.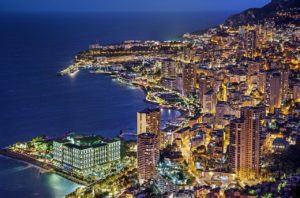 Where to sleep : Hôtel de Paris
To reach Monte Carlo by private jet: 
The rock of Monte Carlo is accessible via Cannes or Nice airport, then by helicopter transfer or via one of our partner drivers.
One of the world's most popular cities. It would be a shame to visit France without going through Paris. Capital of luxury, fashion and gastronomy, Paris has a lot to offer in terms of cultural exhibitions, tourist attractions, but also restaurants and great Parisian palaces. Montmartre, Champs Elysées, banks of the Seine… Paris has a lot to offer, both during the day and at night…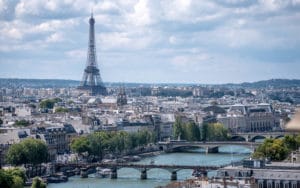 Where to sleep : Georges V
To reach Paris by private jet : 
7. Burgundy
In the heart of France, Burgundy seduces with its remarkable wine heritage. Discover all the secrets of what is called the "Great Wines of Burgundy", by flying over the Sancerre country and visiting the greatest domains with prestigious names: Vosne Romanée, Clos de Vougeot, Chambolle Musigny…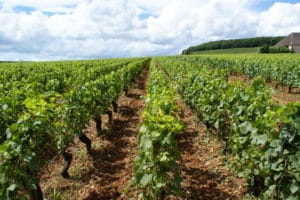 Where to sleep : La Côte de St Jacques
To reach Bourges and Beaune by private jet : 
8. The Castles of the Loire Valley
A true historical region, the Loire is a must-see for its cultural heritage marked by the medieval years. Pass by the castle of Chambord, also called "ladies' castle", which was the favorite residence of Diane de Poitiers, then admire the castle of Chenonceau, without forgetting the castle of Amboise, on which the best artists of the French Renaissance worked.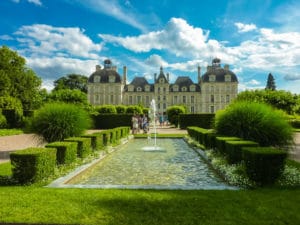 Where to sleep : Les Hauts de Loire
To reach Angers by private jet: 
The easiest choice is still to take a helicopter in order to land as close as possible to the magnificent castles of the Loire Valley! Do not hesitate to ask for a quote from your AEROAFFAIRES consultant.
9. Normandy
This region in the east of France hides many jewels! See Mont Saint Michel and its tides from the air in a helicopter, then take a detour to the D-Day landing beaches and their museums to learn more about this iconic French event. Finally, end your stay by strolling along the beach of Deauville and its famous boards named after the actors who participated in the famous American Film Festival of Deauville.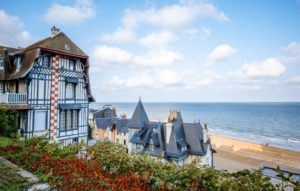 Where to sleep: Hotel Barrière Le Royal Deauville
To reach Deauville by private jet: 
Don't miss out on the best destinations in France and Corsica and book your flight to Greece now. Our AEROAFFAIRES flight experts are at your service 24/7 on +33 (0)1 44 09 91 82 and will take care of your customized trip, at the best price. Make your online quote now to get an estimate of your private flight price.