+34% is the increase in business aviation movements this month compared to 2021 (according to Eurocontrol and EBAA).
The year 2021 was a flourishing year for business aviation, which experienced a real boom after the Covid period. And this increase in demand has not stagnated, on the contrary, it will continue to grow in 2022 to reach record figures. AEROAFFAIRES explains the reasons for the boom in business aviation this summer 2022. What makes this a historic period for business aviation?
Business aviation in 2022: when the numbers speak for themselves
In terms of the number of flights, there is a firm increase of +50% compared to 2019. This represents no less than 600 more flights in Europe this year. 
Declares Isabelle Clerc, CEO of AEROAFFAIRES.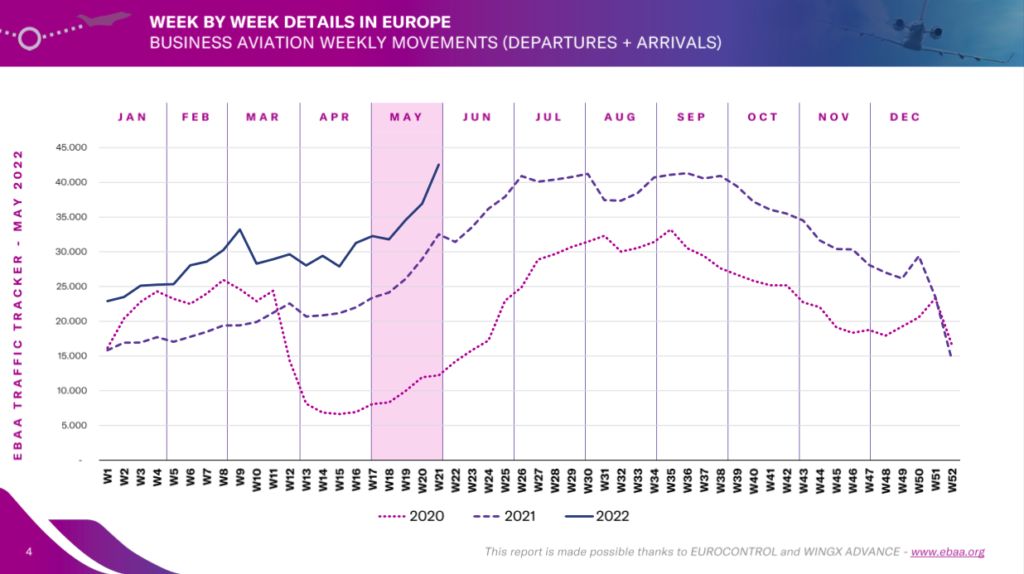 Above, we can see that the 2022 curve has shown a rapid and steady increase since May 2022. Also, this curve is well above that of the previous years 2020 and 2021, testifying to both the overall enthusiasm and the sustainability of the business aviation activity.
While there is a 34% increase in business aviation movements in Europe as a whole compared to 2021, this increase is also visible within the airports.
Let's take a look at the movements of private jets this year at the 3 busiest business airports in Europe (Source: EBAA)
1 – Paris Le Bourget airport: 35% increase in movements in May 2022, compared to the previous year.
2 – Geneva airport: 14% increase in movements (over the same periods).
3 – Nice Côte D'Azur airport: 30% increase in movements (over the same periods).
The top three of Europe's busiest airports recorded significant increases in private jet movements (departures and arrivals).
However, other airports have seen more dramatic increases. For example, Ibiza airport recorded a 91% increase in movements. Or Zurich airport with an increase of +58%.
Finally, it is worth noting that none of the 30 largest airports in Europe has seen a drop in traffic in 2022.
Business aviation: the use of private jets is becoming increasingly popular
Business aviation is at a turning point in its history. On the one hand, its activity surged following the coronavirus epidemic in 2020, notably by compensating for the lack of commercial flights. Today, between the decline of commercial aviation, the controversy over flight cancellations, the shortage of personnel in airports and the rise in fuel costs, business aviation is once again doing well in the face of a weakened commercial aviation sector. With the emphasis on on-demand aviation, private jets are not ashamed of their former unpopularity.
Furthermore, in terms of customers, business aviation has seen a new type of customer. Indeed, if we go back to the health crisis, many business class passengers in commercial aviation have changed their minds and adopted business aviation. This is especially true in order to continue to develop their businesses (for the most part) in these unprecedented times. One man's loss is another man's gain, and many of these clients have retained the private jet mode of transport rather than the business class of commercial flights. Indeed, the advantages of business aviation are numerous.
Finally, to this day, the preconceived ideas about private jets are gradually moving to the backstage to let sustainable and promising solutions take centre stage. This is what aircraft manufacturers are banking on to attract new customers and support the ecological turnaround in business aviation. Let's not forget that by 2050, Europe is aiming for zero emission, carbon neutral aviation.
Aircraft manufacturers seduce with sustainable business jets
Aware of the growing ecological challenges, aircraft manufacturers are not lacking in skills to offer the general public attractive private jet models, both in terms of their technical and design aspects and their promise of more sustainable and environmentally friendly aviation.
At EBACE in Geneva in May 2022, aircraft manufacturers from all over the world gathered for three days at this global business aviation show. It was an opportunity for everyone to present what will become the business aviation of the future. The focus was on sustainable aviation! Among others, the use of ecological fuels: biofuels, innovations and electric aircraft, hydrogen aircraft, electric drones and all other innovations in favour of the environment were presented.
The main point is to show that the business aviation industry and all its players are taking to heart the European and global issues on the sustainability of its activity. With the explosion of its activity, the sector must evolve in order to meet the demands of all types of customers and their needs. Thus, business aviation and the use of private jets is evolving and thriving in the aeronautical field as a pioneer in air mobility. As the figures for this unprecedented period in 2022 show, there is no end in sight to this growth!
Do not miss our complementary articles:
For all private jet requests, AEROAFFAIRES and its team of experts are available 24/7 to advise and assist you with your booking. For more anticipation, book your next trip now. Our team is at your disposal by phone: +33 1 44 09 91 82 or by email: charter@aeroaffaires.com. You can also make your quote online to get an estimate of the price of your private flight.