Not everyone can afford a private jet! Indeed, owning a private jet means having a large fortune. This is the case for many stars or celebrities but also for international footballers. Lionel Messi, for his part, has set his sights on a Gulfstream GV which he owns outright. However, he has opted to lease it for the time being. The question of whether to buy or lease a private jet is both practical and economic. However, even if he rents this private jet, it should be known that he alone uses it! Moreover, he has even customized his private plane to his image! We tell you all about Lionel Messi and his private jet.
The private jet of Lionel Messi: a Gulfstream GV
Like his faithful companions (or opponents on the pitch), Messi has a private jet. Zlatan Ibrahimovic has a Citation Longitude from the aircraft manufacturer Cessna, Christiano Ronaldo has opted for a Gulfstream G650, and Leo Messi has a Gulfstream GV that he rents out for his many trips. Previously Messi used a Legacy 650 private jet from Embraer, worth 35 million euros.
The characteristics of Messi's private jet
The PSG footballer now uses his Gulfstream GV private jet, valued at no less than 45 million euros. However, Messi still rents this private jet, which probably saves him maintenance costs in addition to the cost of the aircraft, and also the associated management costs. When there is no shortage of money, Leo Messi has probably opted for the best solution for him. But this does not prevent him from using his private jet as he pleases.
The footballer's private plane is a combination of luxury and advantageous features. It accommodates 16 passengers and can cover distances of up to 11,000 km. A real mobility tool for this personality who travels the world for his activity. This private jet is also very comfortable in its cabin. The cabin is modular, which means that different spaces can be created within the aircraft itself. The 16 seats can be converted into 8 beds. Leo Messi, his family and friends can rest in the beds or in the comfortable leather seats, then freshen up in the bathroom areas. They can also take advantage of a kitchen area to eat and enjoy the entertainment and connected devices within the aircraft. All the elements are in place for Leo Messi and his family to enjoy a relaxing and enjoyable trip on the private jet.
Lionel Messi's private jet customised to his image
The PSG footballer has upgraded his private jet with some personal touches. The plane is in the image of the footballer. Indeed, the first thing you see on the outside of the plane, especially on the tail, is a number 10. But why this number? It's simply that Lionel Messi was number 10 during a large part of his career when he was at FC Barcelona. Like a fetish number that he wanted to keep as a symbol. Today at PSG, he wears a number 30 shirt.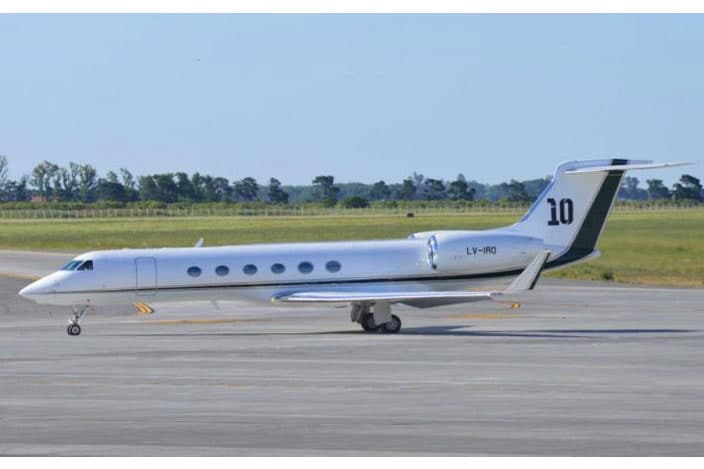 In addition to the number 10 on the tail of the aircraft, Lionel Messi has honoured his family by customising the steps of the private jet. Indeed, we find the name of his wife Antonela, as well as his 3 children: Ciro, Mateo and Thiago, but also his own: Leo. A nice wink that the footballer knew how to do to please his family.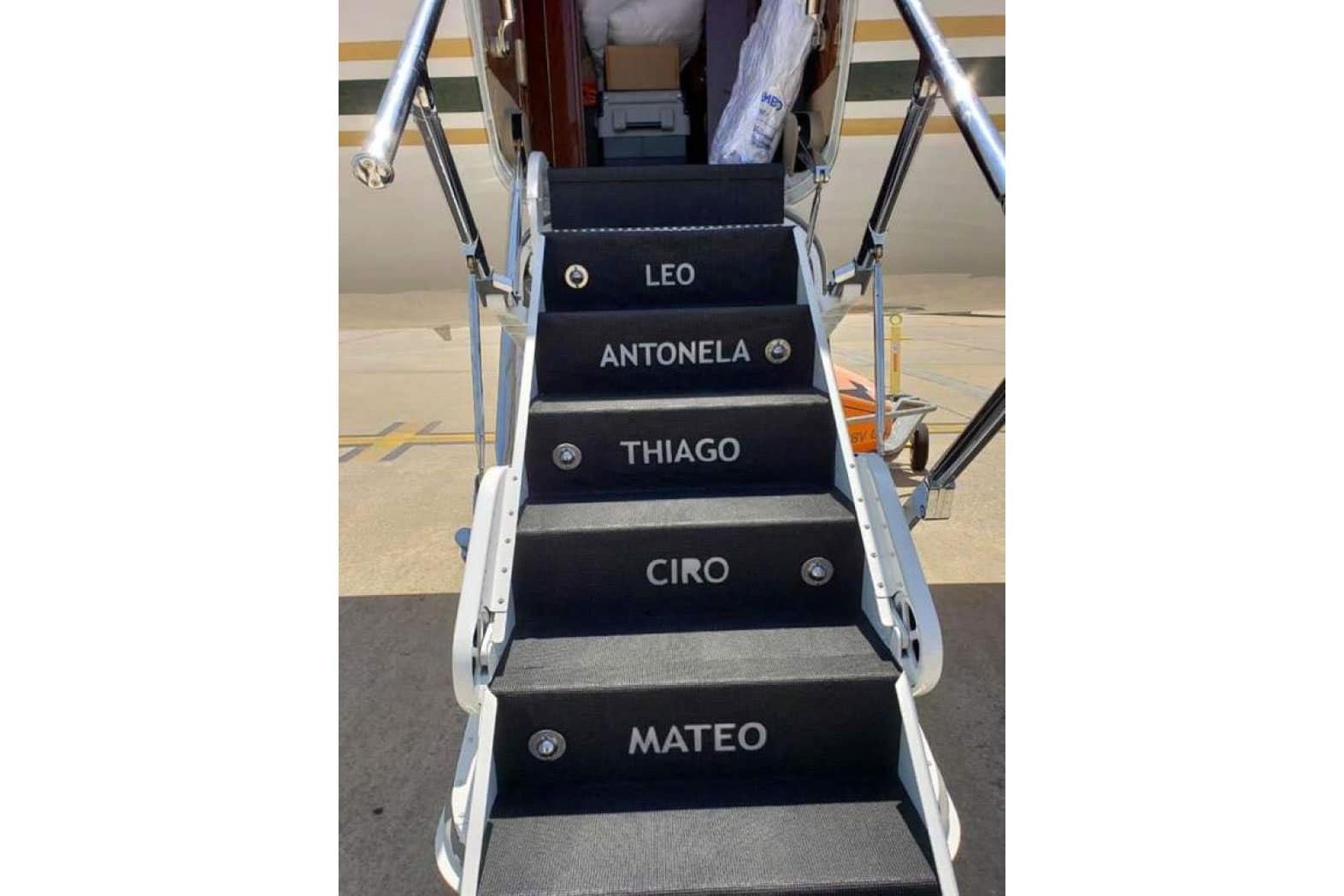 What are the advantages for Lionel Messi to have a private jet?
Being a professional footballer means travelling to the four corners of the world to attend sporting events, but not only that. These high-level athletes are extremely busy and have to meet multiple obligations in relation to their contract and their football club. Between contract signings, travel for the mercato, the player transfer period and medical visits far from home, there is a lot of travel. These sportsmen and women need to be mobile and have a flexible mode of transport that allows them to get there as quickly as possible. The private jet is an excellent way for footballers like Messi to travel across the globe and to different clubs or stadiums for sporting events.
However, in addition to the professional aspect of the sport, there is the personal life of the players. They often have contracts with big brands and must also meet the demands of these brands. The flexibility and mobility offered by the private jet is perfect because Lionel Messi can travel whenever he wants to in airports that are sometimes not very accessible. Travelling by private jet allows him to reach 10 times more airports than with commercial airlines. Leo Messi therefore travels closer to his destination and the professional (or personal) demands he has.
Finally, as the head of a large property portfolio, Lionel Messi uses his Gulfstream GV private jet to travel for leisure. To reach various destinations and to travel with his family for a dream and relaxing holiday, this is another use of Leo Messi's private jet!
Furthermore, it should be added that footballers are regularly in the spotlight, in the media and also with the fans. It is therefore a real need for them to be able to travel in privacy, discretion and confidentiality. With his business jet, this is the perfect solution.
More about Lionel Messi
Lionel Messi, also known as Leo Messi, is an international football player of Argentinean origin from the city of Rosario. At 34 years of age, the top sportsman is considered one of the most brilliant and talented players in the world of football. He has won no less than 7 golden balls, the coveted award for international football players. The American newspaper Time even named him no less than three times in their ranking as one of the most influential people in the world.
The footballer has played for one big club for most of his career, Barcelona. And in 2021, he leaves Spain for France by succumbing to the call of PSG, Paris Saint Germain. He thus joins his position as a striker alongside other well-known football personalities such as Killian Mbappé or Neymar.
What is known in the world of professional football is that salaries can easily reach millions of euros per year. And for good reason, according to an article in Ouest-France, Lionel Messi is said to be the head of a fortune amounting to 400 million euros. The PSG would have signed his contract at 41 million euros per year.
In addition, Lionel Messi is the owner of several properties, hotels and luxury cars. He even owns a unique watch worth 600,000 euros! The least we can say is that the Argentine player has the means to please himself. And for good reason, another mobility tool is indispensable in the life of the sportsman, it is his private Gulfstream GV jet! Totally customized for him, he rents it and has exclusive use of it (even if he hasn't bought it, at least not yet…).
At AEROAFFAIRES, our aviation experts are at your disposal at +33 (0) 1 44 09 91 82 24 hours a day, 7 days a week, and will respond as quickly as possible to your online quote, in order to find you the business flight that best meets your expectations.