Europe is full of destinations where you can enjoy an exceptional holiday. Whatever your desires, AEROAFFAIRES will accompany you and organise your tailor-made private jet trip. Our mission is to meet all your needs. Here are 5 trendy places to discover this summer 2022.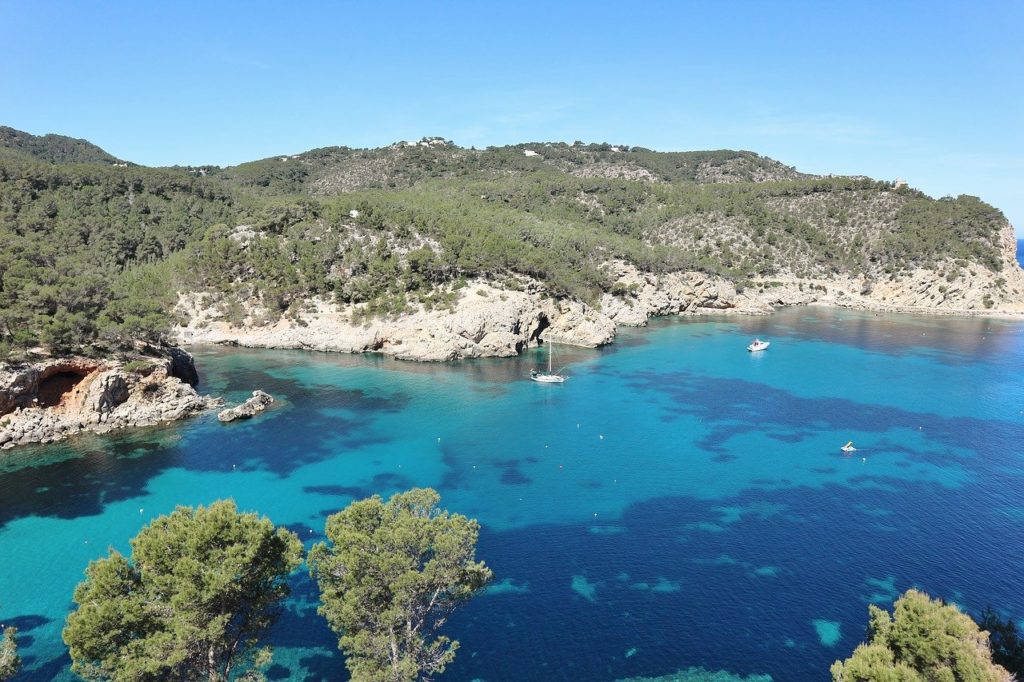 Mykonos and its breathtaking scenery
Mykonos is known as the star of tourism and partying in Greece. But as well as being a party destination, it is also a town full of riches with its colourful and flowery little streets and beautiful sea views. Mykonos is also known as a cult place to take your best photos because of its breathtaking scenery.
There is a wide range of restaurants and bars as well as small fashion and jewellery shops. To get the most out of the Cyclades, it is recommended to rent a quad bike or a scooter as there is a lot of traffic and parking is difficult, especially in the summer.
And if you like to party, in high season from late afternoon onwards, the bars turn into open air discos. The festive atmosphere is guaranteed!
How to get there? The flight is relatively short, it is possible to get there by light jet. Mykonos airport can accommodate most private jets.
Some price estimates: Going with an ultra-light private jet, with models like Citation Mustang or Phenom 100, price from 10000€ for a one-way trip and 20000€ for a round trip for 4 to 6 people.
Ibiza for a must-see holiday
Ibiza is an island in the Balearic Islands, a Spanish archipelago also known for its lively nightlife. Two hours by plane from France, the island will delight you with the beauty of its land. The secret city has dozens of beaches and coves with turquoise water. Cala Comte beach in particular is one of the best known beaches in Ibiza, it is 600 metres long and is divided into two coves. The island has a remarkable old town with hiking trails, picturesque villages and heavenly cirques. Daft Vila, for example, is the upper part of Ibiza town and is a UNESCO World Heritage Site. This small town has cobbled streets with lots of flowers, white facades and colourful terraces. You can enjoy a Mediterranean climate, the weather is dry and warm all year round. The temperatures are ideal for exploring the island. In summer, Ibiza's beaches vibrate to the rhythm of the music of the beach clubs.
How do I get there? As an indication, the flight time between Paris and Ibiza is 1h50. But departures are possible from many other airports. Ibiza airport is mainly used by private aviation and can accommodate all types of aircraft. It has 2 FBO business terminals.
Porto-Vecchio, the first Corsican seaside resort
Porto-Vecchio, or Portivechju in Corsican, is the first seaside resort on the island of beauty. Its proximity to Figari airport and its marina make it an ideal location for holidays in Corsica. Famous for its paradisiacal beaches, sand and turquoise water, a postcard landscape is offered to you. The beaches of Santa Giulia and Palombaggia are undoubtedly the best known in southern Corsica. On the beaches of the gulf, it is possible to practice various water sports such as jetskiing, paddle and even kitesurfing. Porto-Vecchio is also a festive city, its club Via Notte is internationally renowned. Stroll around the old town, on the beaches, take part in boat trips, do water sports… The Corsican city offers you a multitude of activities for an exceptional holiday.
How to get there? Porto-Vecchio is accessible from Figari airport in the south of the city, then by helicopter transfer or via one of our partner drivers. The airport is only 25km from Porto-Vecchio.
Some price estimates: a 4 person jet will cost around €4,900, a 7 passenger aircraft will cost €9,500 and a 15 person aircraft will cost €14,500 one way to Figari.
Lisbon, one of the most beautiful cities in Europe
Lisbon is the capital of Portugal and is one of the most beautiful cities in Europe. Nestled in the hills, it offers a lively nightlife, festive markets and museums for everyone, all with a pleasant year-round climate. With its iconic trams, including the 28 line to Alfama, you can enjoy the most beautiful ride in Lisbon.
The Time Out Market is very famous in Lisbon, it is a large hall with many food stands. It is a "place to be" for eating in Lisbon.
The beaches are not far away and can be reached from Lisbon on foot or by train. The small seaside resorts of Cascais and Estoril are only 20km from Lisbon and offer a real holiday atmosphere. The city offers a wide range of activities and tourist attractions, it is a destination for everyone.
How do I get there? You will land at Lisbon Humberto Delgado Airport. It can accommodate all types of private jets. The airport is a 15-minute drive from the capital.
Puglia in Italy
Visiting Puglia in the south of Italy means discovering typical small villages. They are located in the heel of the Italian boot. Open to the sea, Puglia has preserved its original heritage and historical traces. Ostuni is one of the most important destinations in Puglia. During your trip to Puglia, don't hesitate to stroll through the charming little streets of the historic centre of the town and the various secret passages and stairways. The village of Alberobello and the Trulli are also a must. Trulli are the small whitewashed stone houses with original roofs! Even if the place is very touristy, and in summer even more so, it remains a must-see on your trip to Puglia.
How to get there? As an indication, the flight from Paris to Bari airport takes 2h30. It is advisable to fly with a light or medium private jet such as an Embraer Phenom 100 or Dassault Falcon 100. The runway is quite long and allows any business jet to land.
Don't miss out on the most beautiful destinations in Europe and book your flight now to benefit from the best fares. Our AEROAFFAIRES experts are at your disposal on +33144099182 and will help you organise your flight from A to Z. Make your quote online to obtain a price estimate or contact us by email: charter@aeroaffaires.fr .